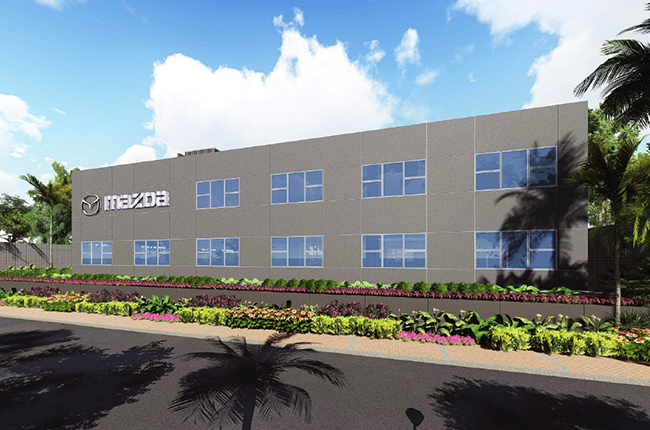 Speaking of capacity, the facility can store up to 1,000 vehicles, where 800 of those are completely secured under the 1.2-hectare covered area. The property includes a 2,000-square meter administration building, which will serve as the head office for BAP.
Bermaz Auto Philippines, Inc. (BAP), the exclusive distributor of Mazda in the Philippines, has proudly announced the construction of a P250-million warehouse and training facility in Laguna. This high-tech warehouse-slash-training facility is currently being built within a 2.5-hectare land along Pulo Road in the town of Cabuyao.
The state-of-the-art Technical Training Center is part of the admin building, while a hostel on the second-floor is dedicated for trainees, especially those coming from provincial Mazda dealerships. A Pre-Delivery Inspection and repair facility for on-site vehicles will also be constructed as part of the new property.
"As we break ground on the new corporate building and warehouse, BAP demonstrates its resolve to strengthen Mazda's long-term business here in the Philippines. Our goal is to provide our customers with the best possible products and services. With this facility, we aim to deliver on this promise through the proper preservation of our products and the constant updating of the knowledge of our sales and aftersales personnel."
What's even more interesting is that the new property from Mazda Philippines will feature 100% eco-friendly technology – thanks Mazda's Sustainable Zoom Zoom 2030 plan. That said, it will incorporate solar power technology, which will provide electricity for the warehouse's operations. The use of solar panels makes the structure independent from power grids. In addition, engineers will also install rainwater collection equipment for water recycling.
Latest News
Maxus Philippines is offering discounts for its vehicles, up to P360,000 from now until the end of March 2023.

Akio Toyoda is stepping down from the CEO and president position at Toyota, replacing him is Lexus president Koji Sato.

The new dealership marks one of the first new Kia locations with the brand's new corporate identity.
View More Articles