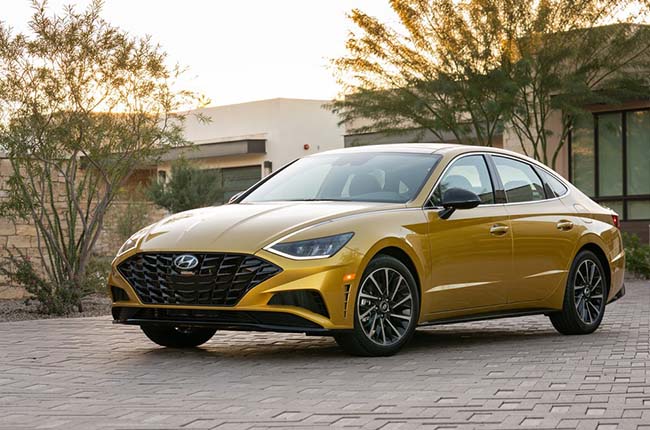 The Hyundai Sonata has spanned eight generations with the sixth generation being the last model to be sold in the Philippines. Despite the new vehicle not being available in the Philippines yet, the newest generation is making waves in the United States (U.S.). Through the latest testing done by the U.S. Department of Transportation's (DOT) National Highway Transportation Administration (NHTSA), the vehicle was able to get a 5-star safety rating. This is just one of the many accolades that the South Korean sedan was able to get. It is already a recipient of a Top Safety Pick award by the Insurance Institute for Highway Safety (IIHS).
As the most recent addition to Hyundai's lineup, the 2020 Sonata incorporates Hyundai's most advanced safety technologies with sophisticated looks and comfort to provide shoppers with high value and peace-of-mind
Latouf continues by stating that "Sonata creates a new benchmark in the segment and underscores Hyundai's commitment to offering the highest levels of quality and safety in all of our vehicles."
With its 5-star rating, the Hyundai Sonata comes with a wide range of active and passive safety technologies. The vehicle comes with 9-airbags and features an advanced driver assistance system which works to alert the driver to things they might not notice while driving. The South Korean sedan features the latest in the brand's SmartSense safety systems that utilize a series of 12 ultrasonic sensors and five cameras located around the vehicle. This gives the Hyundai Sonata Forward Collision avoidance assist, lane-keeping assist, smart cruise control with stop and go, and highway driving assist. Other safety features include lane following assist, blind-spot view monitor, blind-spot collision avoidance assist, surround-view monitor, and reverse parking collision avoidance assist.
While its SmartSense features and high safety rating are impressive the eighth generation Hyundai Sonata is currently not available yet in the country. If Hyundai Philippines does decide to bring the newest generation of the vehicle into the local market it could prove to be one of the safest midsize sedan offerings to enter the local automotive market.
Latest News
If you want to get your hands on a Renegade or Compass now is the time.

Toyota has filed patents for the BZ and Capstone names with the actual vehicles carrying these names still unknown.

In Nissan's efforts to streamline its production process it will now work more closely with Mitsubishi to produce vehicles.