If you are in the market for a van, one of the brands you might want to consider is Foton. The brand normally specializes in commercial vehicles but it also offers an array of affordable and spacious people carriers. One of the brand's popular people-movers is the 16-seater Traveller.
The Traveller features a boxy design that maximizes space with a familiar front fascia. On the outside, it looks like an older Hiace, with a boxy exterior and square headlights flanking the rectangular grille.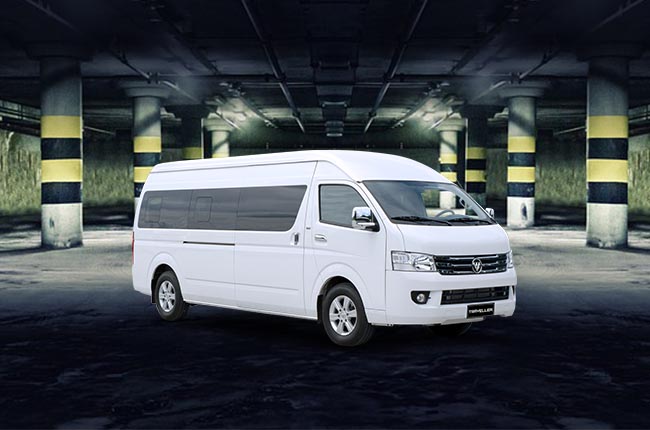 Due to the increasing demand for vans for family or transport use, Foton has decided to give the 16-seat Traveller an upgrade along with a new name. The company took the standard Traveller van and decided to give it more space and length. To accomplish this, the Chinese marque had to stretch the wheelbase of the standard vehicle and called it the Traveller XL.
On top of the longer wheelbase, the van is also given a bubble top. The addition of the modification increased the height of the vehicle but it also gave it more standing room. Thanks to its improved height, it now lets passengers enter and exit the vehicle with ease. With the addition of more space, the Traveller XL now has an increased capacity of 19. That's three more than the standard Traveller van.
In terms of length, the XL variant is 5,990mm long while the standard Traveller is 5,555mm long. That's a difference of 435mm. One thing to note is that the standard Traveller is actually 140mm wider than its longer counterpart. The Traveller XL comes in with a wheelbase of 3,720mm while the normal Traveller comes in at 3,110mm.
The engine remains the same as the standard Traveller. It comes with a 2.8-litre, 16-valve, turbocharged Cummins diesel engine. The engine produces 148 hp and 325 Nm of torque.
On the inside, the vehicle gets a refreshed dashboard and interior. For the front cabin area, It comes with a 2-din touch screen head unit with an AM/FM radio, MP5, Bluetooth, SD card slot, AUX-in, and USB ports. At the back is relatively plain with the fabric being the main material for the seats.
The van comes equipped with individually adjustable headrests and dual air conditioning system, as well as front and rear air-conditioning system with ceiling mounted air vents.
For safety, it comes with ABS and EBD along with traction control as standard. Safety continues with lap belts for the passengers at the back, dual airbags, seatbelt reminders for the front passengers, and 4-probe reverse sensors with a backup camera – a much-appreciated feature since the van is really long. Another added safety feature is a safety hammer, which is a handy feature in the event that the van flips and the glass needs to be broken.
Pricing for the Traveller XL starts at P1,645,000 for the 19-seater variant.
Just One More Step To Get Your Quote
Find out more info, request a brochure, or request a quote by sending an inquiry below
Latest News
Maxus Philippines donates a V80 Flex ambulance to the city of Manila

More cars are set to come from the returning Chinese brand.

The mobile app aims to make car usage easier for Toyota vehicle owners