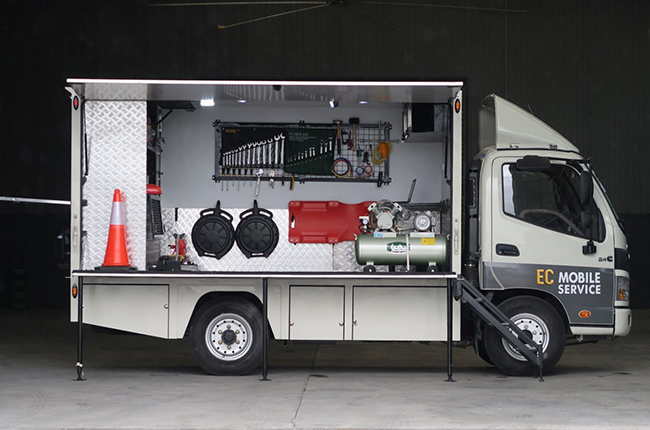 Scheduling for preventative maintenance services (PMS) can be difficult, you will have to reserve a slot and allocate downtime for your vehicle while it's being serviced. Foton Philippines has a solution for this as it now has upgraded its EC Mobile on-site service.
Originally launched back in 2018, the EC Mobile Service Program provides customers with on-call maintenance services that can do PMS, electric/mechanical troubleshooting, and diagnostics. Service also deals with repairs to the air conditioning system of the vehicle, along with engine electricals, mechanical repairs, and even deals with the under-chassis.
Foton, however, wanted to take it a step further as its EC Mobile service is now available 24/7. This lets customers who need to have their vehicles serviced but cannot go to a dealership call on the service instead and have it done from the comfort of their chosen location. Foton states that its EC Mobile service is available for its passenger vehicles, the Foton Gratour trucks, and its light-duty trucks as well. The service is also applicable to the brand's fleet partners as well as individual customers.
The EC Mobile service comes equipped with all the essential tools that are needed to provide a quality service. The service vehicle itself comes with a 3.5-kilowatt generator which is used to power the tools onboard such as the air compressor, impact wrench, and lights to help illuminate the work area. Other important equipment that the EC Mobile service brings are two large capacity oil pans, a built-in oil depository, a creeper for under chassis work, a set of wrenches, pliers, and screen drivers. An array of precision hand tools are also present in the service vehicle.
It is important to note, however, that the EC Mobile service is still undergoing pilot testing and will only be available until December 31, 2020. Customers who want to avail of the service can simply contact any of the participating dealerships.
Participating dealerships:
- Foton Quezon Avenue
- Foton A. Bonifacio
- Foton Pasong Tamo
- Foton Bacoor, Cavite
- Foton Puerto Princesa, Palawan
Latest News
Set to rise in 2024, the CCLEX Drive & Dine will combine the diverse flavors of the region in one convenient location.

Astara Philippines appoints Arlan Reyes as the brand head for two car brands under its distributorship, JMC and Peugeot.

Ford has a reason for you to be jolly this Christmas. For its Year-End-Sale, the Territory and Ranger are on promo.
View More Articles