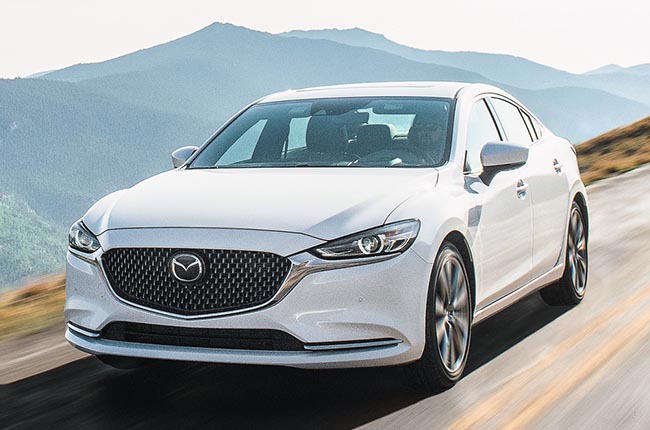 It looks like Mazda has something in the works for the next generation of its Mazda6 sedan. The Japanese brand is rumored to be shifting the vehicle's drivetrain to rear-wheel drive. Now if that doesn't spark your interest yet the automotive brand has one more trick up its sleeve. The next-generation vehicle is also rumored to come with a new Skyactiv-x inline-six engine that will be paired with a 48-volt hybrid system. The all-new vehicle is also set to enter the automotive market sometime in 2022. These rumors and reports come from published articles by Car and Driver and a Japanese publication called Best Car.
Both of these sources state that the Japanese sedan will be coming in an RWD layout and will have a new engine. The new engine comes from an announcement that Mazda has made about it developing a new SkyActiv-X inline-six. While the fuel source for the new engine is not yet known Mazda does have the capability to make both a diesel and gasoline version of the new powerplant thanks to its SkyActiv technology.
There is no official word yet as to how much power the new engine will make but rumors put it at a ballpark figure of around 350hp. Furthermore, reports have also stated that the new platform for the Mazda6 could be one that has been co-developed with Toyota. The team-up could suggest that both companies are doing it in order to speed up development. It is important to note that there is no official word yet released by either company on the matter and at this point is still under speculation. Transmission options are also still unknown but judging by Mazda straying away from CVTs it could come with a standard but performance-oriented automatic transmission.
Another added detail is that the next generation Mazda6 could also come with a coupe version. The reports, however, do not state if the Wagon body style of the vehicle will make it into the new model. A lot of information is still unknown about the up and coming sedan as the onset of the COVID-19 has pushed many development schedules behind. While there is no official word from Mazda yet, the all-new vehicle already looks promising.
Latest News
Maxus Philippines is offering discounts for its vehicles, up to P360,000 from now until the end of March 2023.

Akio Toyoda is stepping down from the CEO and president position at Toyota, replacing him is Lexus president Koji Sato.

The new dealership marks one of the first new Kia locations with the brand's new corporate identity.
View More Articles