The NLEX Corporation in its push to fully transition into a cashless system has converted its Balintawak and Mindanao Avenue toll plaza extensions from cash into RFID only. The move was to incentivize the public to shift to the RFID system ensuring a safer way of payment amidst the still ongoing pandemic. The transitioned lanes are also part of the Department of Transportation's (DOTr) intensified campaign on cashless transactions for motorists along expressways.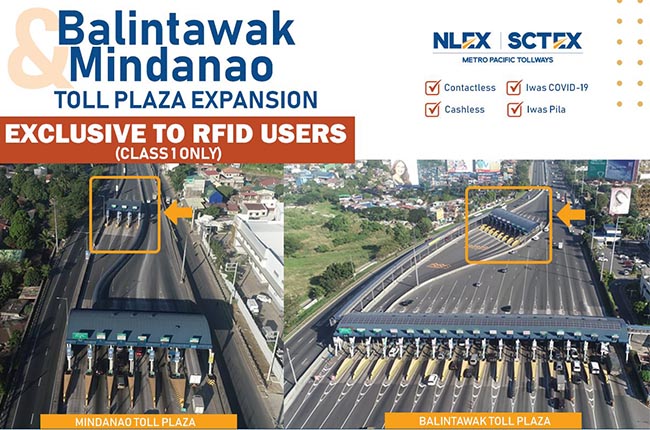 With that in mind, expect to encounter a lot more traffic in these areas as the cash toll booths have been reduced. Those, however, who still have Easytrip tags or the new RFIDs should not worry as the RFID lanes have yet to accumulate long lines. Less still expect to hit heavy traffic in these areas, especially during rush hour.
It is important to note that for Easytrip tag holder's the device will be phased out by September 20, 2020. However, any remaining balance will, therefore, be carried over once the user shifts to the new RFID system.
In light of the shift to cashless payments, the NLEX corporation has already set up multiple locations in which the motoring public can get its new RFID installed for free. Motorists will, however, have to pay for the balance to be put into their RFID account. Thanks to this strategic move, those who travel along these expressways will have an improved journey not only through the further enhancements of infrastructure within the thoroughfare but also with the promise of a hassle-free payment method.
With that in mind, we highly recommend getting yourself a new RFID especially if you frequent NLEX and SCTEX often. The NLEX corporation has already added several reloading and installation sites along the expressway that is open from Monday to Sunday from 8:00 am to 5:00 pm. This is applicable to all vehicle classes. Certain toll plazas also come with a drive-thru RFID system that lets the motorist drive in to get their RFID stick and apply for an account.
Further extending the RFID sticker to the public, the NLEX Corporation together with Easytrip is also selling a stick-it-yourself RFID express kit that is available through the online selling platform Shoppee. The kit comes with the sticker itself, a positioning guide, a user guide, and a card for reloading. In order to activate the account, it requires a payment of P500 for the initial load. Once the installation is complete users can already use it at toll plazas.
Latest News
Isuzu Dasmariñas joins Isuzu Philippines Corp.'s expanding dealership network strengthening the brand's reach in the south.

The Mazda CX-90 is the most advanced model in the lineup and is now here to cater to customers in the Philippines.

The Department of Energy says that public EV charging stations are now authorized to start implementing charging fees.
View More Articles