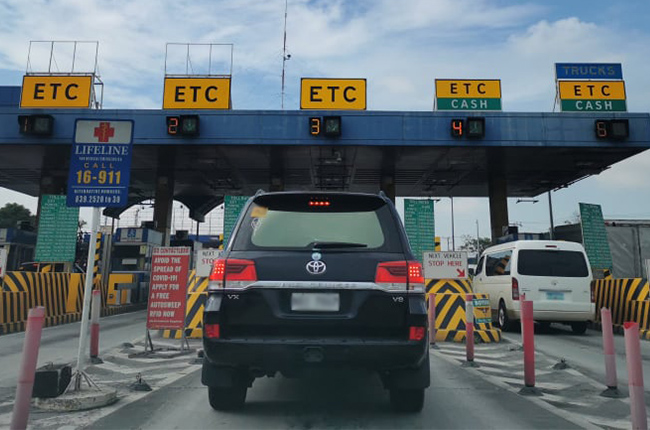 The Toll Regulatory Board (TRB) announced that it will impose a '3-strike policy' against those motorists who keep on entering expressways with insufficient RFID load.
DOTr Undersecretary for Transportation and alternative chairman for the TRB, Garry De Guzman, said during a recent press briefing that there are several motorists who are entering the expressway with insufficient RFID load. Furthermore, Mr. De Guzman pointed out that these drivers are abusing the transition period, with the full-implementation of cashless transactions on tollways still being assessed.
In cashless transactions, we knew that we deferred the full implementation in the sense that you can still use the tollways even without an RFID installed. You will not be penalized yet if you use the tollways without an RFID installed or [have] insufficient balance.
Given the circumstances, Arthur Tugade, the DOTr Secretary ordered the TRB to adopt a 3-strike policy for the following motorists who are entering expressways with insufficient RFID load. Notably, if a driver commits this mistake for three times, then he or she shall then be ticketed. Through this, the government agency hopes that better consciousness will be instilled among drivers as well as deter abusers of the 'no-apprehension policy'.
While this plan has already been laid out, there's still no specific date as to when this measure will be implemented. Remember, violators will be greeted with a fine once the '3-strike policy' becomes effective, so it's better to practice managing your RFID accounts through regularly checking its balance.
Highway operators have been slowly transitioning to cashless transactions since last year, with several motorists being encouraged to acquire their Easytrip RFID or Autosweep stickers installed. Apart from its convenience factor, the idea here was also to reduce physical contact between toll staff and the drivers, which is very beneficial during the pandemic.
Latest News
In 2024, the Suzuki Swift will get an update, and the concept image was leaked ahead of its official unveiling.

Hyundai Accelerate, in partnership with Pasig City, has admitted four lucky scholars to Don Bosco Makati for training.

Embracing the rugged persona of the Mitsubishi Xpander Cross, the Outdoor Edition has added enhancements for adventure.
View More Articles