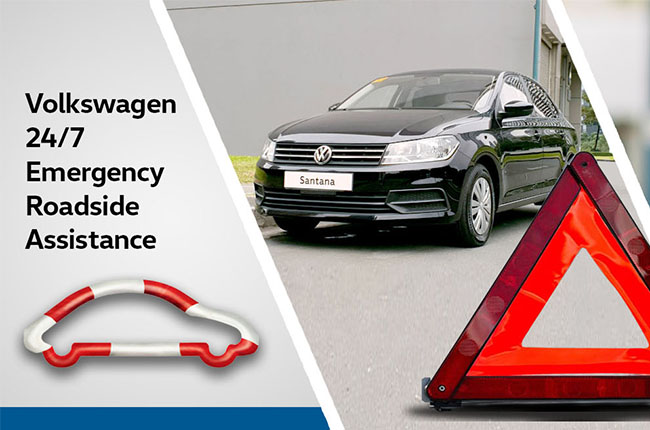 Having a vehicular breakdown or getting into an accident would be the last thing you would want to encounter especially during the onset of COVID-19 and during enhanced community quarantine. Volkswagen Philippines is giving its customers the ability to get you moving again with its 24/7 Emergency Roadside Assistance (ERA).
The emergency service has been an important part of the German brand's after-sales program. It is available for every customer once he or she has purchased any Volkswagen vehicle such as a Santana, Lavida, Lamando or Tiguan. The 24/7 ERA provides owners an extra layer of security, safety, and peace of mind, through its following services.
Emergency Roadside Assistance services:
Towing
In the event that your Volkswagen vehicle is unable to move under its own power or is involved in an accident, the ERA will go to you and bring your vehicle to the nearest Volkswagen service facility.
Removal of vehicle or vehicle recovery
In the event that your vehicle is stuck or has been in an accident and is rendered a total wreck, the ERA will go to you and arrange for your Volkswagen vehicle to be removed with the use of a crane and brought to the nearest service facility.
Fuel Delivery
If your Volkswagen vehicle happens to run out of fuel, the 24/7 ERA will head to your location and deliver fuel to you.
Battery jump start
With the onset of the pandemic, a good number of vehicles will not be used as such some will often not have enough charge in their batteries to get the vehicle going again. Here is where Volkswagen's ERA comes in as a team can be sent to your location in order to jump-start your vehicle to get the battery's juices flowing again.
Lock-out service
If your keys are locked inside your vehicle, the ERA's service provider will attempt to gain entry into your vehicle to retrieve your keys.
Flat tire service
If your vehicle happens to get a flat tire, the ERA's service provider will remove it and install the vehicle's spare tire (if available) in a safe environment.
On top of these services, Volkswagen's ERA also offers other crucial services in case of an emergency situation, to get your processing on the move even if you yourself aren't in your intended destination yet.
Other services:
Relay of urgent messages
The German brand's ERA service provider can take care of relaying your urgent messages relating to any of the events covered by the program.
Accident coordination
The ERA's service provider will help you coordinate with the necessary agencies (Police, TMG, and MMDA) to assist you in case of an accident.
Ambulance coordination
The ERA can also help you get an ambulance in case of an emergency, it can arrange to bring you and/or other passengers to the nearest hospital with appropriate medical capabilities and facilities for the necessary treatment.
Arrangement for hospital admission
ERA's service provider will help provide the necessary admission assistance in a hospital or medical facility in case you or your passengers in your Volkswagen vehicle are injured in a crash.
Vehicles included in Volkswagen's ERA program cover those that were bought on December 1, 2015, onwards. These cars are automatically enrolled in the 24-hour ERA during the entire period of enhanced community quarantine. An extension of 30 days for the program after the national government officially lifts its stay-at-home orders will also be given. The German brand has also extended the one-year ERA validity period for brand-new vehicles until further notice. The move was done so that Volkswagen customers can keep on the move despite these challenging times.
Volkswagen states that given the current circumstances during the enhanced community quarantine, the 24/7 ERA service and response time may vary, depending on the coordination among the vehicle owner or driver, the local government unit, and the ERA service provider available nearby or in the area. For further details on the German brand's 24/7 ERA, owners can go to the official Volkswagen website or call the ERA hotline (02) 8 459-4772.
Latest News
Mazda is working on launching a new CX-5 in 2025. The most popular crossover in the lineup is also going hybrid.

A new Toyota Gazoo Racing motorsport car is set to be unveiled during the 24 Hours of Le Mans on June 10, 2023.

Hyundai is serious about putting the N Vision 74 into production according to Chief creative officer Luc Donckerwolke.
View More Articles