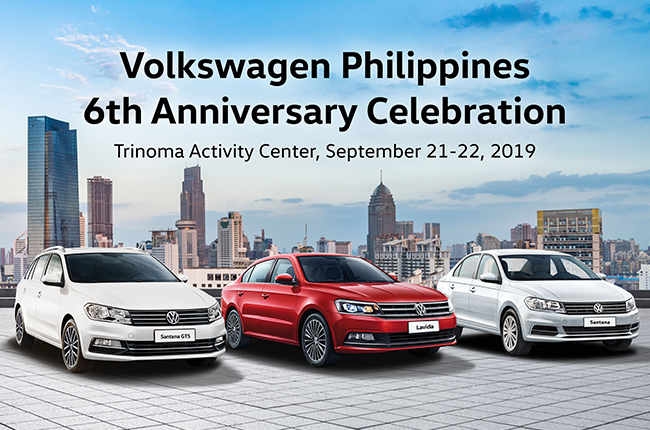 Volkswagen celebrates six years of its operations in the Philippines. To mark such an occasion, the brand is launching a new variant of the Lavida and taking a mall tour from September 21 to September 22, 2019 in Trinoma in Quezon City.
A special eight-car display awaits those who will visit. Take a gander at some of Volkswagen's offerings in the Philippines such as the most affordable Station wagon currently available, the Santana GTS. A subcompact in size, but with an enhanced cargo area for all sorts of items. You may compare the two body styles because both the wagon and sedan types will be present for everyone to enjoy.
Another showcase will feature the Volkswagen Lavida compact sedan, and beside it will be the Lavida Club Edition and Club Edition+. The plus is laden with dealer options and takes the experience a notch higher.
To premise the holiday months that are incoming, Volkswagen PH is giving its consumers hard-to-resist deals when they avail of the Lavida, Santana MPI MT, and Santana MPI AT S and SE variants. The Lavida will get the biggest discount at P85,000, while the Santana MT's price will get slashed down by P30,000. The automatic S and SE models of the Santana will get a P10,000 discount to further sweeten the deal. To add to this generous offer, Volkswagen is still giving its cars free periodic maintenance services for the first three years of ownership.
While the grownups are looking at the big toys, kids aged 9 to 12 years old can spend time learning about pedestrian safety through the use of an award-winning program that utilizes virtual reality technology. The program features seven levels that the kids can play and learn through, and simulates walking through a road network with pedestrian lanes and overpasses.
Volkswagen's mascot, Wolfi will be present at the event and freebies will be given away to customers who reserve or test drive the vehicles from the German brand. Volkswagen premium bags will also be given to customers who make on-site purchases.
This event seeks to push Volkswagen's presence in the Philippines through road safety advocacies and programs, as well as an effort to reach more Filipinos through its dealership network in the country.
Latest News
The LTO passed memorandum no. JMT-2023-2399. Engine and chassis stenciling for registration renewal are no longer needed.

SMC Asia Car Distributors Corp has unveiled the BMW 3 Series Touring in three different variants for the Philippines.

The OMODA 5 EV will be coming to the Philippines in the fourth quarter of 2023 along with the OMODA and JAECOO brands.
View More Articles