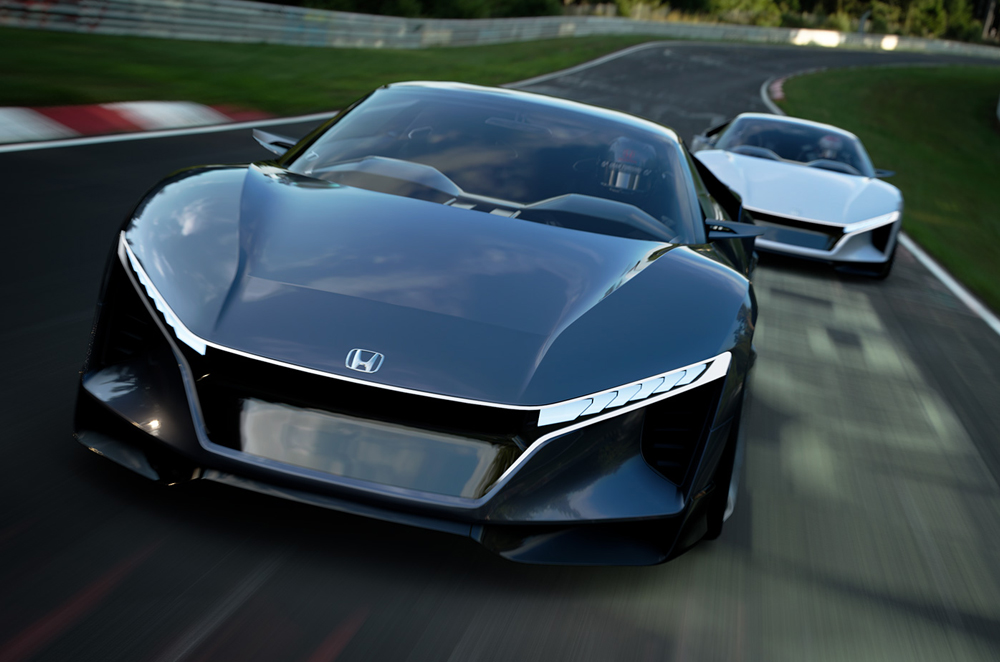 Honda unveiled their latest creation for the PlayStation game Gran Turismo (GT) Sport. It's a 2-seater mid-engine coupe that exudes the brand's culture of doing things that simply "looks fun."
Called Sport Vision GT, its front design and overall shape share similarity to the NSX. However, the Sport Vision GT is smaller, which sort of qualify as the little sibling of Honda's iconic sports car. Behind, it has a futuristic theme highlighted by an LED taillight strip, large vents, and a chiselled bumper. Its beautiful looks were born out from a competition by Honda's creative designers, which their Los Angeles branch won.
The coupe isn't just about looks. It's powered by a 400 hp 2.0L turbocharged DOHC VTEC engine paired with an 8-speed dual clutch transmission. It's also expected to have impressive power-to-weight ratio as it weighs at just 899 kg, thanks to its many carbon fiber parts. In addition, Honda also put a full scale model of the Sport Vision GT in a wind tunnel to get the optimum aerodynamic design.
Watch it in action in the video below:
Gran Turismo Sport is already available for P2,599 at game stores in the Philippines.
Latest News
Overland Kings, an outlet of Black Rhino Wheels, opens it doors ready to provide quality offroad and adventure gear to the public.

Ford Philippines shares the features on its Ranger Wildtrak, stating its modernity and versatility as key factors to its appeal.

Volkwagen makes its then satellite showroom into a full blown dealership, the brand's eighth since 2013.