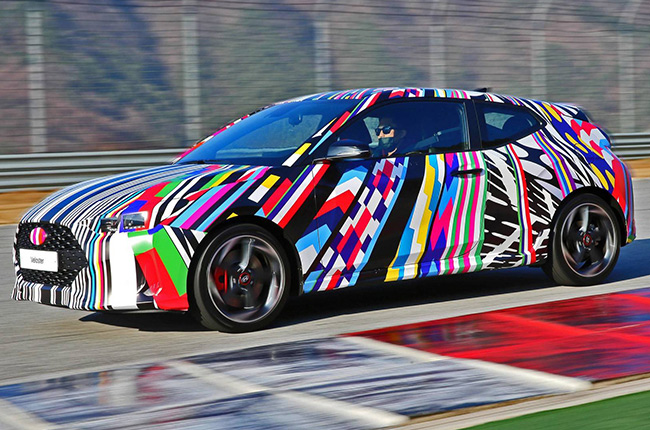 The Hyundai Veloster is arguably among the Korean automaker's brave-hearted model in terms of unconventional design approach. With the sloping roof that progresses down to its tailgate, the Veloster bears the charm of a coupe with the practicality of a hatchback.
To maintain the Veloster's ground as a sporty hatchback, Hyundai released a teaser of a more appealing version. The video reveals that the Korean hatchback in an artistic camouflage getting chased by a spotlight on a dark racetrack. The person responsible for the design is Vakki, a Korean graphic artist known for her chroma paintings – but that's another story.
The color camouflage can't hide what's new on the 2019 Veloster. The headlamps are now more conservative in terms of size, yet, are more aggressive than the outgoing model's. The grille and front bumpers are even sleeker now. The body, the coupe roofline on a hatchback, as well as the asymmetrical door layout are still there. In addition, we can still see the central twin exhaust pipes.
As far as power is concerned, Hyundai has made no official statement yet regarding any information about its engine. However, circulating speculations say that it is more likely to carry Hyundai's turbocharged 1.6-liter engine. According to Autoblog, power would be transmitted through the same transmission found in the Elantra GT Sport.
For now, let's stay tuned until Hyundai releases any follow-up information on the 2019 Veloster and just watch the teaser below.
Want to find out more about the Hyundai Veloster
Find out more info, request a brochure, or request a quote by sending an inquiry below
Latest News
An auction in the US just sold a 2002 BMW M5 in six figures.

Henrik Fisker told The Verge his company is just months away from developing the first EV solid-state battery.