Toyota Motor Philippines (TMP) knew that there is no way that the GR Yaris could showcase all of its potential on public roads. There is no way that the GR Yaris would leave a lasting impression simply driven to the shops or to the office.
That's why we were brought to the track to test out the homologation special from the biggest brand on the planet. The 2021 Toyota GR Yaris is one of the only homologation specials from the any brand in the Philippines which makes it a very special car to drive.
So the question is, does it live up to the hype? Is it all that it is cut out to be?
Before the event:
First and foremost, most of the media in the Philippines aren't race car drivers. Some of us in the industry have some experience on the race track, but not everyone has the skill set of a professional race car driver. That being said, TMP played it safe and brought along actual racers to coach us and ensure our safety. After all, nobody wants to hit the wall at over 100 km/h, right?
Anyway, we were brought to Clark International Speedway (CIS) to participate in a program that would "best" showcase the prowess and breeding of the GR Yaris—or so we had hoped. There were other GR branded automobiles on track as well, which included the GR Supra.
The Events
The track-day had three events: Braking, Slalom, and Lap.
In the braking exercise, we were instructed to go from 0 to 70 to 0 km/h and escalate all the way until 100 km/h to get a feel for the car.
Next up was the slalom, which is similar in execution to the Vios Autocross challenge. Toyota even brought along the Vios One Make Race (OMR) car to join in on the fun.
Lastly, the lap even had the media run a lap on CIS, under the guidance of seasoned racers, of course.
Braking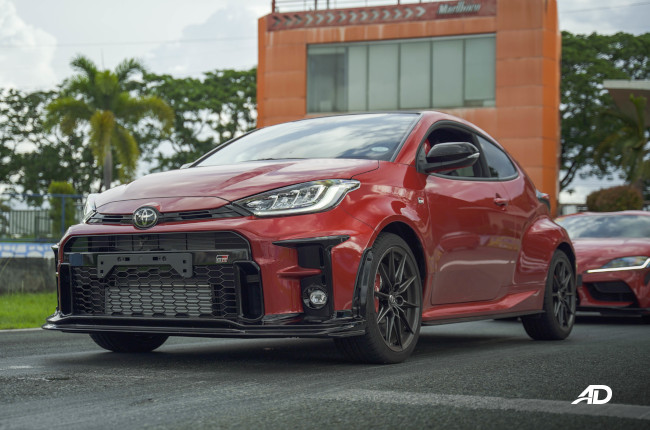 Given that the GR Yaris runs on Michelin Pilot Sport 4 S tires, the braking potential is sublime. Paired with a set of big brakes in the front and rear, and it's an understatement to say that the car stops on a dime. Quite a handful of participants were instructed to go deeper into the pedal and induce some wheel lock. ABS kicked in quite a few times during our runs, but the car thoroughly impressed us with its braking ability and its brake feel. The pedal was easy to modulate and the bite of the calipers was more than enough to pop our eyes out of our sockets—in a manner of speaking, of course.
Slalom
Now, this is where things get interesting. The GR Yaris brakes well, but if you have to maintain your speed and play for time, that's where things can get quite wild. In contrast to the rear-wheel-drive GR Supra, the GR Yaris was planted and surefooted throughout the entire course. While the Supra succumbed to oversteer multiple times during the test—which was fun, by the way, the Yaris remained unfazed. No drama whatsoever, which led us to believe that the car was nowhere near the limit of grip.
That being said, we could have pushed faster in this exercise if we were more familiar with the hatchback, but ultimately, there was another guy just as eager as us to try out the homologation special and he was next in line so we had to give up our seat after our first few runs concluded. Also, slalom runs will typically undermine any power advantage, so for the Yaris to do as well as it did against a more familiar platform is impressive.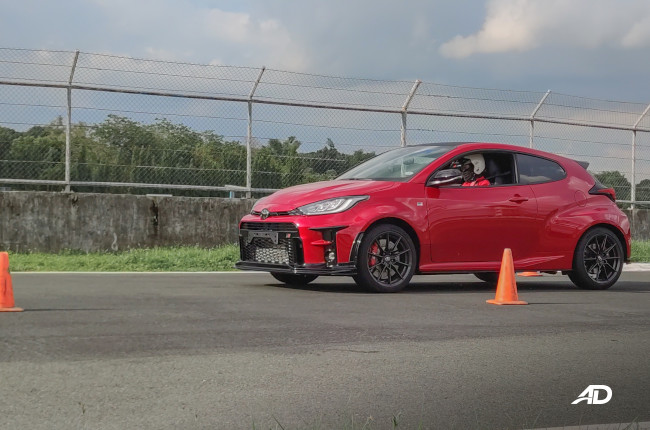 There is a surprising amount of stability for a subcompact hatchback. Again, this is no normal Yaris with a body kit, but rather its chassis has been completely reworked to fit the needs of rally racing. If you look at it closely, the GR Yaris has a wheel on all four corners with as little overhang as possible. Its wheelbase is also about as long as the Supra, so it's deceptively tiny. This means that the weight transfer is incredibly managed by the design of the vehicle.
Of course, during the test, we wanted to see just how close we could get that Vios OMR to the time of the Yaris. Suffice to say, we went all out and managed to hit a cone and end up slightly slower than the GR Yaris since the Vios platform was less alien to us at the time. Let it be known, however, that the Vios is race-prepped, and not stock.
Lap
When the slalom event concluded, it was time to stretch the Yaris' legs. After a brief—uh safety briefing, we were let loose on the track. However, due to safety concerns and the varying levels of skill that the Philippine motoring media possessed, a Vios OMR car was fielded with a capable driver at the helm to ensure the safety of the participants and the vehicles.
Let's just put it this way, during our stint it was rare for us to slide into and out of a corner. It was also rare for us to go full throttle while exiting corners. If our estimates prove accurate, we were running a very safe two-minute-forty-second-plus lap time given all of the precautions in place. With the car's capability, however, the braking points were a little exaggerated in the name of safety.
That being said, we were still able to ascertain that the 3-cylinder is such a potent weapon on track. Off the line, the acceleration was similar to the GR Supra, which has about a Toyota Wigo's worth of power over the GR Yaris. The light engine paired with the short front end really helped with the sharpness of the GR Yaris. Turn-in was quick and almost telepathic. It's quite a shame that there wasn't a full bucket seat in the Yaris because it will turn and surprise you at times. On top of that, you can power out of a corner and let its four-wheel-drive system catch you. Though, we wish we did more of that since no overtaking was allowed—boo.
Still, the car was nowhere near its limit. Trail braking at less-than-breakneck speeds was easy. The manual transmission was very notchy and had a great feel. Some say that the clutch is a bit heavy, to us, it was slightly heavier than a normal passenger vehicle, but it's more springy. The problem lies with the engagement, or bite point, of the pedal. The clutch engages with the flywheel really well, so if you're not used to driving sportier cars with manual transmissions, you might be forgiven for stalling perhaps once or twice.
Verdict
After an entire day at the track, one thing is clear. We couldn't reach the potential of the GR Yaris. It's one thing for a car to be fast and for you to feel it, but it's another thing to have the skillset and the knowledge to really bring out the best in the engineering that was put into the vehicle. It's much easier to reach the limit of a standard passenger vehicle on track, but the GR Yaris is a race-ready homologation special. It'll be exciting to be behind the wheel of this car, but to max it out on track is a whole different story.
If there is one thing that we will complain about this car, is that the clutch had a bit of overheat after being beat on track for such an extended period of time, and the transmission had a little grinding action going on. Other than that, the wheels were caked in so much brake dust that the rims were tinted brown, and the bucket seats could be a lot better given the capability of the car. Then again, we know of some future owners that have already stockpiled consumables and modification parts in their homes. You know who you all are.
Speaking of which, the shift knob of the Yaris had a tendency to get unscrewed. We hope it's native to the unit we had, but perhaps it would be nice to invest in a good quality aluminum knob or something more solid. On top of that, the aluminum pedal covers are held by rubber ears, which expectedly got loose during the exercises, so get yourself a better set before your unit arrives. Oh, and don't forget that the head unit is less than stellar, but still has Apple CarPlay and Android Auto. Just get yourself a good unit with those features plus reverse camera support, and you'll have yourself a great daily-able race car. Either that or just strip everything out.
Perhaps our full review of this car will not be held on the road, but instead on more exciting asphalt.
---
Specifications
Performance
257 hp @ 6,500 rpm
---
Summary

| | |
| --- | --- |
| Name | Toyota GR Yaris 1.6 Turbo 16PT 6 Speed Manual |
| Body Type | Hatchback |
| Price | ₱2,740,000 |
| Transmission Type | Manual |

Engine

| | |
| --- | --- |
| Engine Size | 1.6 L |
| Displacement | 1,618 cc |
| Number of Cylinders | 3 |
| Number of Valves | 12 |
| Transmission Category | 6-Speed Manual Transmission |

Performance

| | |
| --- | --- |
| Drivetrain | All-Wheel Drive |
| Max Output (HP) | 257 hp @ 6,500 rpm |
| Max Torque (nm) | 350 Nm @ 3,000 rpm |
| Acceleration Rate | 5.5s |
| Top Speed | 230 km/h |

Economy & Environment

| | |
| --- | --- |
| Fuel Type | Gasoline |
| CO2 Emission | n/a |
| Fuel Capacity | 50 L |
| Fuel Consumption | n/a |
| Range | n/a |

Dimensions

| | |
| --- | --- |
| Length | 3,995 mm |
| Width | 1,805 mm |
| Height | 1,455 mm |
| Wheelbase | 2,560 mm |
| Turning Circle | 10.6 m |
| Ground Clearance | 124 mm |
| Wading Depth | n/a |
| Trunk Capacity | 359 L |
| Max Cargo | n/a |
| Number of Doors | 3 |
| Number of Seats | 4 |

Safety & Security

Driver's Airbag
Front Passenger's Airbag
Side Airbags
Curtain Airbags
Knee Airbag
Auto Brake System
Electronic Brake Distribution
Anti-lock Brake System (ABS)

with Electronic Brakeforce Distribution

Immobilizer
Security Alarm
Stability Control
Electronic Door Locks
Speed Sensing Door Locks
ISOFIX
Lane Departure Warning System
Blind-Spot Detection System

Features

| | |
| --- | --- |
| Cruise Control | |
| Front Parking Sensors | |
| Rear Parking Sensors | |
| Leather Upholstery | |
| Push Start Button | |
| Wheel Size | 18 in |
| Wheels Metal Type | Alloy |
| Airconditioning System | Dual-Zone Automatic air conditioning |
| Entertainment System | 8-inch infotainment system with a 8-speaker audio system |
| Connectivity | Apple Carplay, Android Auto, Bluetooth, and USB |
| Navigation Ready | |
| Warranty | n/a |
| Keyless Entry | |
| Roof Rack | |
| Sunroof | |
| Electric Adjustable Seats | |
| Power Steering | |
| Power Windows | |
| Power Outlet | |
| Steering Wheel Audio Control | |

Technology

| | |
| --- | --- |
| Active Park Assist | |
| Hill Start Assist | |
| AWD Modes | Sport and Track |
| Tire Pressure Monitoring | |
| Heads-up Display | |
| Power Liftgate | |
| Start-stop System | |
Get the best deal - Choose multiple dealerships to compare offers!
You can compare quotations simultaneously from multiple Toyota dealerships. Select your preferred dealers from the list below.

Compare quotations from multiple dealerships in minutes.
Check vehicle and color availability.
Find info on special offers and promotions.
100% Hassle-free with no obligation to purchase.
Latest Review
It presents itself as a great compact crossover choice for those who don't want to be overwhelmed by a great amount of tech.

3.9

/

5

Does the Changan CS95 have what it takes to challenge the more established players in its premium segment?

3.7

/

5

Does the Changan CS75 Plus have what it takes to compete in the crowded local crossover market? Here's our full review.

3.7

/

5
View More Articles