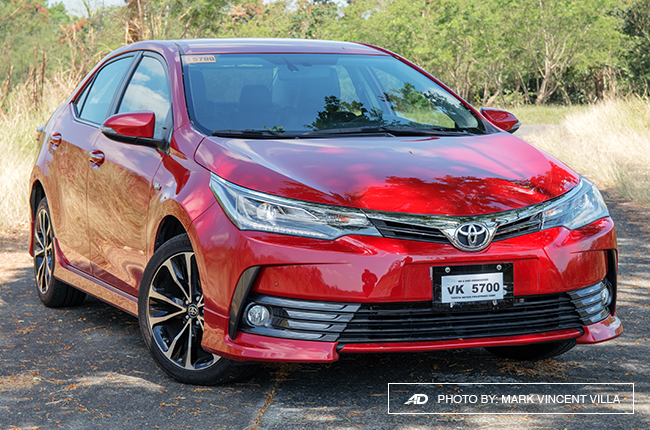 What comes to mind when you talk about the Corolla Altis? Well, aside from being a Toyota, some might say that it's a default family sedan that's meant to be driven by a mature person like your dad (or even your lolo). However, Toyota is slowly veering away from this stereotype by making the Corolla Altis more exciting and more appealing.
With that in mind, Toyota Philippines handed over the keys of the top-of-the-line 2017 Corolla Altis to see how it moves out from its stereotype.
Looking at its exterior, it seems that the Altis has found the fountain of youth. The sharp-looking headlights, aggressive bumper, sculpted hood, and sporty body kits give the vehicle a youthful vibe. It's like seeing your dad wearing V-Neck T-Shirt, brush up hair, jogger pants, and sneakers.
Review: 2017 Toyota Corolla Altis 2.0 V
Performance
Engine Output (HP), Acceleration, Transmission, Handling 4.0/5
Design
Exterior & Interior Design, Quality, Fit and Finish, Ergonomics 3.5/5
Ride Comfort
Cabin Comfort, Suspension, NVH Insulation 3.5/5
Safety and Technology
Convenience Technologies, Active and Passive Safety Features 3.5/5
Value for Money
Amount of the vehicle you get for the price, Fuel Efficiency 4.0/5
What You Will Like
Aggressive and sporty exterior styling.
Generous cabin space.
Good ride quality.
What You Won't Like
Dashboard lacks a little bit of flair.
Steering-wheel mounted audio/phone controls could have been better.
How We Do Our Reviews
The rear remains unchanged, as compared to its predecessor, except for the revamped taillights. This doesn't affect the vehicle's styling because the front end of the Altis is more than enough to get your attention. Overall, the exterior is just right – it has the exact flair to suit almost everyone's taste.
The vibe of the exterior sort of didn't translate to the vehicle's interior. We find the dashboard lacking a little bit of swag because of its clean layout, however we find the infotainment touchscreen to be user friendly. We also find the steering wheel a bit too thick for the vehicle and its mounted audio/phone controls could have been better. Despite these minor setbacks, you still have to give it to Toyota as they tried their best to make the Altis' interior look hip.
One of the things that we love in this top-of-the-line Altis is its electronic adjustable driver's seat with lumbar support. This feature allows you to set your most suitable driving position. In addition, this vehicle has good leg- and headroom, giving rear passengers a comfortable ride. The rear can accommodate up to 3 occupants, given that they fall under the category of the typical Filipino height of 5'5" and not a fan of extra rice.
Under the hood lies the 2.0L gasoline engine that delivers 145 hp and 187 Nm of torque. It is mated to a continuously variable transmission and while it has good engine response, the Altis has less power output as compared to other vehicles in its class.
The congested concrete jungle is no problem for the Altis' light steering. You can tackle narrow city roads as well as tight street parking. Sound insulation is also decent as it reduces the noise of Metro Manila's rush hour traffic to a minimum. Aside from the striking exterior, this vehicle has good ride quality. It can absorb impacts caused by dilapidated roads and potholes within reason although this vehicle is not as athletic compared to its rivals as the suspension leans on the comfort side.
As said earlier, the Altis has less hp and torque as compared to other vehicle in its class like the Mazda 3 and the Subaru Impreza. However, this does not imply that Toyota's compact sedan is short of power. In fact, in the open highway the Altis' engine puts out sufficient power to pass slower vehicles. The engine shifts above the 2,500rpm mark with minimum lag, which maximizes fuel economy and gives you a smooth drive.
In terms of fuel economy, this Corolla Altis registered 15 km/l while running at an average speed of 85 km/h on the highway. During the city drive, we yielded 8 km/l with an average speed of 15 km/h. These numbers aren't bad considering it has a 2.0L engine.
Overall, the 2017 Corolla Altis has the qualities to contend the local compact car segment. Moreover, it is priced competitively at P1,320,000. The striking exterior also serves as a testament to Toyota's efforts to make the Altis look young again and to attract a bigger, diverse market. As such, everything seems to be pointing on the right direction for the Toyota Corolla Altis. Let's just hope that its newly found fountain of youth doesn't run out.
Here's Caco sharing his thoughts about the Toyota Corolla Altis:
Latest Review
The GAC GS8 in both 2WD and 4WD variants is a spacious and luxurious SUV that commands everybody's attention.

Competence can only do so much so does the Creta have an X-factor that can help it compete?

3.9

/

5

Brave or foolish? GWM's more bold than anything when it introduced the Jolion to the market.

4.0

/

5
View More Articles