Are you aware that the Special Protection of Child Passengers in Motor Vehicles has already been signed? Kids ages 12 and below, or 4'11" and below in height, are now prohibited to sit in the front passenger seat of any vehicle in the Philippines. Not only that, but the law also mandates the use of baby car seats or even car seats for children.
Now, if you haven't got one yet, don't worry too much. We have a list of 10 brands that are available in the Philippines. Even better, all the items you'll find on this list are available on online stores so acquiring one wouldn't be a hassle. You just have to look for the brand that's right for you and your young ones.
Do note that the list is a mix of both Western and Asian brands and the items are not ranked based on price nor quality – though we included estimations on their price range. We just want to give you an idea on what brands to check if you plan on buying a child car seat. Some may be expensive and some may appear highly-affordable. But, we guess there are no 'expensive' and 'affordable' when it comes to your child's safety, right?
Sparco (P16,250)
Here's a car-related brand for your toddler. If you're into the aftermarket scene, you've probably heard of Sparco – it is also likely that you have a few items from their catalog in your car. However, unlike their famous racing seats, some of which get FIA certifications for track use in race cars, you might not have known that they also make child seats that you can buy. These seats may be a bit pricey, but they are imported from Italy, ISOFIX compatible, and are also ECE R44/04 homologated, meaning that they are recognized by the European Union for their safety in their tests. The seat looks so good you might want to get an adult-sized model for yourself – good thing Sparco's also got you covered.
Chicco (P9,000 – P79,000)
We're sure you've seen this brand at least once in the department store. The brand's expertise isn't just about car seats, as it also specializes in almost anything about babies. Most of Chicco's child car seat designs are sporty with color combinations of up to three hues. Chicco offers a wide range of price for its car seat products and you could spend up to P80,000 for one.
Baby 1st (P3,000 – P7,000)
Baby 1st's car seats offer gentle fabric-wrapped comfort for your young ones, as well as sleek curvy designs. It's among the brands that belong to the low-value spectrum of child car seats but don't underestimate its products as they look as good as the upscale ones. They also offer strollers that come with car seats, which we think is a sweet deal.
Maxi-Cosi (P3,000 – P60,000)
Maxi-Cosi sells infant car seats to booster car seats. Most of its product boasts simple but striking designs. Infant car seats range from around P3,000 to P5,000, while the booster seats are around P30,000. The more expensive items are justified by extra safety features, such as a built-in airbag. Safety at its finest?
Joie (P3,000 – P21,000)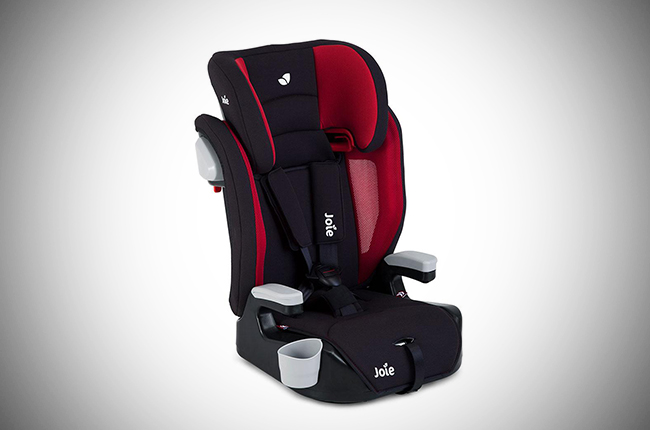 Deluxe cushioning, built-in side ventilation, 5-point harness – these are just among the features of the Joie Spin 360. It features a one-hand turn mechanism for hassle-free car seat rotation. This model retails at P20,999.75 online, though there are more affordable options like the Steadi, which retails at P8,999.75 online. If you need an infant car seat, there's the Juva which has an online price tag of P3,999.75.
Apruva (P3,600 – P4,500)
If you're looking for a more affordable option but still does the job, you may check out Apruva. Knowing that it's affordable, the materials used are not as high-grade as the more expensive ones on this list. Unfortunately, the most expensive model we could find under the Apruva name does not feature an ISOFIX. Rather, the seat is secured using seatbelts.
Picolo (P6,400)
Are you looking for a simple yet highly functional car seat that's also easy to install? Look no further and check out Picolo. The design may not be as flashy as the other items on this list but the comfort and convenience are unmatched on this one. It comes with a 360-degree rotate button, four reclining positions, and multiple positioned headrest to accommodate the varying height.
Enfant (P5,500)
Like Chicco, Enfant also specializes on almost anything about babies. It also has infant and child car seats. The infant seat is made from lightweight materials and is easy to install – retails at P1,429. The child seat is made of durable plastic, also easy to install, and available online with a price tag of P5,500.
Akeeva (P4,000 – P6,400)
Akeeva is inclined to a more conventional car seat design, though all of its designs come with Egg Shell head protection. It comes with 5-point harness belt like most of the items in this list, as well as extra padding and detachable front bar for added protection. All models come with base and washable seat cover.
Combi (P15,000 – P38,000)
More for your taste is Combi, which manufactures lightweight car seats with ultra-shock absorbent EggShock pad and breathable seat cushion. These don't come cheap though, as you'll be expecting to spend at least P15,000 to P38,000. In return, you have a high-quality car seat for peace of mind. The designs vary from a roofed infant car seat to a toddler car seat with cupholder on the side.
Latest Features
Both are within the same price range but are in many ways different from each other.

The Chevrolet Tracker presents tempting design details and features that should be given much more attention.

Choosing the right vehicle is hard so we created a list of 10 vehicles that could tick all the right boxes for your current and possibly your future needs as a young professional.
View More Articles