The crossover segment is getting even more competitive right now, as market trends have made this vehicle body type the one to get. More and more buyers are seeking to get their hands on these kinds of vehicles with manufacturers releasing more new models to keep up with the demand.
Back in 2019, we saw the rise in popularity of the Geely Coolray as it punched above its price tag and came with a stellar lineup of features that wowed the car-buying public. This time around in 2022, one brand seeks to dethrone the popular kid on the block with the Changan CS35 Plus in its recently refreshed form. With that said, we compare both vehicles to see which one will come out on top in terms of their specifications.
Exterior
The exterior stylings of these two vehicles take on two different personas. The Geely Coolray goes for the sportier more aggressive look while the Changan CS35 Plus aims for a more subtle and premium design. While both vehicles are equally matched when it comes to their exterior features, they both come with LED headlights, LED fog lights, LED taillights, and a great set of alloy wheels, the choice of which to choose ultimately depends on your personal preferences.
As these two vehicles are evenly matched we will give it as a tie, although something to note is that the Changan does come with a bit more ground clearance. It's something useful to keep a mental note of if you travel through uneven roads often or go through lightly flooded streets.
Winner: Tie
Interior
On the inside, the Goolray and CS35 Plus take similar approaches to their interiors. Both vehicles have red accents on the inside for their higher variants, and both vehicles feature a minimalistic dashboard. Where they differ slightly is when it comes to their climate controls and with the appearance of their gear shifters. As a side note, both vehicles also have access to sunroofs which is excellent if you want more natural light inside the cabin.
With both vehicles being so close together in terms of interior quality and features, we will give them a tie for this category. Ultimately this will boil down to your personal preference to help you determine which crossover will best suit your needs.
Winner: Tie
Tech
On the tech side of things, both crossovers are relatively even with one another, the only difference being that Coolray gets a slightly wider screen. The Geely crossover comes with a 10.25-inch infotainment system, the Changan on the other hand, comes with a 10-inch display. Both vehicles come with Bluetooth connectivity but unfortunately do not have support for Apple CarPlay and Android Auto.
Something to note, however, is that the Geely Coolray in its Sport Limited trim does come with heated and cooled seats which is great, especially during the summer months. The CS35 Plus, on the other hand, does come with a built-in wireless charger, which is great for those with phones that support it.
That being said, we give the win for this category as a tie as they only have minor differences between them that are subject to the personal preferences of the buyer.
Winner: Tie
Safety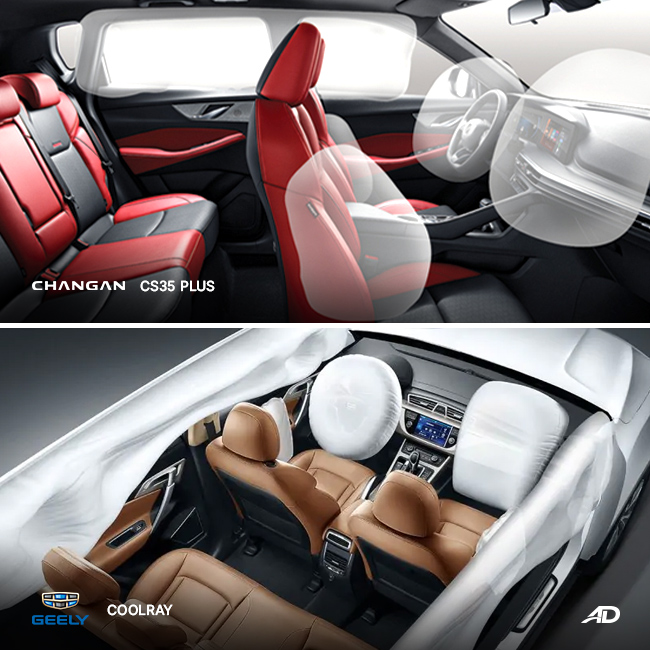 In terms of safety features, both crossovers are relatively on par with each other. They both get access to a suite of airbags that covers the front, side, and curtain areas of the vehicle. Where they differ is when it comes to the passive safety features that they have. The Changan crossover comes with its Safe-tech suite of features that gives it driver aids such as adaptive cruise control, autonomous emergency braking, front collision warning, a 360-degree camera, and six airbags. This gives it an edge over its Geely rival as it only has normal cruise control, but it does come with automatic parking.
With that said, we give the win to the Changan CS35 Plus as it comes with more safety features that make the vehicle easier to drive.
Winner: Changan CS35 Plus
Power
Under the hood, both crossovers are rocking turbocharged gasoline engines. The Coolray has a 1.5-liter 3-cylinder gasoline engine, while the Changing CS35 Plus has a 1.4-liter 4-cylinder. The Geely crossover produces 177hp and 255 Nm of torque, while the Changan makes 160hp and 260 Nm of torque. Both vehicles shift via a 7-speed DCT with the only difference being that the Coolray has a wet DCT.
When it comes to power we will have to give the win to the Geely as it produces 15 hp more than its rival. However, we do have to note that the Changan makes 5 Nm of torque more. But, for the sake of longevity, we would still go with the Geely's 7-speed wet DCT as its transmission won't be as susceptible to heat damage, if you want to drive the car hard.
WInner: Geely Coolray
Price and Verdict
When it comes to these two crossovers, it presents buyers with a hard choice as they are both competitively priced. The thing is the Changan CS35 Plus is positioned below the P1 million mark at its most expensive, while the Geely Coolray is above it for as it nearly hits the P1.2-million mark with its top-of-the-line model. This makes the Changan the more affordable option if you want a feature-packed crossover.
Overall the Changan CS35 Plus presents itself as a worthy rival to the Geely Coolray. It checks the right boxes that the Coolray does and even punches above its price tag as the CS35 Plus at its most expensive is priced at P999,000. Ultimately the choice is yours when it comes to choosing between these two vehicles, but based on the specifications they have on paper, the Changan CS35 Plus comes out on top thanks to its competitive pricing and its new feature set that many will come to enjoy
Overall winner: Changan CS35 Plus
Get the best deal - Choose multiple dealerships to compare offers!
You can compare quotations simultaneously from multiple Geely dealerships. Select your preferred dealers from the list below.

Compare quotations from multiple dealerships in minutes.
Check vehicle and color availability.
Find info on special offers and promotions.
100% Hassle-free with no obligation to purchase.
Latest Features
Stored Motor oil can still be used, provided they are within the manufacturer's recommendations of time and storage.

With a ton of features to list, here are five that we use all the time in the Nissan Terra.

For those that want a little bit of everything, the Subaru Outback has the space, the features, and the powertrain for more than just family trips.
View More Articles