In comparing small hatchbacks in the Philippines, there are several standouts that can give you great service, great looks, and great features. Among them is the Honda Brio and Kia Picanto. Let's put these two in a versus match to see who would win in a Head to Head comparison. These two models are both the latest in the Philippines, and however small they are, it's best not to underestimate them.
Let's have a look at the two top of the line offerings from each nameplate, the Honda Brio RS Black Top, and the Kia Picanto 1.2 EX AT.
Exterior
Both cars have diminutive sizes paired with very appealing looks. We do like both of them from a design standpoint, in a sense that they're nicely proportioned and don't look awkward from most angles. Honda's front end is similar to the Mobilio's and the top of the line RS trim level only makes it even more attractive with its blacked-out grille, defined front bumper, rear diffuser, and its blacktop. It's a stylish package on an already stylish car, and it also comes with 15-inch wheels with a two-tone finish. There's a lot of attitude on this small hatchback, and it's a design that stands out in its class.
The Kia, on the other hand, is respectably designed, with a lot of quirks embedded in the sheet metal. The overall style of the Picanto is also quite appealing, but it's much friendlier than the edgy-cool aura that the Brio evokes. It's pretty much the same as the Brio in terms of lighting, with halogen reflectors. The only difference is the Picanto has a halogen projector set of foglamps while you get the normal type on the Brio. Either system gets you similar performance, so neither gets an advantage.
Based on our experience with the cars, both of these models have great looks, but really, we feel that the Picanto is barer than the Brio. It's hard not to do a double-take of the Brio, especially in its RS trim. The Picanto still holds its own, but it'll slip under the radar easier, which is a plus for some, but this category has to go to the Brio.
Winner: Honda Brio
Interior
Like the exteriors of these two cars, there are two design languages also at play here. You have the Brio with a more outgoing and edgy design, featuring RS logos like the exterior, some patterned cloth upholstery, orange accent stitching, and even orange trim that adds a pop of color and fun to the hatchback. Plastics feel nice to the touch, and the general quality you can expect from the Brio is also quite great. Space is also quite good for the class.
Meanwhile, the Kia does have a more sedate interior with an interior that is not as over-the-top. You get a classic color palette of black and silver, along with a gauge cluster that features a more substantial screen compared to the Brio. The quality of the upholstery is good as are the plastic panels. Space, however, is slightly less than that of the Brio, but unlike the Honda, you get 40-60 folding rear seats. When these seats are folded, you get 870-liters worth of cargo space, which is up from the Brio's 710 liters worth of space. Though, while the backrests are up, the Kia has 58-liters less than the Honda.
Really, we can't say that neither the Brio nor the Picanto has a definitive advantage based on interior styling alone since style is indeed a subjective topic, but in terms of having the most spacious interior, which nets a lot of points in our books, the Brio takes the cake but only by a hair since the seats fold flat and reveal less space compared to the Picanto.
Winner: Honda Brio
Technology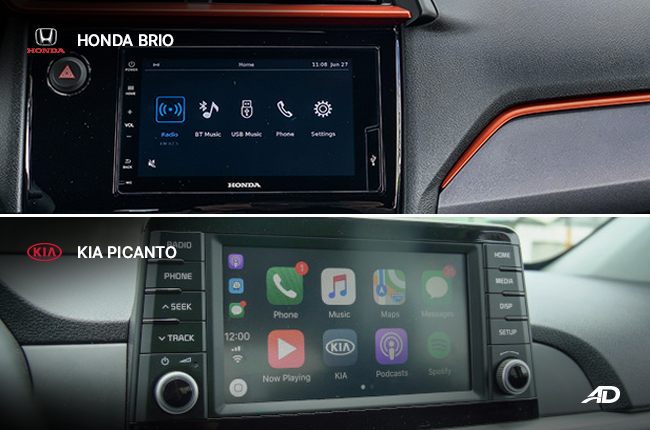 We believe that a modern car must be kitted with a good infotainment system in order for it to adapt to today's tech landscape. Features like Android Auto and Apple CarPlay are sadly missing from the Brio's 7-inch head unit, but at least it has Bluetooth. Apart from that, there is no backup camera available, which manageable enough considering the size of the car, but there are no parking sensors that can tell you if you're too close to an object while backing up. You do get 6-speakers which sound great but that's mostly it.
So Kia took all those discrepancies and addressed them in the Picanto. It has a backup camera, an Apple CarPlay and Android Auto-capable head unit, and it also comes with speed-sensing door locks and a 6-speaker audio system just like the Brio.
Well, for these small cars, there isn't much difference that can be extracted from them in terms of the technology on offer, but then the Picanto is, has a package that we consider to be a good standard set of technology features that should come bundled with your purchase. Therefore, the Kia Picanto takes this win, rather easily.
Winner: Kia Picanto
Engine and Transmission
The Honda Brio comes equipped with a 1.2-liter single overhead cam engine and it is mated to a CVT. The motor produces 89 hp and 110 Nm of torque. Because of the transmission, the accelerator pedal lags a little and isn't the most responsive, but what you get supposedly improved fuel economy.
Taking a look under the hood of the Picanto, we can see that the small hatchback also comes with a 1.2-liter engine, but this mill has dual overhead cams, and 83 hp and 121 Nm of torque. While it is rather archaic, the 4-speed automatic transmission is not as laggy as the CVT found in the Brio, returning adequate throttle response.
In terms of speed, these two should be more or less equal, but the Picanto oddly returns better fuel economy than the Brio, with 10 km/L in the city, to the Brio's 8.7 km/L. The same pattern was seen on the highway as well, with the Picanto scoring 25 km/L and the Brio netting about 20 km/L in our tests. For us, with nearly dead-even performance, and as a city car that is quite good on the highway, the Picanto takes this category.
Winner: Kia Picanto
Safety
Both vehicles have dual front airbags speed-sensing door locks, and ABS, but the Brio gets electronic brakeforce distribution (EBD). Meanwhile, the Picanto doesn't have EBD, but it has ISOFIX Child seat tethers, which we feel should have been included.
So doesPicanto wins by a tether? We'd say that it's a bit of a tie because they're missing one feature each.
TIE
Verdict
It's hard to fault that the Brio has a great deal of style especially with regard to its style. The small hatchback also comes with a price tag of P735,000, which is a very affordable price for a car that you won't easily get tired of looking at. You do get all those looks and respectable performance. However, in terms of features, the Kia Picanto is a better buy at P745,000.
It's pretty close, there were a few close calls, and there were a few outright wins. Crowning a winner was pretty hard. Thinking about the similar price point, however, the Picanto does warrant the extra P10,000 premium over the Brio. We think one of the strongest points that the Kia has against the Brio, and that nets it the win is the inclusion of all the features that you get, that we believe should be the new standard of tech features in the category or in the industry for that matter. We love our Android Auto and Apple CarPlay connectivity, and even if these cars are small, a backup camera will always be appreciated. So the Picanto wins, not by much, not by a mile, but by a few key features that substantially improve your day to day experience.
Latest Features
Running out of fuel is definitely a hassle, and here's what you should do if you've unfortunately run out.

When the RPMs go up, do not worry as it is a normal process that the car's engine needs to do to get itself to its optimal operating state.

Here's what can happen if you run your car on a flat tire for a long period of time.
View More Articles