The Subaru Legacy offers a head turning design, superior quality, and a wide array of technology features that are unique to this Japanese midsize car. However, many aren't aware of the beauty of its engineering, which one can't really discern just by looking at the spec sheet.
To explain its assets, we would look into the notable tech features of the Legacy's top-of-the-line variant - the 3.6R-S.
Symmetrical All-Wheel Drive
The Symmetrical All-Wheel Drive (AWD) system is one of Subaru's trademarks. For more than 40 years, Subaru has refined this system, enabling them to master the technology. It drives the power to all four wheels at all times to ensure traction even in the harshest conditions.
Imagine you're driving fast on a slippery road and you have to avoid an obstacle. Doing so can make one of your wheels lose grip. However, with the Symmetrical AWD system, the power will be distributed to the other wheels to keep the vehicle on track.
Together with the other technologies in this article, you're ensured to have a more responsive drive to face any dangerous situation on the road.
Boxer engine
Aside from the Symmetrical AWD, Subaru is also famous for their Boxer engine. Compared to other engines, the pistons of Subaru's power unit are horizontally opposed to each other creating a motion that you can compare to a boxer throwing punches. This design yields a low center of gravity and a flat profile. Furthermore, it sits low in the chassis, which naturally makes the engine more rigid, stable, and balanced as compared to the commonly available in-line and V types. You can read more about the Boxer engine and how it works on this article.
The Boxer engine was also made to generate limited vibration and resistance to side-to-side motion, which translates to lesser noise than other engine designs. This efficiency in structure enables the Legacy 3.6R-S to produce an output of 260 hp and 350 Nm of torque and a notable combined fuel consumption of 10.10 km/l.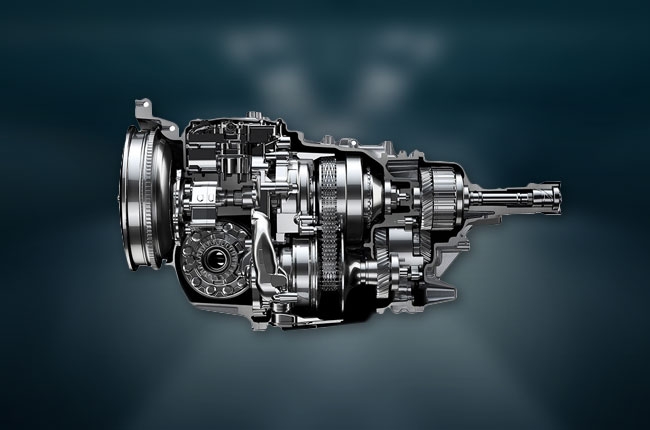 Lineartronic Continuously Variable Transmission (CVT)
Another technological advantage of the Legacy (and the rest of the Subaru lineup) is its Lineartronic Continuously Variable Transmission (CVT) which keeps the boxer engine within ideal power range, adjusting itself according to the speed of the car. This allows the Legacy to deliver optimal fuel efficiency. When higher torque is needed, it controls the noise for a smooth and quiet ride.
SI-DRIVE
Aside from the commendable transmission technology of the Legacy, it also has the Subaru Intelligent Drive (SI-DRIVE). This feature adjusts the throttle and shifting response of the engine to give the needed power on demand – with just a flick of a finger on the steering wheel. There are 3 types of mode for the SI-DRIVE: Intelligent, Sport, and Sport Sharp.
Intelligent mode gives just enough power for fuel efficiency, perfect for cruising in the city streets and flexible control on wet roads. Sport mode, on the other hand, accounts for responsive shifting and acceleration for high-speed driving on highways. Lastly, Sport Sharp mode takes it to another level by implementing quicker acceleration and sharper response to unleash the Legacy's full potential.
Active-Torque Split AWD and Vehicle Dynamics Control System
To enhance the AWD system of the Legacy, it also has Active Torque Vectoring and Vehicle Dynamics Control System for superior driving performance especially in tight corners. It automatically applies brakes and distributes the torque to the inner wheels for better handling, while balancing the needed engine output in all four wheels. This is an ideal feature for winding roads like those bound for Baguio or Baler.
Cabin Protecting Layout
Just the same as other Subaru vehicles, the Legacy has a cabin protecting layout – a feature that's exclusive to this brand. The low positioned engine and gearbox are designed in such a way that in the event of a head-on collision, it won't crash into the cabin and harm the people inside.
The Subaru Legacy 3.6R-S is available with a price tag of P2,098,000, which is pretty competitive within its segment. With all these technological features mentioned, we suggest you consider this model next time you'll go shopping for a midsize sedan.
For more information about the Subaru Legacy, visit the AutoDeal Car Guide.
Latest Features
Should you even consider a driving school anymore? Yes, and here's why.

Regular exposure to the sun and varying weather conditions ruin your car paint. But, are car paint protection products worth it?

Turbochargers are becoming common in today's cars, and turbo lag is an inescapable part of it.
View More Articles