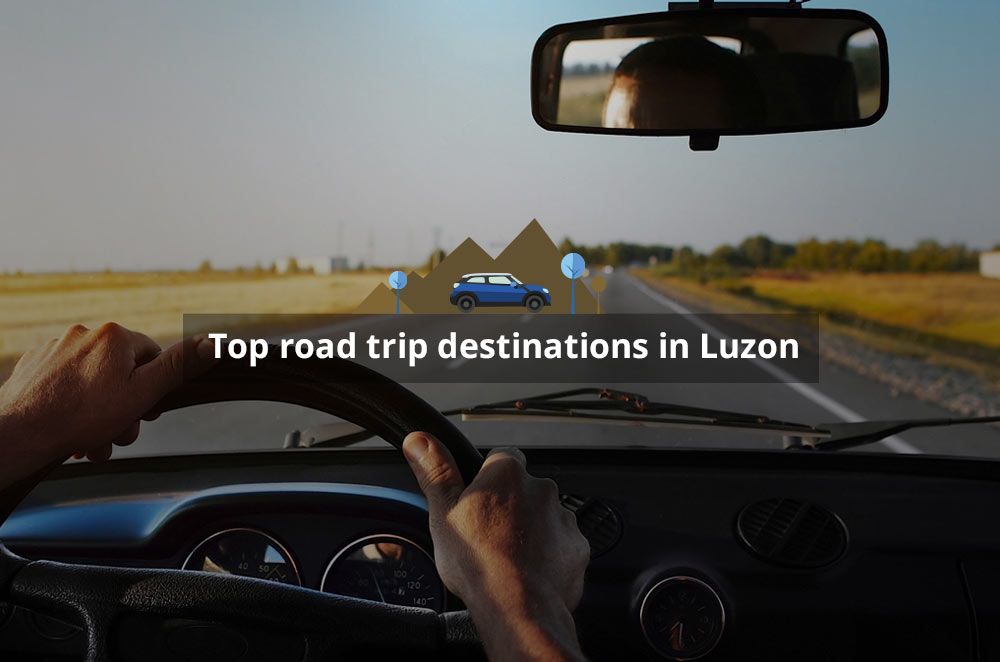 It doesn't take an expert to know that summer is here. But there are ways to beat the heat. And one of the most popular and rewarding ways to do so is by going on a road trip.
Thankfully, there are great destinations around Luzon that are easily accessible by car thanks to the continuous service from our reliable expressways that cuts travel time tremendously. This makes long-distance cities or provinces a jiff to drive to. Let's look closely at the top 5 road trip destinations to visit this summer.
1. Baguio (approx. 5 hrs, 249 kilometers)
A few years ago, the summer capital of the Philippines can be reached via an 8-hour drive. But using the Tarlac–Pangasinan–La Union Expressway (TPLEX) now cuts the trip by almost half.
Despite the change in climate, Baguio is still a perfect getaway to free yourself from the hot climate in the Metro. A one-stop venue for a nature walk, family and friends can enjoy the recreational amenities at Camp John Hay or spend a picnic at Burnham Park. A quick drive out of the city also gives visitors the chance to pick fresh strawberries in La Trinidad or take a dip at the waters of Hydro Falls in Camp 6.
2. Sagada (approx. 8-9 hrs, 433 kilometers)
If you want to see and feel more of the countryside, Sagada is one great destination that's readily accessible by car. It may be a long drive from Baguio City, but it can be rewarding to those who love sitting behind the wheel.
Sagada is known for its eco-adventure offerings. From hanging coffins, caves, and Marlboro country scenery, Sagada is truly something to be proud of as a Filipino. While you're there, you can also try the delicious Patupat rice, Bugnay wine, and different blueberry desserts.
3. Anawangin Cove (approx. 2-3 hrs, 164 kilometers)
If you're heart calls for the beach, one of the most recommended destinations in Luzon is the Anawangin Cove in San Antionio, Zambales. Initially renowned as a secret getaway for hikers, it's a camping venue that features lush vegetation and calm waters that's perfect for your soul
The distination's lack of modern ammenities such as electricity lets visitors appreicate nature and the simple life. In return, it offers sun bathing opportunities, tent accommodations, grilled seafood, and beautiful walks on a white sand beach.
4. Nasugbu Beaches (approx. 2-3 hrs, 108 kilometers)
Another spot for those wanting to visit a nearby beach would be Nasugbu, Batangas. A great summer treat that's just a 2 hour drive from Manila, you can opt to use the South Luzon Expressway (SLEX) or follow the rather peaceful Ternate, Cavite route.
Depending on the resort you'll stay in during the trip, they usually offer activities like kayaking, snorkeling, island hopping, and diving. But if you want to go a little bit isolated from the crowd, the barely touched shores of Calatagan offers a well-deserved retreat. You may also be keen to see the Punta de Santiago Lighthouse, known for having withstood many wars yet remained operational to guide boats that pass by at night.
5. Baler, Aurora (approx. 5-6 hrs, 275 kilometers)
Baler is a beautiful destination that's hidden by the mountains of Aurora province. It's known as a spot for surfing enthusiasts where waves can go as high as 9 feet. It's also famous for its historical and heritage sites, of which, marks the last Spanish stronghold in the Philippines.
From Manila to Cabanatuan City, the road leading to Baler welcomes you with the lush virgin forests of the Sierra Madre Mountain Range. While on vacation, family or friends can try out surfing lessons, visit heritage sites, trek to Ditumabo Falls, see the murmuring waves of Dicasalarin Cove, or watch the epic pacific sunrise.
Honorable Mention: Weekend at the Calaguas Islands or Ferry to Marinduque
The islands of Calaguas offer the grandeur and beauty you expect from the blessing bestowed by the Creator to the Filipino people. Even if it's located at the southernmost part of Luzon, you can't fail to be amazed by the beautiful powdery white sand beaches that's pleasing to your bare feet. There are no hotels or resorts, but the coast will be sufficient enough to set a camp with the kids beside a bonfire at the most popular beach called the Mahabang Buhangin, a part of Tinaga Island. To get there means having to drive 6 to 8 hours from Manila to the gold town of Paracale, Camarines Norte, followed by a 2-hour boat ride to Tinaga at the fish port is available for a fee.
Another worth-noting adventure is to ferry your car on the way to the beautiful heart-shaped island of Marinduque. It's a magical experience to behold as you enjoy a coastal drive on its narrow yet wavy roads that go around the whole island. Visiting there for the Holy Week means witnessing the Moriones Festival where a parade of rainbow-colored centurion costumes march to reenact St. Longinus' capture and conversion to Christianity. The family can also go for kayaking at Isla del Carmen or go caving at Ka-amon Cave. The trip is perfect for the car nut with an adventure at heart, you can enjoy island hopping tours, see old Spanish houses or visit historical churches that's more than centuries old.
Latest Features
Both are within the same price range but are in many ways different from each other.

The Chevrolet Tracker presents tempting design details and features that should be given much more attention.

Choosing the right vehicle is hard so we created a list of 10 vehicles that could tick all the right boxes for your current and possibly your future needs as a young professional.
View More Articles