The Toyota Rush has been one of the brand's more popular offerings in the market since it originally launched in the Philippines. It comes with three variants each one offering high ground clearance and flexible seating, especially for the Toyota Rush G variant. With an affordable price range of P968,000 to P1,100,000, 7 seats for the higher grade, and SUV-looks, it's not hard to see why many Filipinos have chosen to buy the SUV. It comes as a balanced package with an affordable price tag. With that said is the Toyota Rush worth it even with the new competitors in the market?
The small SUV appeal and 200mm ground clearance
The Toyota Rush has become such a popular vehicle that many Filipinos have given it the nickname "baby Fortuner" and it's not hard to see why. It offers interested buyers a bigger alternative to the Toyota Avanza. The Rush measures in at 245mm long, 35mm wider, and 10mm higher than its stablemate. Design-wise the small SUV comes with an upright face, high ground clearance, body claddings underneath, roof rails, and sporty bumpers that all add to the SUV appeal. It also comes with 200mm of ground clearance making it ideal for the flood-prone and pothole-filled streets of the Philippines.
It also comes with LED headlamps for its G variant, a feature that isn't common in its competitors, it also comes with LED taillights along with a chiseled hood that gives it a macho look. However, one lacking feature is daytime running lights which isn't really a deal-breaker especially for its price point. You also get a set of 17-inch wheels that help match the sporty and SUV look of the vehicle.
Even the Toyota Rush E AT variant gets some love as it too comes with LED head and tail lamps. Like its higher trim-level stablemate it shares the same design cues making it almost hard to differentiate apart from the different wheels that are on the vehicle.
Simple and durable interior
When it comes to the cabin the Toyota Rush is built to a price, after all, it is marketed as an entry-level SUV. It doesn't come with too many features, however, there is enough to keep you entertained. Space in the small SUV is above average which is great for those looking for a bit more space on a budget. The Rush comes with a soft cloth material that will keep all occupants comfortable during trips and NVH is decent for its price point. The Toyota Rush also has a lot of storage options for drinks as it has a total of 13 cup- and bottle-holders spread throughout the vehicle.
Where the Rush lacks in features it makes up for in terms of ergonomics and ease of usage. The buttons and knobs on the vehicle are placed within arms reach and familiarization with the controls is easy. The automatic climate control in the vehicle works well and the gauge clusters display the information you need clearly.
The 7-inch infotainment also works fine as it is the same one found in the Toyota Yaris and pairs it well with Apple devices. Android users on the other hand will need to connect via Bluetooth or the Aux input to play music. While not class-leading it does put it on par with most of its competitors in its segment.
The 1.5-liter motor
When it comes to power the Toyota Rush is balanced. It comes with a 1.5-liter naturally aspirated engine that produces 102hp and 134 Nm of torque, which sends power to the rear wheels via a 4-speed automatic transmission. While it's not the most powerful motor it's just enough for the Rush, especially for city use. Fuel efficiency figures are also decent considering its size as it clocked in 6.9km/L in city traffic during our testing, and 14.1km/L once the vehicle hit the highway. However, if you plan to use the vehicle for cargo hauling and for a fully-loaded trip out of town expect these figures to go lower as the 1.5-liter motor will struggle but it will get you there.
5-star ASEAN NCAP rating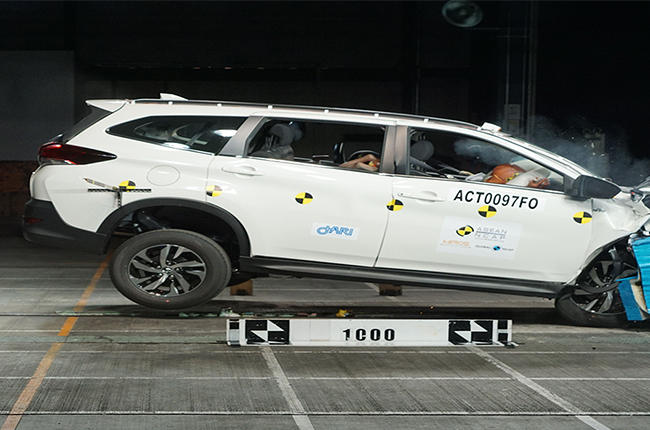 When it comes to safety the Toyota Rush performs well. In its 2018 crash safety testing the small SUV was able to garner a score of 85.42/100 for the ASEAN NCAP giving it a 5-star safety rating. The Rush did well when it comes to adult occupant protection with a total score of 31.14 for its various tests, a score of 41.81 when it came to child occupant protection tests, and 15 for its safety assist technology. With all things considered and in terms of safety the Rush presents itself as a family-friendly vehicle you should definitely put on your shortlist.
Verdict
Despite its downsides, the Toyota Rush is still worth considering getting especially if you are looking for an affordable 7-seater SUV. It ticks most of the right boxes that Filipino buyers are looking for in a family-friendly vehicle. It comes with space, ease-of-use, overall comfort, and flexible seating for its G variant, it also comes with a 5-star ASEAN NCAP safety rating ensuring that all occupants who use it will be safe in the event of a crash.
While its engine leaves something to be desired, for its price range of P968,000 to P1,100,000 there is no denying what the vehicle can offer. It is after all one of the more popular vehicles that Toyota Philippines has on sale today.
Get the best deal - Choose multiple dealerships to compare offers!
Select up to 5 dealerships and compare their offers
Over 70% of dealers reply within 1 hour
100% hassle-free with no obligation to purchase
Latest Features
These are the cars with AWD to consider from all the most popular brands in the Philippines.

The new Triton has shed its old name and donned a new face. It's no longer the Strada that we used to know.

Midsize SUVs in the Philippines are best sellers because of their high ground clearance, frugal diesel engines, and space for seven or a lot of cargo.
View More Articles