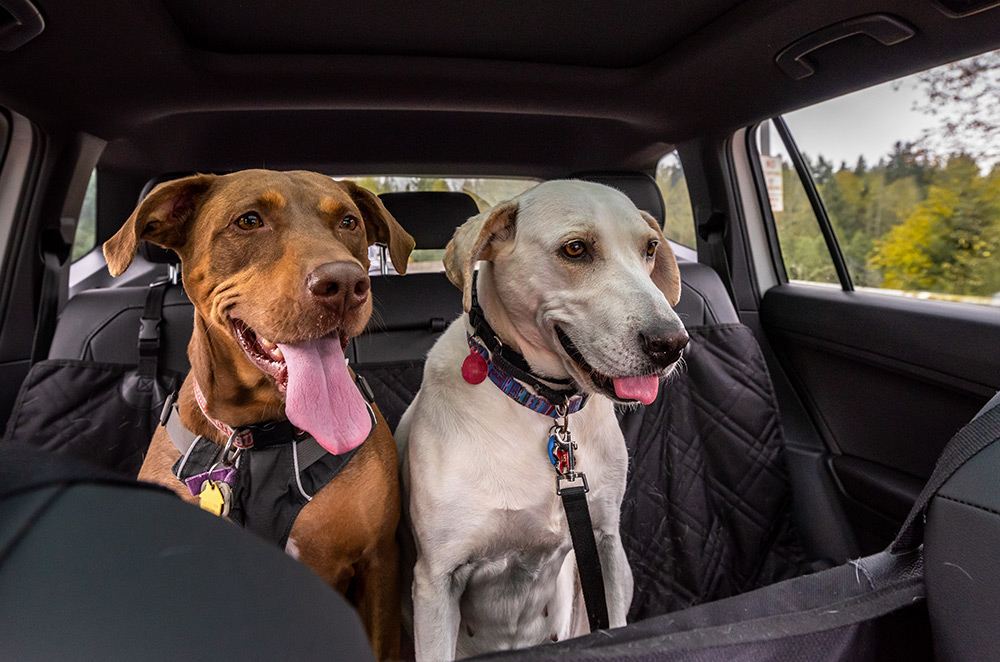 Traveling with your dog or for any animal for that matter can be a tricky experience especially if they aren't used to your vehicle yet. Traveling with your four-legged friends can be similar to traveling with kids as you will need to account for more things. You will also have to give them your utmost attention and provide for their comfort and safety needs.
Because of this, going on a trip with your favorite canine can either be a fun experience or one that involves a little bit more hassle depending on the level of your preparedness. With that in mind and with treading onto the more difficult ground, we have listed down some car accessories that will make driving less stressful for both you and your dog.
Dog harness or adjustable seatbelt
Just like with humans safety should always be your number one priority when going on a trip with your dog. Dogs are more likely to be playful, so make sure that you restrain them properly with a harness or seatbelt. These accessories will help prevent your furry friends from creating a mess at the back of your vehicle. It is important to note that you will need to take time to train your dog to get used to the harness, so don't expect them to get used to this accessory immediately and expect some initial resistance.
Pet booster seat
For those who have smaller dogs, a pet booster seat can be a great idea for your canine friend. Similar to an ISOFIX child seat, this booster seat keeps your pet secure and safe. It also ensures that they are comfortable within your vehicle. The seat also comes with the benefit of giving your dog a view outside of the window because of its elevated design. This will also help your dog with possible motion sickness issues as the view of the outside will help their bodies understand where they are going. Aside from this Pet booster seats can be installed easily on the car seat and fold flat when not in use.
Pet Barrier
When putting your pet dog in a booster seat or a harness is not an option, getting a pet barrier could be the next best thing for you. It prevents much bigger dogs from distracting your while driving especially when they get excited and limits their mess to the rear of your vehicle. This can be used on SUVs, vans, and even in sedans or hatchbacks if space is permitting. That being said, a pet barrier should be on your pet accessory list.
Pet seat cover
To help you mitigate the mess your furry friend might make at the back of your car, we highly suggest that you get a pet seat cover. Having a seat cover on top of your normal seats will help you better deal with any messes that may occur such as when a dog sheds its fur or when it gets car sick and decides to throw up.
Tri-fold ramps
Once you are already in your destination, then you have to let your doggo out of the car. If you own a cute pupper, there would be no problem carrying it out. However, it would be hard if your trusted friend is a huge one like a Siberian Husky or maybe a Golden Retriever. For easier ingress and egress, a tri-fold ramp is the best solution to this problem. Make sure to teach them how to walk with proper pawsture on the ramp, who knows if a pup-parazzi is lurking around.
Anti-spill waterhole
Dogs should drink one ounce of water per pound of its body weight each day. That's why, owners should keep their bowls filled with water at all times. Thanks to anti-spill waterhole, it has a wide, overhanging lip that prevents splashing water all over the place and it does not tip over. With only a small opening, the doggos won't get wet, especially those who have floppy ears.
Pet Organizer Kit
In long drives and great adventures, unexpected things may happen. This organizer kit has numerous pockets that will help you pack your dog's stuff accordingly. You should always have the basic first aid supplies, proof of rabies vaccination, pet waste bags, bowl, food, and water. Aside from that, do note to also bring wet wipes, alcohol, and air purifier to keep things clean, fresh, and pawsitive all throughout the journey.
Latest Features
These transmissions commonly available in our market today require details you must know of when driving.

The Emkoo is something special from GAC in the Philippines. Priced just right and equipped even better, it's a stunner.

Now we have the basics in check. Compulsory Third Party Liability Insurance policies are now available on AutoDeal.
View More Articles