\When it comes to buying a modern vehicle, not all models are kitted out equally, some will be more bare-bones compared to others. While some of these features are missing, they can easily be replaced with certain accessories that will help complement the vehicle. With that in mind, we have created a list of useful car accessories or devices that will help ease your driving concerns and keep your car on the go.
Phone holders
If your car doesn't come with a large touchscreen or Apple CarPlay and Android Auto as standard, using your mobile phone can be a good alternative. Take into consideration, however, that you will need to mount this device somewhere on your vehicle to legally use it. With that in mind, a phone holder is a good investment as you can position your device within your area of vision without having to take your eyes off the road. The benefit of this is your phone already comes with all the applications you will need to help guide you on your journey, all you need to do is find a suitable place to mount it.
Bluetooth Key Finder
If you are worried about losing your keys, worry less as a Bluetooth tab will be able to help you find your car keys in no time. One example of this is the Tile Mate that helps you find items that you misplace by looping them on your keychains. Another is an Apple AirTag which you can attach to your keys and easily find if you're in the iOS camp. You can connect this device to your mobile phone and track down your keys by making it ring.
Keep your witness close with dash-mounted camera.
Whether it be an accident or suspicious activity, having a dash camera will help you in more ways than one. It automatically records what's in front of the vehicle and saves the footage. This can then be used as strong evidence to point out who's at fault and will help you get your car fixed through insurance. Not only that but you can also use it to contest wrongfully issued tickets as well.
Multi-port car charger
We understand that a car will only have a few USB ports available for charging accessories and other devices. Sometimes a 12-volt socket may be the only place where you can charge a device. With that in mind, to maximize that one port, we recommend that you get a multi-port car charger so that you can charge more devices. These are affordable and can be a lifesaver later on. Just make sure that you properly maintain your 12-volt socket or cigarette lighter as multi-port chargers can be dangerous to your vehicle.
Blind spot mirrors.
If your vehicle doesn't have a blind spot monitoring system as standard, you could splurge a little and get blindspot mirrors. While these aren't as sophisticated as the sensors themselves they still help you by giving you a better view of what's around your vehicle. These convex mirrors may be small but never underestimate the purpose as blind spot mirrors provide better visibility that can save you from possible accidents.
Electronic body massage pillow.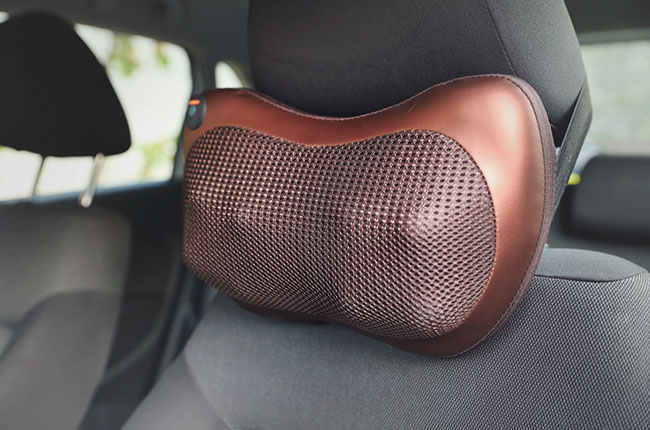 Another way to help you relax on a long or arduous drive is to invest in a body massage pillow. Neck and back pain are undoubtedly unavoidable on long drives. Aside from the traditional lumbar support, you can also get a massage pillow to keep your lower back and neck muscles more at ease. Thanks to its massage rollers and heating function, long drives would be more bearable. Just make sure not to fall asleep at the wheel.
Non-slip sticky pads.
It might seem simple but non-slip sticky pads can prevent your things from sliding off the slippery plastics of the cabin. Key places to install the sticky pad would include the dashboard, the center console, or even cup holders.
Cargo box
If you want to expand the cargo-carrying capacity of your vehicle without heavily modifying it, you can invest in a cargo box. These are placed on the roof of your vehicle and will give you an alternative space to store whatever you need to on the top of your car. Take note, however, that there is a weight limit to these things so don't place too heavy objects on top of your vehicle.
Waterproof seat cover
Taking your pets out with you on trips can be a hassle, they can get hair and drool everywhere. With that in mind, we recommend that you get a waterproof seat cover to ease the burden of cleaning out your car later on. In this manner, your pets get the space they need to be comfortable in the back of your car while you don't have to worry about cleaning up a future mess. Make sure that you pair these seat covers with an air purifier to make sure the smell of your pets doesn't linger in your car.
Backseat organizer
Cars are like a second home, and as a second home, you should also keep your stuff organized as it also says a lot about your personality. Aside from that, you can also add a car hanger at the back seat. A pleasant appearance can help you gain a good impression on social gatherings, so a creased outfit is a big no-no. That's when a rack hanger will somehow save your image to the public eyes.
Steering wheel cover.
If you're suffering from palmar hyperhidrosis or sweaty palms, gripping the steering wheel for a long time is trouble. Well, this steering wheel cover might be the best solution to your problem. It's not just an accessory to give your steering wheel some new style but it also helps absorb sweat for a better driving experience.
Latest Features
Priced right, engineered to be driven, and polished premium, the Mazda3 makes for a great daily driver for enthusiasts.

Cars come with the latest and greatest tech now with adaptive, automatic, and advanced systems, but is it worth it?

We created a quick list of cars you can buy today that will give you the most amount of horsepower for the lowest price.
View More Articles