Americans do patronize gigantic workhorses, including its mid-sized pickup trucks. Flooded with several options such as the Toyota Tacoma and Ford Ranger, Jeep has sent an answer to the segment with its newly-launched Gladiator.
It debuted at the LA Auto show. Basically, it is a Jeep Wrangler with several design cues borrowed although it is reinforced with a five-foot steel bed. That said, it is indeed instantly recognizable as a Jeep. This mighty truck right here rides on a traditional body-on-frame chassis incorporated with high-strength aluminum doors, hinges, hood, fenders, windshield frame, and tailgate for added touch of extra durability.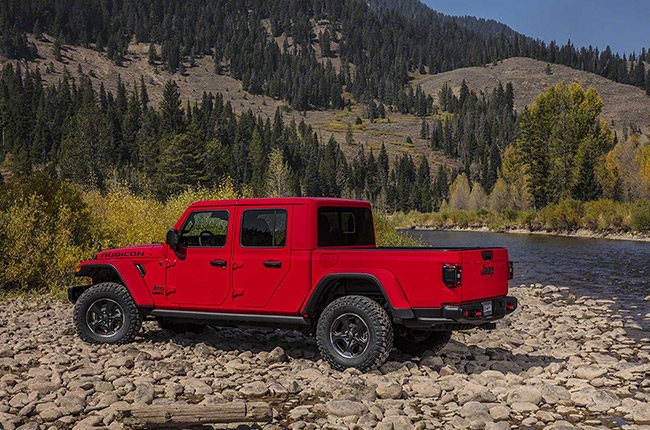 Given its Wrangler sibling having a spare tire placement on its rear, the design team had to go play with the rear wheel's location would be. As the group tried to experiment and figure out the most appropriate location of its spare. Considering different parts of the vehicle such as the tailgate, in the bed, and even on the side of the truck, before eventually deciding to place a full-size spare under the bed.
Interior wise the Jeep Gladiator boasts in terms of fine craftsmanship through highlighting several elements throughout the cabin with high-quality materials. Along with a well-presented interior comes versatility, comfort, and intuitive features such as a push-button starter, which features a weather-proof surround. The cloth or leather-contoured seats has accent stitching and adjustable bolster and lumbar support. Worth noting though is that the rear seats of the Gladiator do fold flat to access cab-back storage and provide a load floor for larger items.
Its beating heart is a 3.6-liter V6 Pentastar gasoline engine of Jeep, which delivers 285 hp and 353 Nm of torque. Power could be shifted via a six-speed manual gearbox or an eight-speed automatic. As per the brand, by 2020 it will also offer a 3.0-liter six-cylinder diesel option producing a healthy number of 260 hp and 600 Nm of torque. The said engine can only be paired with an eight-speed automatic. Lastly power is sent to all four wheels through one of two available 4x4 systems, both offering full-time torque management for optimal grip.
"There is tremendous demand for this unique vehicle from our loyal Jeep customers and pickup truck buyers everywhere. Born from a rich and proud heritage of tough, dependable Jeep trucks, Gladiator combines rugged utility, versatility and functionality resulting in the most capable midsize truck ever."
So, is this a yay or nay for you? No official words if this baby will soon reach the Philippine shores, but the Gladiator is set to be produced at its Toledo factory in Ohio. Assembly shall commence by the first half of next year, with customer deliveries promised by the second quarter of 2019.
Latest News
Images of the Picanto's 2024 facelift were leaked ahead of its launch, revealing a new and aggressive EV9-inspired look.

French automaker Peugeot has just unveiled the new design of its i-Cockpit dashboard, set to debut on the all-new 3008.

Peugeot will return to the 24 Hours of Le Mans with its new the 9X8 hypercar as part of the race's 100th anniversary.
View More Articles