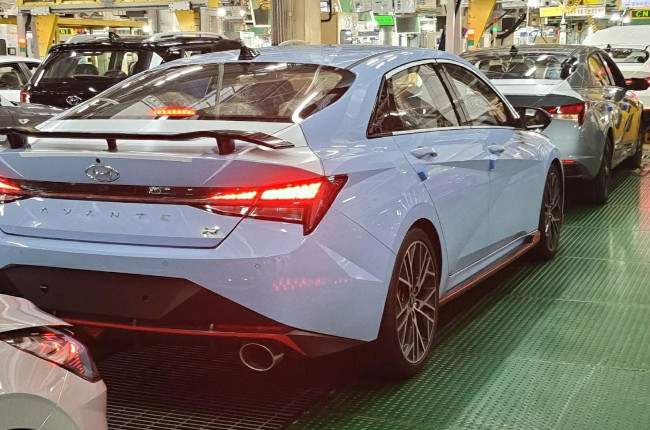 Hyundai is making a big deal about its new Elantra N, and hardcore enthusiasts are eagerly waiting for the top-spec performance model. The Elantra N is also known as the Avante in South Korea, and a photo from an unknown source made it to our desk. That being said a lot of enthusiasts are excited for July 14, 2021, the date that the Elantra N will be launched to the world.
It appears that the photo was taken on an assembly line in Korea. The new model is surrounded by other non-N models, and as expected, the hue of blue on the car pops like no other. The photo clearly shows the rear of the car, with the spoiler in full view, and it will be finished in black. We can't make it out if it is dressed in carbon fiber, however. Apart from that, the gorgeous cuts and creases in the doors are kept, with no gills or fins on the side to sully the view. Also, it is only in this photo that we get a clear look at just how massive the rear exhaust tips are. It's very beefy and we like it.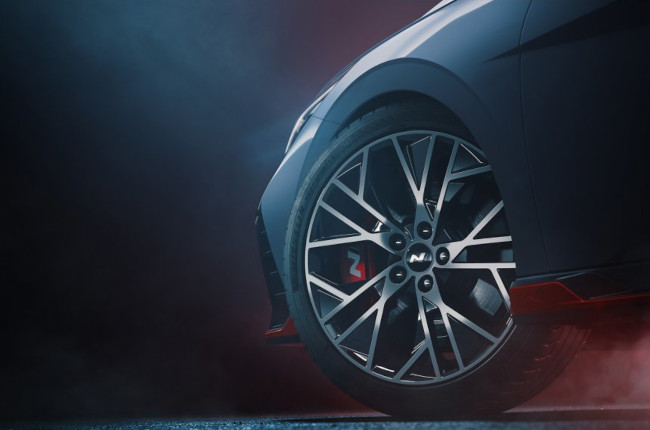 Previously, Hyundai released a teaser of the car in a heavily edited image set that showcased the rear and the wheels of the Elantra N, but the photo above shows the car without shadows and filters.
As we all know, the N division of Hyundai is geared toward motorsport. No other variants come close to the N-spec models in the automaker's lineup like the Hyundai Veloster N and the i20 N. We expect that the car will come with a 2.0-liter turbocharged inline-4 engine that could make up to 271 hp and 392 Nm of torque mated to a 6-speed manual transmission. According to other sources, the car will also come with an 8-speed dual-clutch transmission (DCT). Apart from that, it gets loads of tech and driving-centric add ons like active dampers and even a limited-slip differential.
The Elantra/Avante N is close to launching, we cannot wait to get the full unadulterated view of the entire car. Even in this leaked photo, we only get a shot of the rear. We're not complaining, but the front is what we really want to see. Oh well, what're two more sleepless nights?
Latest News
The 2023 Mazda CX-60 is finally here in the Philippines, with gasoline and diesel engines in the lineup.

Featuring a boxy and classic design, Lexus has finally launched the GX, which is geared for off-road use and luxury.

GAC Philippines sent out an invite for its event on June 20, 2023. As to what it is, we have a few guesses.
View More Articles