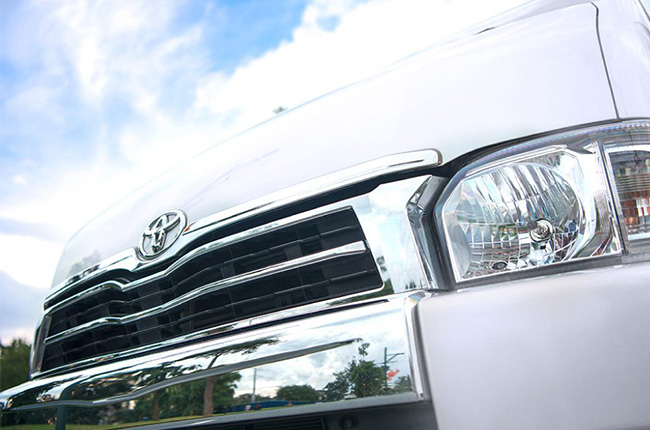 Among the best-selling cars in the Philippines in 2018, the Toyota Hiace passenger van ranks sixth, securing the top six spots for the Japanese marque. Indeed, it's one of Toyota Motor Philippines' best-sellers, delivering 17,972 units of brand new Hiace vans last year. That's true even with the fact that the current model has been out for almost 15 years now. We reckon, the passenger van/light commercial vehicle is up for a full model change, and it looks like it's going to be pretty soon.
UPDATE: 2019 Toyota Hiace makes global launch in the Philippines
According to foreign and local reports, an all-new Hiace van is on its way and will have its global release at a stone throw's away. That's because several spy shots and rendering have surfaced the web, albeit, nothing has been set in stone just yet. Even its launch is still speculation at this point.
But based on what has been circulating online right now, it looks like the 2019 Toyota Hiace is deviating away from its hoodless design that has been a staple styling since time immemorial. It's speculated that it will finally have a bonnet, just like the Hyundai Starex, leaving its tight competitor, the Nissan NV350 Urvan, as the sole Japanese van to use the hoodless body style.
Meanwhile, Toyota Motor Philippines is launching two new vehicles that are 10 days apart from each other. It has been confirmed that the all-new RAV4 will debut tomorrow, February 8, 2019. However, there's another launch happening on February 18, which we initially guessed to be the RAV4.
As it happens, TMP's final email confirmation for the launch event on the 18th still didn't specify the car that they will launch. Is the secret car going to be the all-new Hiace? We say it's highly possible, considering how strong the passenger van is selling. It's high time that we see a new face for the most popular people-hauler in the Philippines.
Latest News
Class 1 vehicles are expected to pay P35, class 2 vehicles are expected to pay P69, and class 3 vehicles are expected to pay P104.

Mitsubishi RALLIART claims first place at the 2022 Asia Cross Country Rally on the brand's first attempt.

All that is left now is for the president to sign this and we could see prices of select electric vehicles in the country go down soon.
View More Articles