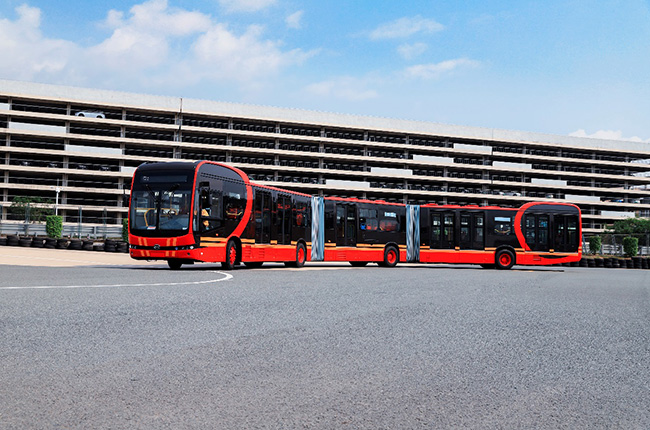 When it comes to cars, a few meters can become a handful to drive in Metro Manila, but BYD ups the ante and releases the world's first 27-meter pure electric bi-articulated bus called the K12A. The bus has a capacity of 250 people and it can travel at a maximum speed of 70 km/h. To aid in its propulsion, it has a 4WD system that can alternate between 2WD and 4WD smoothly to traverse a multitude of terrains.
The BYD K12A features an all-aluminum alloy body and BYD's core technology of batteries, electric motors, and electronic controls. The bus will be ready to serve Bus Rapid Transit (BRT) systems around the world and is ready to be utilized by transport companies willing to use the platform.
Today, BYD once again uses its core technology, reliable products, and innovative solutions to solve the two great urban ills of congestion and pollution, The K12A will bring zero emissions to BRT systems, allowing passengers to enjoy quiet, pollution-free travel, while at the same time saving significant maintenance costs for operators.
The bus also features a battery heat management system that keeps the power packs running at optimum levels to avoid overheating. It also comes with an energy regeneration system that recharges the batteries. To top up the battery, the BYD comes with DC and AC charging ports that can be alternated between to meet the needs of the customers. It can keep going and last almost 300 kilometers on a single charge and can last a full day's operation. That's a round trip from the Autodeal main office in Makati to Batangas City, even with some traffic on the way.
Throughout the vehicle's life cycle it can save about 360,000 liters of fuel, and save a total of 80 tons of CO2 emissions per year. More than 50,000 pure electric buses have already been distributed by BYD internationally to its clients in different parts of the globe. The brand currently ranks number one in terms of sales for buses longer than 10 meters that are purely electric. The brand responds by building a more complete R&D and production presence. It has also set up pure electric commercial vehicles in China, the U.S., Brazil, Hungary, and France.
The Philippines, however, is yet to get BYD buses employed in our public transport system. But with this kind of efficiency from electric buses, is it going to be the future of Philippine mass transport?
Latest News
BDO, together with Waze, crown Catriona Gray as the next celebrity Waze voice.

Hino PH inaugurates its new technical support and training center. The center promises to better serve its customers and provide comprehensive servicing for all Hino vehicles.

Toyota now lets you buy your very own race car, purchasing a Vios OMR car automatically grants you entrance into the circuit race of the Vios Racing Festival