When you visit GAC Motor Philippines' booth at the 2022 Manila International Auto Show (MIAS), your eyes naturally gravitate to the Empow, a flashy sedan promising to shake up its segment when it launches next year. However, there's another vehicle sitting directly behind it: the all-new GS8 midsize SUV.
The GS8 turned heads when it debuted globally last year, as the SUV looked poised to challenge established forerunners like the Toyota Fortuner and Mitsubishi Montero. Now that we've seen the GS8 in person, that prospect is not as far-fetched as some might think.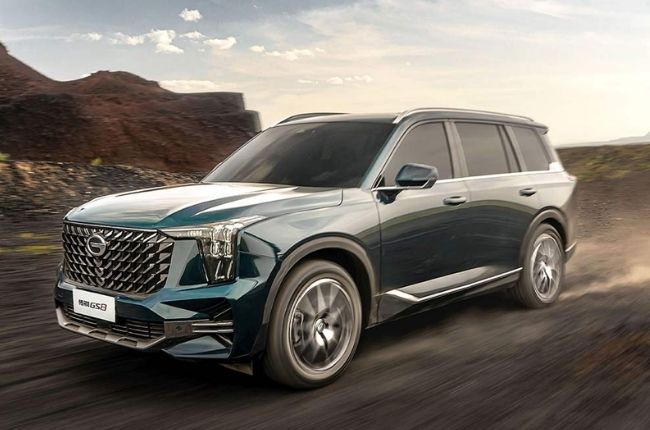 GAC is making two engine options available for the all-new GS8. The first is a 2.0-liter turbocharged gasoline engine with 252 hp and 400 Nm of torque. It pairs with an Aisin eight-speed automatic transmission. The second and perhaps more compelling powertrain option is the 2.0-liter turbocharged gasoline-electric hybrid engine delivering 245 hp. Interestingly, it features the Toyota Hybrid System (THS), likely due to GAC's existing partnership with Toyota in China.
In terms of design, the all-new GS8 carries over some design elements from the previous generation, although there are significant updates. The massive new "Dragon Scale Wing" grille features prominently, while vertical LED headlights make the GS8 look even more imposing. The rear gets a similarly vertical LED lighting setup to match the front. The new GS8 also features redesigned alloy wheels to complete the package.
The changes are much more apparent once you step inside the all-new GS8. The midsize SUV's interior has become much more upscale and premium-looking. The highlights include a new 12.25-inch fully digital instrument cluster and a massive 14.6-inch touch screen infotainment system. The GS8 features white leather upholstery, which pairs with three seating configurations, including five, six, and seven-seater arrangements. The six-seater variant features captain seats for the second row.
There's still no word on final specs and pricing, so we'll have to wait until GAC launches the all-new GS8, likely sometime in 2023. For now, interested onlookers can still check out the GAC GS8 at MIAS 2022 at the World Trade Center in Pasay City until April 10, 2022.
Latest News
Mitsubishi Philippines wants to bring a little more spice to its model lineup by bringing back the Ralliart brand as an accessory pack.

The Strada GLS line gets a selection of blacked-out elements and 18-inch black alloy wheels.

We got nominated, and won! Caco drove home with two awards from HFA this year.
View More Articles