The tenth-generation Honda Civic is on its way, with some rendered images previously released, therefore giving us a glimpse of the sedan and hatch configuration. Now, what we have here are some rendered images of the next-generation Civic Type R, which also gives us a glimpse of the upcoming compact car.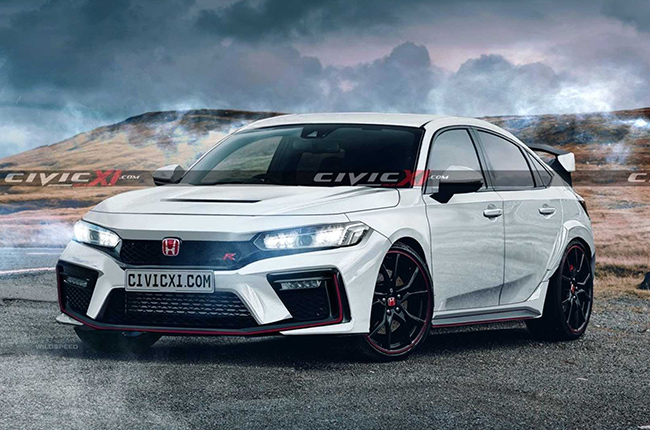 Now, the following images were produced by the folks over at the Civic XI forum, which happens to be the same source for the renderings of the standard Civic sedan and hatch. In comparison with its outgoing model, this Type R somewhat looks a bit milder and less edgy than before, which is perhaps a better application as it does seem like a car that could age quite gracefully in time.
Upfront, you'll notice the all-LED lighting setup, though unlike before, the Type R's headlights are now combined with a projector unit. Being the sportier breed of the pack, this Civic gets a different grille, apart from that, the overall sportiness is further complemented by those shiny black accents which were applied to both the grille and the bumper.
While we don't have much of a glimpse on its side profile, the lines seem to be clean and well placed. Also, like the standard Civic rendering, the side mirrors were also repositioned on the doors which should give the car better visibility.
The rear isn't stirring any controversy as of this moment, however, like the rest of the car, the spoiler also seems to be more basic than the one found on its outgoing model, which does blend very well with its design.
It is worth noting that the following images rendered were based on some spy shots which circulated online. Now, going towards the powertrain, this hot hatch may be powered by two electric motors and a 2.0-liter turbocharged gasoline engine. Although this hybrid system is just based on rumors, so we're still not quite sure about that, but who knows? We might expect the unexpected.
The new Civic Type R is scheduled to arrive next year, during the spring season in America, this timeline should fall in between March to June. That said, it could immediately launch side by side with the standard Civic.
Latest News
Class 1 vehicles are expected to pay P35, class 2 vehicles are expected to pay P69, and class 3 vehicles are expected to pay P104.

Mitsubishi RALLIART claims first place at the 2022 Asia Cross Country Rally on the brand's first attempt.

All that is left now is for the president to sign this and we could see prices of select electric vehicles in the country go down soon.
View More Articles