With the Toyota Vios being so popular, it wouldn't be odd to see a modified unit running about in Metro Manila. There are many aftermarket shops offering Vios owners the chance to give their car that extra bit of sizzle. Some if not most owners would like to have that extra giddiness when walking to and from their car. Though it is true that there is no "right" way to modify a car, there is a right way to build for a purpose.
Since Toyota has announced the reintroduction of the Vios Cup as the Toyota Vios Racing Festival, excitement for Vios owners everywhere may rise as they'll be able to see their favorite cars going for gold and being brought to the limit.
The Vios has been a choice platform for many Filipinos because of its low price, low maintenance costs, and general quality. The model's arguably good looks have also been a staple in the Filipino automotive scene for a while. Modifications to the Vios are pretty extensive from retrofitted lighting systems and high-fidelity audio systems to handling modifications and engine tuning. The possibilities really are endless.
Now, you can't put a sound system in the car and expect it to go faster. Those components add weight, and if you want to go fast you need to be as light as possible. The word purpose is important in selecting modifications for your car. A jack of all trades is a master of none. In order to excel in a particular scene, one must build for a purpose. The purpose of a build is determined by those building.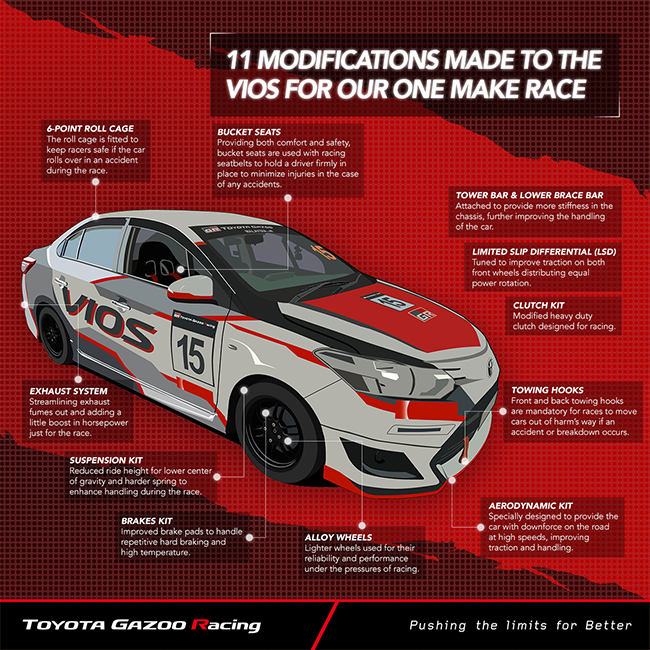 Vios Cup cars are purpose-built machines designed to race on the track, not compete in car shows for the best audio system. Toyota Gazoo Racing Asia has posted a fun infographic about its FIA Certified Vios Cup cars. Several modifications had to be done in order to make these cup cars perform as well as they do on the track. Gazoo lists off 11 modifications, all of which are done to make the car accelerate harder and corner faster.
The first modification is to strip out the interior of the Vios. Anything that isn't needed to make the car go fast will get chucked in the bin.
Next, to add rigidity to the chassis and protect the driver in the case of a crash, a six point roll cage is installed. To complement the roll cage, a tow bar and lower bracer bar is also installed. The two upgrades let the chassis flex a lot less under duress, giving the car a more responsive feel in the corners.
For footwork, the cup car gets a set of lighter Rota wheels and sticky tires. Upgraded brake pads, formulated to work at higher temperatures, are added to increase the stopping power of the Vios' all-around disk setup.
For the body, Toyota worked on creating downforce with the Vios cup car. A few extra attachments and a rear spoiler in the Philippine version give the sedan more stability as it cuts through the air. These attachments aren't just for show, and they have a very specific design in order for them to produce negative lift.
For the engine and transmission, an upgraded clutch is placed to allow the car to survive repeated track use. A limited slip differential is also installed to make sure that power is constantly fed to both front wheels. Toyota has also given its Vios an exhaust system to eek out a little bit of power out of the 1.5L engine of the Vios.
Oh and possibly the easiest mod to get with all these are the tow hooks. Attached to the front and the rear, these small accessories aren't just for show. In the event of a crash, an easily visible and accessible tow hook is preferable to stock tow hooks that normally are hidden from plain sight. This allows the emergency teams to quickly winch out the vehicle if it gets stuck in a ditch.
The Vios has proven time and time again that it can do pretty much anything. It can be a fleet car, a taxi car, a family car, or even a first car. It is also a race car apparently. So now that you all know what makes a Vios a Cup car, why not take a page or two out of Gazoo's book?
Just One More Step To Get Your Quote
Find out more info, request a brochure, or request a quote by sending an inquiry below
Latest News
The Kia Seltos is being offered by Kia Philippines with a pre-launch reservation discount of P50,000 for orders made before the model's November 6, 2019.

Kia Philippines sent some photos of its newest crossover that could possibly come with some turbocharged goodness and prime looks and features.

If you're in the market for a Vios substitute, then this article can help you find the right alternative to the popular Japanese sedan.