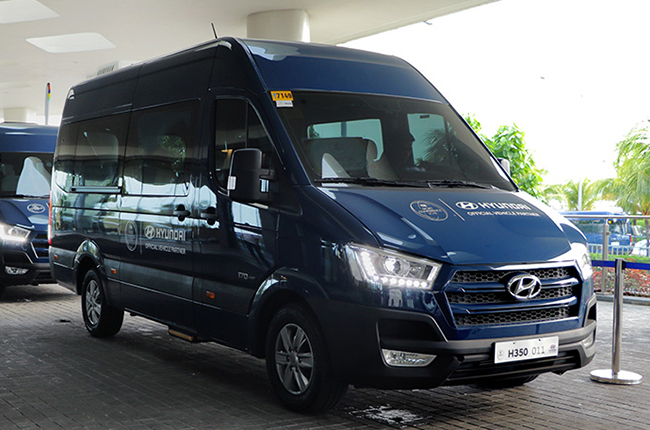 Ten Hyundai H350 vans served as the official mobility partner of the first-ever 2018 FIA Motorsports Conference held in Asia. The event was organized by the Paris-based Fédération Internationale de l'Automobile (FIA), together with the country's biggest and oldest auto club, Automobile Association of the Philippines (AAP).
With the theme, "Empowering the Future, Unlocking Motor Sport's Potential," over 200 international FIA delegates discussed about the future and growth of the motorsport worldwide, mainly to the young audience. The meeting also covered topics such as motorsport safety concerns and forming a motorsport culture in the new market.
After the conference, FIA also conducted various activities to give a thrilling yet different approach to the audience and brought six e-karts during the event at the Mall Of Asia Concert Grounds. To hype up the local motorsports fans, ex-Formula 1 racer Felipe Massa spiced up the track by demonstrating the e-kart and set a lap record using the electric car. There are also other activities like drifting, gymkhana, and FIA-certified online Gran Turismo Asian Championship.
In case you're wondering, Hyundai has been part of international motorsports. In fact, the Hyundai Accent F2 class graced and received attention at the prestigious World Rally Championship (WRC) back in 1988 to 2000. After a 10-year hiatus, the Korean marque made a fiery comeback with Hyundai i20 WRC at the 2014 Rallye Monte Carlo.
"People think that auto racing is just for recreation and entertainment. But auto-racing events were created so that manufacturers could rigorously test and calibrate their concept cars before rolling them out to the public.The cars you see on our roads today are products of the data and technology derived from motorsports events. Hyundai's engagement with FIA puts a stamp on our never-ending work to make Hyundai innovation ever more accessible to the most diverse markets, and so unlock their potential to get more out of life."
Latest News
Thomas Sedran gives a little background on the projects and goals laid out for both companies.

Here's a brief list of the possible cars being groomed for their 2021 launch.

It is quite obvious that JLR is facing some major dilemma with their plans