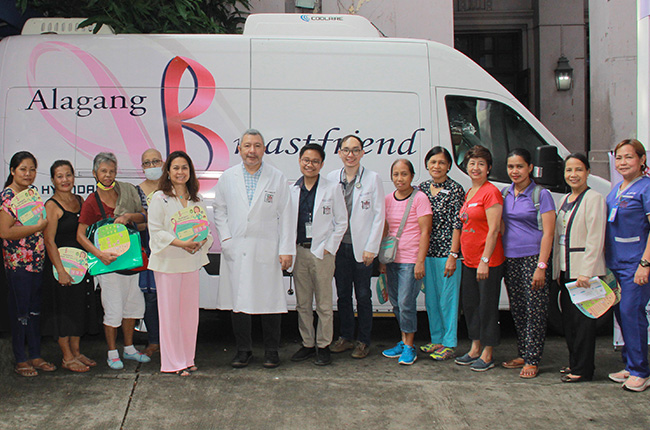 Hyundai Asia Resources, Inc. (HARI), in partnership with University of the Philippines - Philippine General Hospital (UP-PGH) and the UP-PGH Cancer Institute conducted its first medical missions of the Alagang Breastfriend Mobile Diagnostic Clinic at the UP-PGH grounds. Under the HARI Foundation, Inc. (HFI), the corporate social responsibility arm of HARI, the mission benefitted nearly 40 indigent patients in its first run.
Alagang Breastfriend is a Mobile Diagnostic Clinic is the first of its kind in the country. The purpose of the clinic is to go to underserved communities to impart relevant information and education about breast cancer and offer free screening for early signs of the ailment. Hyundai sends their regards with an H350 luxury van that is equipped with state-of-the-art mammography and breast ultrasound facilities.
The H350 luxury van comes customized to meet the needs of a modern mobile diagnostic clinic to be manned by UP-PGH doctors and personnel. Dr. Jorge Ignacio is the UP-PGH Cancer Institute Chairman, and his dream is to provide charity patients the same level of care that can be found in a private hospitals, here or abroad.
We have so many plans for the Institute. That is why it is very important to collaborate with the private sector, like Hyundai in the Philippines, through HARI Foundation. We make the burden of cancer awareness a shared responsibility.
HARI Foundation, UP-PGH, and UP-PGH Cancer Institute formalized the donation of the H350 through a signing and formal turnover ceremony. The event happened on October 25, 2018, in observance of Cancer Awareness Month. The initiative seeks to fulfill the shared goal of the two companies, which is to provide the greater part of society access to important resources and technology that can improve women's overall well-being, enabling them to live healthier and more productive lives. Alagang Breastfriend will continue to serve idigenous women who are possibly at risk for the years to come.
Get the best deal - Choose multiple dealerships to compare offers!
You can compare quotations simultaneously from multiple Hyundai dealerships. Select your preferred dealers from the list below.

Compare quotations from multiple dealerships in minutes.
Check vehicle and color availability.
Find info on special offers and promotions.
100% Hassle-free with no obligation to purchase.
Latest News
The first 7-seater crossover in the Subaru lineup, the Evoltis gets captains' seats and a plethora of tech features.

Perhaps, this could reduce drivers plying along highways with insufficient RFID loads.

Another EV has officially launched in the Philippine market in the form of the Nissan LEAF.
View More Articles