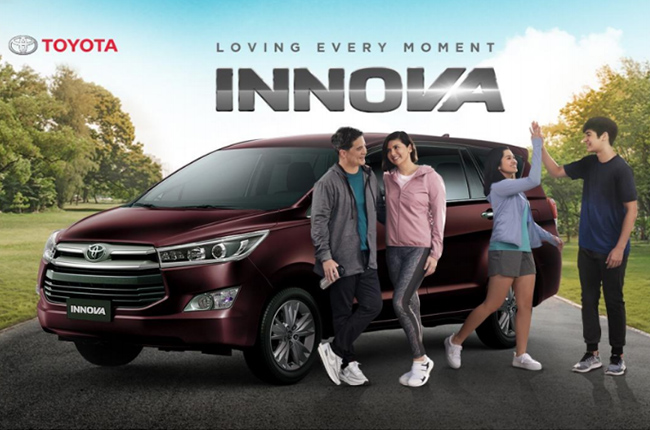 Remember when you had to pick up or be picked up by your significant other and having to face their parents for the first time? Remember having to meet the date and being worried about your child's safety? Remember meeting the dad and worrying if he will proceed to beat the crap out of you if you did something wrong to his daughter? The Muhlach family faces this same situation in their new video for the Toyota Innova.
Aga and his wife Charlene, together with their kids Andres and Atasha, share a familiar story inspired by real-life family events. The premise of the video is that Atasha is getting ready for her graduation ball, a momentous event for any person. Aga gets anxious when her date shows up at their home to pick her up. Aga has a few reservations, especially after seeing the date's car, a 1989 T160 Celica Aga gets worried and decides to follow them, during his chase he receives a call from Atasha about the date's car breaking down.
The video shows off the prominent features of the Innova and its reliability. It shows off the Innova's power with its performance mode and its 2.8-liter diesel engine. It also showcases the infotainment which comes with touchscreen display audio with phone connectivity.
Moving on to the interior, the video showcases the one-touch tumble seats and interior ambient lighting. The video moves back to the exterior focusing on the side mirror signal lights, then the 17-inch alloy wheels and LED projector headlamps.
"With the Innova, there's space for more great moments," says Charlene of their new family ride. Not only can the Innova comfortably fit their whole family of four, but this seven-seater can also accommodate their children's friends.
Latest News
A Cummins PowerDrive6000 will find itself inside an Isuzu F-Series medium-duty truck.

The new bridge connecting Manila Chinatown and Old Manila looks just about ready to serve.

The MINI Recharged program fits a 122 hp electric motor in your Classic Cooper, and the process is reversible.
View More Articles