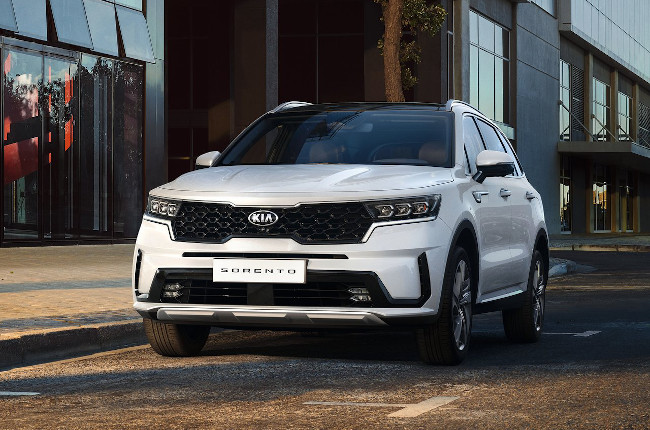 Kia has revealed the Sorento's design to the public. The midsize crossover in Kia Philippines' lineup was the only vehicle in the lineup to still be in the last generation's design motif, but all that is about to change with the new Sorento's design out and in the open. The Korean car brand is currently planning to launch this model at the Geneva International Motor Show in March. We don't have word yet of its release in the Philippines.
No more secrets are being kept as to the look of the new crossover from Kia. There is no doubt that the new design is in keeping with the majority of Kia's crossovers. The design for the midsize unit has elements of the old Sorento mixed in with some Seltos and a hint of Telluride – which is only available in select territories.
The front-end of the new Sorento now prominently features the brand's signature tiger-nose grille complete with gloss black paint and an intricate pattern. The headlights now have an LED array, with different bulbs or diodes shining over the LED DRLs. The fog lamps are also integrated into the lower grille section in an interesting manner. Instead of being to the side, the lower intake opening houses the four LEDs that comprise the fog light system.
The rear is where you see that hint of Telluride. There is no mistaking that the Sorento is a bigger-than-average crossover with the proportions to match. The rear taillights feature LED bars arranged vertically, much like the Telluride, but instead of one long bar, there are two. The lenses wrap around the rear quarter much like the Seltos, with a little cat-eye effect on the upper end of the taillight housing.
Looking at the interior shots of the Sorento begs the question of whether there will be a black interior option available once this unit goes on sale. The press photos have a two-tone mix of black and tan, which can even be found on the outer and inner portion of the steering wheel.
There are soft angles alone with quite a few strips of ambient lighting and brushed silver accents. The infotainment appears to have grown in width as well. Kia, in this model, has foregone the traditional gear lever in favor of a rotary gear selector.
The 2021 Sorento isn't out yet. It is still unknown when Kia will bring in this model, but it is known that the current Sorento in the lineup is in dire need of an update.
Latest News
The OMODA 5 EV will be coming to the Philippines in the fourth quarter of 2023 along with the OMODA and JAECOO brands.

Hyundai Mobis has developed new high-tech headlights capable of projecting road signs in an effort to make roads safer.

According to a report, local Corolla Cross models are not affected by the electronic parking brake recall in Australia.
View More Articles