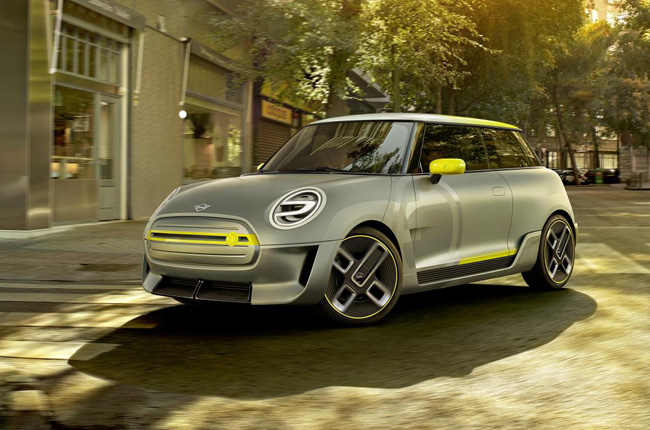 MINI, owned by the BMW Group, showcases another all-electric concept at the IAA Cars 2017 show in Frankfurt, Germany. Dubbed as the MINI Electric concept, this pure-electric vehicle is a reminiscent of the MINI E Concept that debuted back in 2008.
Aside from strengthening the British marque's position in the upcoming electric vehicle trend, the MINI Electric concept is a continuation of BMW Group's electric car commitment in the past decade, which paved way to the development of the BMW i3 and was jumpstarted by the MINI E.
Up front, the MINI Electric concept looks futuristic and out-of-the-box however, it still retains the iconic MINI styling of the 3-door hatchback. It also inherited the yellow accents and distinctive E badge of the MINI E, albeit, more prominent and placed all over the vehicle. We can't help but notice the redesigned front bumper. Just like the MINI Cooper S E Countryman ALL4, the E badge just above the left fender flare marks where the charging port of the car is.
To match the classy and active theme of the MINI Electric concept, the asymmetric rims have a 3D-printed design with yellow lining in its diameter. Not the first, mind you, as brands like Michelin and McLaren are also into 3D-printing auto parts. Nevertheless, the whole design from the side gives the car a unique demeanor.
At the rear, the taillights represent the British heritage of MINI, as they form the Union Jack in LED dot matrix. Of course, there's still the yellow strip at the back to match the overall theme but do you know what's missing from this all-electric vehicle from MINI? The exhaust pipes.
Frankly, we see this new electric concept as the reincarnation of the E, but looks far better and cooler. The only difference is that this MINI Electric concept will roll into production by 2019. Sweet.
Latest News
With a turbo motor, a character-filled interior, and a smart look, the Tharu lands in the Philippines breaking new ground for VW Philippines.

Subaru is producing a special edition of the WRX called the WRX TR which is set to be unveiled next month on October 7, 2023.

A report suggests that Mazda has greenlit rear-wheel drive, inline-six sedan, thanks to the CX-60 and CX-90 sales.
View More Articles