In accordance with the excise tax reform, hybrid and electric vehicles will be imposed less or exempted from the additional tax in order to encourage more people to support this type of mobility. This kind of explains why a few brands are already starting to bring in these types of vehicles. The Nissan LEAF happens to be one of those renowned nameplates of the brand, and it was confirmed last year that the electric vehicle is coming to the Philippines this 2020. Notably, that might just happen sooner than expected, as Senator Win Gatchalian was one of the first drivers locally to test the new LEAF, yes, you heard it right, the Nissan LEAF is already here in the Philippines.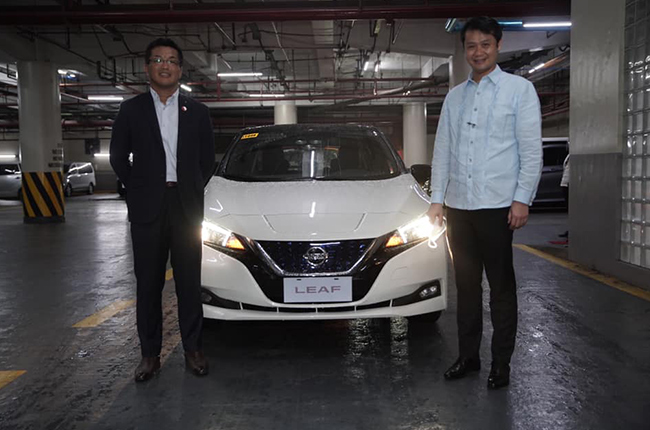 Senator Gatchalian happens to be one of those advocates who support the local adoption of electric vehicles. Atsushi Najima, the current president of Nissan Philippines, was actually the one who posted this photo via his personal Facebook account. He was indeed pleased to have the senator test the Nissan LEAF, with his driving experience expected to be shared during the 8th Philippine Electric Vehicle Summit happening from September 24 to 26.
The Nissan LEAF was previewed at the 2018 Philippine International Motor Show (PIMS), the unit displayed was open to all guests, allowing them to have a glimpse of this innovative product. Apart from electrification, this vehicle also showcases the future shift of our automobiles to autonomous driving, which is something we look forward to experiencing in the years to come.
Now, the real question here is when? When will the Nissan LEAF be officially launched here in the Philippines? Unfortunately, there's still no official statements from the brand, but the way we see it, it could be sooner than expected. Notably, Mitsubishi recently launched its electric crossover, the Outlander PHEV, and this gives us higher hopes to assume that the LEAF is definitely nearing its local debut given the probable competition between the two models.
Technology has indeed enhanced our way of living, and through our country's continuous advocacy with electric vehicles, our surroundings will surely be greeted with a cleaner and greener environment.
Latest News
According to a report, the updated Toyota GR Yaris will feature 300 hp and an eight-speed automatic transmission.

Nissan unveils the 20-23 concept along with a declaration that it is counting down to an all-electric lineup in Europe.

Nissan Australia in collaboration with Premcar, has recently unveiled the seriously hardcore 2023 Nissan Patrol Warrior.
View More Articles