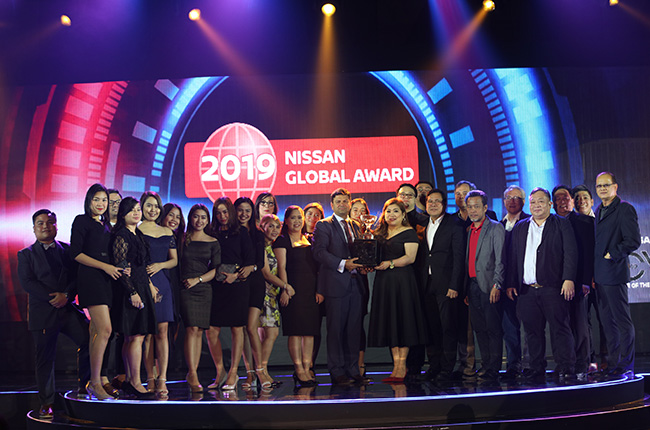 Nissan Philippines, Inc. recognized their top performing dealers at the brand's Dealer of the Year Awards Night. Okada Manila served as the venue to mark such an occasion. By the end of 2018, Nissan experienced a 40% growth in its sales and after-sales services through its dealer network. A total of 44 dealerships in different parts of the country attributed to the growth that the Japanese brand experienced.
With a record-breaking performance from last year, 2019 is shaping up to be another historical point for Nissan as it continues to be the fastest growing brand in the local industry,
The recipient of this year's Global Award is Nissan Santa Rosa. By far the most prestigious award at the event, it is only given to the best performing dealership in the country overall. A commitment to excellence as well as stellar sales performance and after sales performance determine the Eligibility of the dealer to receive the honor.
To be awarded the Dealer of the Year Award is also substantial in its own right. Three categories populate this honor, with large, medium, and small dealers being given the chance to win.
The winner of the Dealer of the Year award among large dealerships is Nissan Quezon Avenue. The first dealership to showcase the GT-R in its showroom, the dealer truly stood out last year. The big showroom floor became the stamping ground of GT-R fans eager to either have a look or purchase for themselves, the legendary two-door with its legendary badge.
For medium-sized dealers, the winner of the Dealership of the Year Award is none other than Nissan Santa Rosa. Already a winner of the Nissan Global Award, they are no strangers to greatness in the year 2018. Boasting high sales and high service returns from its customers.
The smallest and not the least is Nissan Isabela, who won the small Dealer of the Year Award. Again, size does not matter, yet the quality of service to the consumer does.
Speaking of service, the event also has an Excellence in After Sales Award. Nissan Santa Rosa bags yet another award from the event. With a total of three awards in one night, 2018 must have been a stellar year for the team at Nissan Santa Rosa. Possibly the sales of the dealership, as well as the after sales support, spurred it into greatness last year.
Latest News
Kia Philippines clarifies on the capabilities of current battery electric vehicles (BEVs), namely the Kia EV6.

The electrified pickup truck comes with a powerful electric motor, decent range, a great set of features, plus an interesting vehicle and battery warranty.

It's a new application that will help you keep track of your vehicle at all times and help you make sure it is safe.
View More Articles