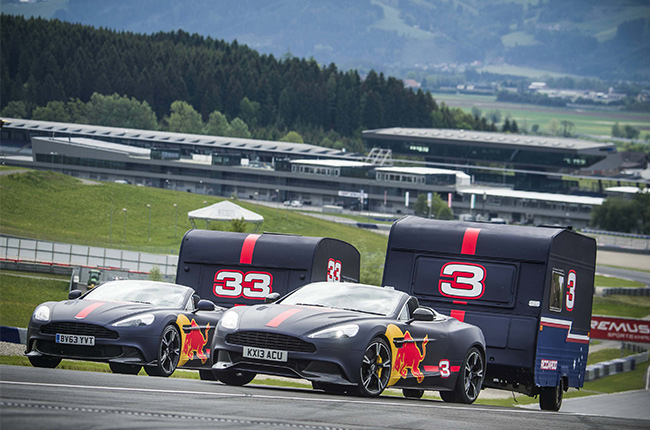 Red Bull Racing Formula 1 (F1) team confirmed that Aston Martin will be their title and innovation partner starting next F1 season. The announcement comes just 18 months after the 2 brands teamed up to conceive the Aston Martin Valkyrie hypercar.
The team will now be known as Aston Martin Red Bull Racing. With this, an Advanced Performance Center will be constructed within the year in Red Bull Racing's campus Milton Keynes, England to house Aston Martin's design and engineering personnel. The center, which is expected to create 110 jobs, will focus on both F1 and road car technology.
Having conceived and created the remarkably successful Aston Martin Valkyrie together in 2016, we extended our relationship this year and are now delighted to further strengthen the partnership and see the team competing as Aston Martin Red Bull Racing in 2018.
Red Bull Racing's title and innovation partnership with Aston Martin could also suggest that the British automaker could be the team's new engine supplier come 2019. This is because Red Bull Racing has reportedly decided to drop Renault as its engine supplier after the 2018 F1 season.
Red Bull Racing has yet to release an official statement regarding the said issue. However, Horner said in an interview by Sky Sports F1 that they have "a relationship with a motor manufacturer already."
Could this mean that Aston Martin will soon be providing the F1 team with engines by 2019? It sounds like a long stretch given the 2-year time frame for development. Hopefully, they would let us know soon enough.
Latest News
The new Mazda2 just got upgrades to the suspension and a new possible engine choice for the Philippine market.

While Filipinos are still waiting for the next-generation Honda Accord, Indonesia is already enjoying the features and power on offer from the latest midsize sedan from Honda.

The 2020 Corvette C8 finally realizes Zora Duntov's dream of a mid-engined sports car.