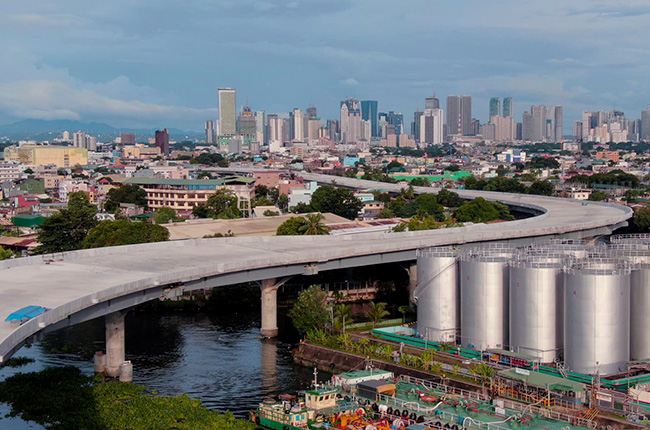 Motorists are in for a holiday treat, with San Miguel Corporation (SMC) all set to soft open the newly accomplished Skyway Stage 3 expressway by December. Now for the twist, president and chief operating officer, Ramon S. Ang, announced that it will be open for free to all motorists for an entire month, therefore allowing cars to traverse the new road without grabbing a cent from their pocket.
On Mr. Ang's personal Facebook account, he expressed the company's confidence in being able to open Skyway 3 by December even with the probability of continuous rains, which may hamper the finishing works of this infrastructure. This includes the laying and proper curing of asphalt. Apart from that, he also stated that motorists can use the entire 18 km length of Skyway 3 from Buendia to NLEX for free.
While we're still doing a few finishing works, we want the public to be able to use Skyway 3 already and benefit from the convenience and ease of travel that it will bring. We have all waited long for this project, so this is the best way we can welcome everyone, by making Skyway 3 free for one month.
Notably, SMC also partially opened the Buendia to Plaza Dilao section of Skyway 3 for over a year now. With it remaining operational and free for use by the public without any toll fees as well. This much-anticipated project has been accomplished after six years, and the long wait is surely worth it given that this new infrastructure is seen to greatly improve travel times and traffic conditions in and around Metro Manila.
We're very proud and excited about this project, because it will truly make a big difference to so many people's lives--especially with our economy slowly opening up and with more vehicles coming back to our roads.
Apart from the improved daily commute of Filipinos, the Skyway 3 shall also contribute to the transportation of goods from north and south Luzon, therefore making it much easier, faster, and more efficient than before.
Latest News
It may be a hybrid model but Toyota has put some spring in its step with handling upgrades and a new front look.

Things are looking great for Ford Philippines as it posts great sales figures for 2021 with the Ranger and the Territory cementing themselves as the brand's best sellers.

The new liftback now sports more modern styling and could be a perfect candidate for the Philippine market.
View More Articles