The Asian Highway Network system is an important set of routes with international significance throughout Asia. Asian Highway 26 (AH26) in the Philippines is just one of these important routes. This roadway stretches from Laoag City, Ilocos Norte, in Luzon, all the way to Zamboanga City, in Mindanao. The Skyway Stage 3 is just part of this vast system of roads spanning thousands of kilometers.
Skyway Stage 3, developed by the San Miguel Corporation (SMC), is one of the thoroughfares connecting the North Luzon Expressway (NLEX) to the South Luzon Expressway (SLEX). With the roadway open for public use, travel times between the northern and southern parts of Metro Manila have significantly decreased. The operator of this tollway is Skyway Operations and Maintenance Corporation (SOMCo).
Note: Because Stage 3 is an ongoing project, this article will be updated as more developments come.
History
Groundbreaking of the project took place on January 22, 2014, and construction started on February 17 of the same year. The project was expected to be completed in 2017, but was pushed back to 2020 due to several right of way issues.
With overall completion projected for 2020, with the final concrete pouring scheduled on October 13, 2020, the project was again delayed due to heavy rains, and its completion date was again pushed back to a later schedule. Finally, it saw completion on December 29, 2020, and was inaugurated on January 14, 2021. By January 15, 2021, the highway was fully operational.
The first entry and exit ramps to be opened were the Quezon Avenue exit, the southbound Del Monte toll plaza, then the ramp at NLEX Balintawak. On February 11, 2021, A. Bonifacio and E. Rodriguez off ramps were opened to the public.
As of March, 2021, Stage 3 is closed from 10 PM to 5 AM to make way for finishing work and the installation of other fixtures. Stage 3 still requires proper lighting fixtures and other infrastructure to be a fully equipped highway.
March 16, 2021 was a day of confusion between the San Miguel Corporation and the Toll Regulatory Board, as mixed announcements were issued about the indefinite closure of Skyway Stage 3. This, in turn, brought confusion amongst motorists as the announcements were incoherent and not in line with each other. SMC President Ramon Ang cleared up the confusion by announcing that the elevated thoroughfare will remain open and free to use by the public until it is issued a toll operator's certificate.
Length
The Skyway Stage 3 is an 18.83km-long stretch of elevated road that is built and funded by the San Miguel Corporation.
What are the routes covered by Skyway Stage 3?
Do take note of the following Skyway 3 ramps that are open to motorists as of July 2, 2021:
Northbound
Buendia
Quirino
Nagtahan
Quezon Avenue
A. Bonifacio - Sgt. Rivera
Balintawak
NLEX
Southbound
NLEX
Balintawak
A. Bonifacio - Sgt. Rivera
Quezon Avenue
E. Rodriguez
Nagtahan
Plaza Dilao
Buendia
What are the toll fees?
Starting July 12, 2021, Class 1 vehicles including cars, vans, AUVs, SUVs, and jeepneys, who are to pass through the 18-km road will require them to pay toll fees between P105 to P264.
While Class 2 vehicles, on the other hand, include passenger buses, delivery vans, small trucks, and Class 1 vehicles with trailers. The following vehicles are then required to pay between P210 and P528.
Are there speed limits on Skyway Stage 3?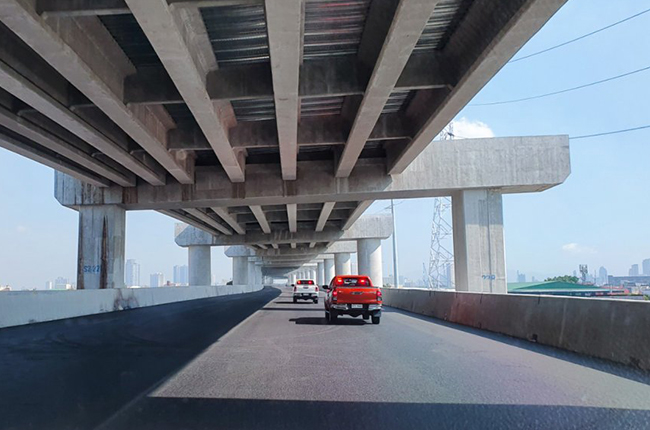 The speed limit, unlike on Skyway Stage 1 and 2, is 60 km/h. The limit is strictly enforced by radar guns.
However, the speed limit goes up to 80 km/h on Skyway Stage 1 and 2.
Future Plans
In the coming months, SMC plans to open more ramps to get the elevated roadway to 100% completion. On the list of entry ramps to open soon are the Quirino Entry, Nagtahan Entry, C3 Entry, and the E. Rodriguez Entry. For the exit ramps, the following are under construction and are scheduled for completion: C3 Exit and Plaza Dilao Exit. SMC has yet to confirm any dates for the completion of these entry and exit ramps.
Latest Features
Battery banks that can jump-start your car. Here are the top five best we've seen available online.

We list down the most fuel-efficient sedans for city drives in the Philippines, ranging from small to mid-size models.

When it comes to all-electric crossovers, BYD knows their stuff. They know what it takes to make electric great.
View More Articles