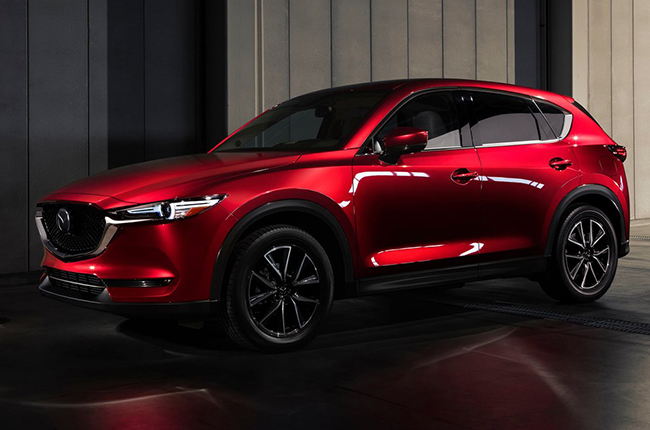 Has Mazda felt the need of a turbocharged CX-5? Rumor has it that the CX-9 will be lending its 2.5-liter turbocharged engine to its little brother. If that's the case, we could be looking at a more powerful and less consumptive CX-5 in the near future. The brand's crossover currently sports a lineup of 2.0 and 2.5-liter naturally-aspirated engines, as well as a 2.2-liter SkyActiv-D diesel option.
The rumor rooted when the California Air Resource Board (CARB) released an emission test result document of a turbocharged 2.5L four-cylinder Mazda engine. The power plant applications were both for the 2019 CX-5 and CX-9, as listed.
What's the case here? Mazda is known for engineering vehicles with one thing in mind: making a car that would be enjoyed by anyone who gets to drive it. Go ahead, ask about the KODO: Soul of Motion and the Jinba Ittai. With that goal in context, we could say a turbocharged engine sounds like one great idea.
Currently the naturally-aspirated 2.5-liter engine on the locally available CX-5 spurs out 190 hp and 251 Nm of torque. Boosting this power by 40 hp and 169 Nm, as well as optimizing fuel economy, may be a way of bringing up more CX-5s on the road. Imagine the CX-9, a 7-seater crossover that's relatively bigger and heavier, shrinking to the size of a 5-seater. Just think of how the 230 hp and 420 Nm torque would be of difference once it's already inside the CX-5.
Meanwhile, this turbo-application on the CX-5 might challenge the performance of the SkyActiv-D diesel engine. If the claims on CX-9's turbocharged engine having no turbo lag is true, it would definitely put the diesel engine a run for its money. Moreover, carbon footprint on the turbocharged engine would be far less as compared to the latter. As for fuel-efficiency, that would be needed to be tested.
The only downside of a turbocharged CX-5, if it's going to be sold in the local market, is its price. As of this writing, the diesel variant sells at P2,230,000, already expensive when the naturally-aspirated variant only sells at P2,002,400.
If Mazda's equipping the CX-5 with the same turbo engine as the CX-9, there might be a possibility of a bump in price. It may go beyond or range near the diesel's price tag, but at least expect the expenses you'd have to deal with a turbocharged engine lying in the bay.
Our verdict? It might sound innovative on the CX-5's side, however, we can't really say that it can dramatically bring up its sales. The price alone might shoo some eyes away despite it being more efficient, especially when there's an available 7-seater CX-9 in the market. That's if the rumors are true and Mazda Philippines decides to bring the turbo CX-5 here.
Source: The Truth About Cars
Latest News
After an 11 year-long hiatus, Mitsubishi's performance sub-brand is expected to make its come back with two new models set to debut in 2023.

This advanced headlight system is still in its prototype phase.
View More Articles