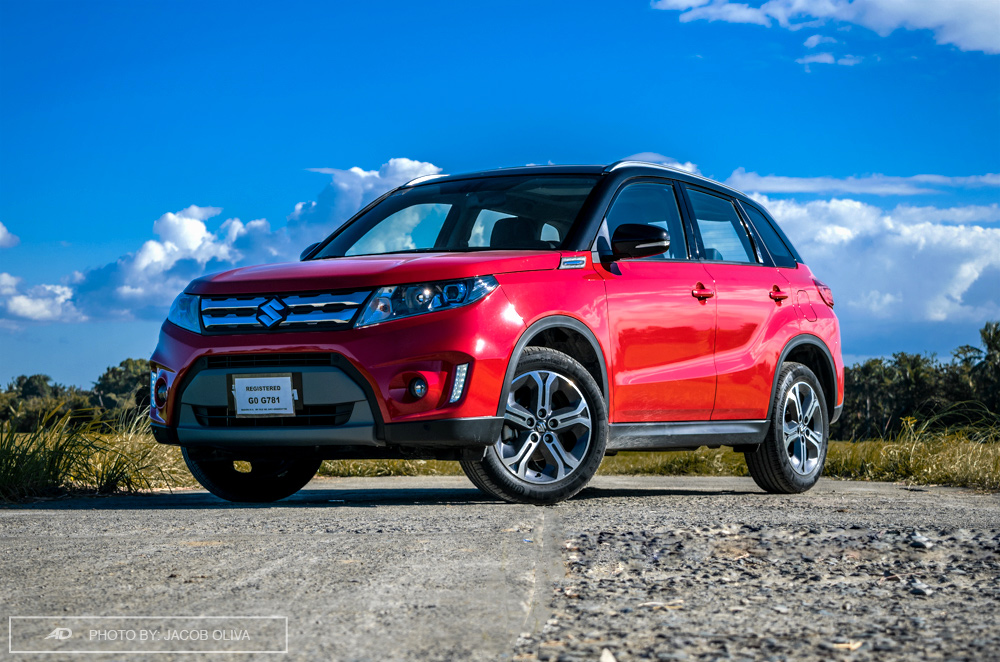 For the past 10 years, there's a similar trend among cars' usual life cycle: the overall size increases with the next-generation model. That's why compact crossovers like the Toyota RAV4 and the Honda CR-V are now bigger than ever, almost crossing the midsize segment.
Suzuki dared to veer away from that trend with the 2018 Vitara. This once compact crossover/SUV has been downsized in its fourth generation model, entering the steamy competition within the smaller subcompact segment in Philippines, while dropping "Grand" in its nameplate. For us, it's a solid declaration from the Japanese marque that it finally defined its target market — the young, active, and budget-conscious generation.
2018 Suzuki Vitara GLX AT Review
Performance
Engine Output (HP), Acceleration, Transmission, Handling 4.0/5
Design
Exterior & Interior Design, Quality, Fit and Finish, Ergonomics 3.5/5
Ride Comfort
Cabin Comfort, Suspension, NVH Insulation 4.0/5
Safety and Technology
Convenience Technologies, Active and Passive Safety Features 4.0/5
Value for Money
Amount of the vehicle you get for the price, Fuel Efficiency 3.5/5
What You Will Like
Great front exterior design.
Huge tablet-like Android infotainment system.
Stellar fuel economy figures.
What You Won't Like
Plastic material used in the entire cabin.
Sunlight penetrating the sunroof cover.
Rear-end is uninspiring.
How We Do Our Reviews
The all-new Vitara is now 325-mm shorter, 35-mm narrower, 73-mm lower, and has a 140-mm shorter wheelbase compared to the outgoing Grand Vitara. These decrement are pretty huge, making its predecessor look like its grand daddy when put side-by-side.
With the downsizing comes a youthful splash onto the Vitara's design, and the two-tone Bright Red 5 Metallic color of the GLX variant media test unit further supports that hip style. It's like the nameplate has Benjamin Button-ed, a far cry to its decade-old predecessor.
I personally appreciate the Vitara's front end. It's a nod to the British Range Rover Evoque, which isn't necessarily a bad thing. The straight character lines, minimal curves, horizontal chrome grille, defined fenders, great looking daytime running lights (DRLs), and bright paint did the trick, as the car exhumes toughness without losing its appeal to the young car buyers.
On its side, the sloping roofline is evident while the gun metal gray 17-inch rims looks really good. To my disappointment, though, the rear end seems a little generic. It's not that bad, really. It's like an uninspired school project - safe, but not outstanding. The great-looking LED taillights somehow acted as its saving grace.
The youthfulness of the exterior isn't visible inside the Vitara's cabin. It's kind of straightforward and lacks a tad luster. This is because of the cheap plastics that are evident throughout the cabin, even on door panels. Although, I must say, the circular vents and analog clock on the dashboard are a great touch.
What's good with the Vitara is its bolstered leather seats with Nubuck accents in the middle. Yes, it can catch dirt and lint easily but it feels nice to touch and doesn't heat up when the car's left in a sunny parking lot. Also, the gauge clusters may be monochrome but it's legible and gives you a handful of important driving information, including fuel economy and which doors are left open.
Another asset of the Vitara's interior is its huge panoramic sunroof. It gives ambience to the car, especially at night. Its power-retractable cover can be improved, though, as it kind of gets hot during the day with its white breathable fabric material. Good thing, the A/C works well in cooling the entire cabin even on high noon.
The 2018 Vitara's crowning glory is its massive 10-inch Android infotainment system. It is visually appealing and responds well. Although as an Apple user, I had to resolve to connecting my smartphone via Bluetooth, which was relatively seamless. It could use additional USB ports, though.
When it comes to driver-assist features, the Vitara is at par with those cars with higher price tags. It has cruise control with speed limiter, automatic LED headlights, rain-sensing wipers, auto-dimming rear view mirror, power-folding mirror, speed-sensing door locks, and proximity sensors. Quite a handful, right?
These are then paired with a notable ride comfort, thanks to its suspension that can absorb unforgiving roads. And, with the low driving position, there's very minimal body roll even with the car's 185mm ground clearance.
Just like the other subcompact crossovers, the wiggle room inside is enough for five average-sized Filipinos at 5'6" and below, but taller ones have to compromise. Trunk space is at 375L, which is enough to fit a guitar case yet still leaving a lot of room for more. This can be extended to 710L with rear seats folded flat.
Of course, with the Vitara's shrunken overall size comes a smaller 1.6L gasoline mill that's capable of producing 115 hp and 156 Nm of torque. The acceleration from this engine is linear and thrifty. The 6-speed automatic transmission is relatively okay, but there's a bit of delay when you floor the accelerator. Best part is, this engine's smart enough to downshift on its own. No need to use the paddle shifters.
The crossover's front and rear disc brakes setup are also well-appreciated. Its braking power made me feel safe even on fast drives.
With this powertrain behavior, the Vitara registered stellar fuel economy numbers. An hour on stressful snail-paced EDSA clocked in 8.1 km/l, while faster paces at 60 km/h average got 14.9 km/l. Highway cruise at 90 km/h read 20.1 km/l.
Tough inclines are an easy task for the Vitara, especially with its Hill Start Assist system. Steering also feels light, but not to the point of being lifeless. It could be tightened a little bit, though, so highway drives would be more composed and stable.
The 2018 Vitara is a crossover on a mission. It surely knows its target market: the generation of car buyers who want their value of money thrown into high-tech features and engine performance, but not so meticulous with the materials used. The P1,048,000 price tag (pre-TRAIN) of the GLX variant is a match to its the array of intelligent features usually found in pricier cars. As a trade-off, though, you'll have to get used to the plastics. Guess you really couldn't have it all.
Besides, its great driving dynamics, more-than-decent ride comfort, and impressive fuel efficiency are more than enough to entice the budget-conscious car buyer; a good-looking ride is just a bonus.
Latest Review
First impressions are good of the Mazda CX-90, and Mazda's newest and biggest crossover is also its most expensive.

What's in a base model? Ford has redefined the base trim in its lineup.

As the Subaru XV bids farewell, the Crosstrek steps onto the scene. Let's see if it can set itself apart in the competitive crossover segment.

3.9

/

5
View More Articles