When it comes to 7-seaters in the Philippines, they usually take the form of either an SUV or an MPV. There is, however, a happy medium between the two and it's the midsize crossover. These vehicles offer Filipino buyers the seating capacity of an SUV with the ride comfort of a crossover.
Enter the Kia Sorento, the South Korean automaker's entry into that segment in the country. It comes with European looks and a powerful yet efficient diesel engine. It ticks the right boxes in terms of what buyers in the country want all while maintaining a midsize crossover form factor. With that said here is our review of the Kia Sorento EX AWD.
Performance
Engine Output (HP), Acceleration, Transmission, Handling 4.5/5
Design
Exterior & Interior Design, Quality, Fit and Finish, Ergonomics 4.0/5
Ride Comfort
Cabin Comfort, Suspension, NVH Insulation 4.0/5
Safety and Technology
Convenience Technologies, Active and Passive Safety Features 3.5/5
Value for Money
Amount of the vehicle you get for the price, Fuel Efficiency 4.0/5
What You Will Like
Powerful diesel engine
Excellent ride comfort
What You Won't Like
Dated dashboard design
Not many driver aids
How We Do Our Reviews
Exterior
The Kia Sorento comes with a simple yet sophisticated style. You get LED headlamps up front paired with LED DRLs and it also comes with projector fog lights. As is with the style of modern-day Kia vehicles you also get its signature design the Tiger Nose grille. All in all these accents give the midsize crossover a modern look.
Moving onto the sides and not much is happening aside from a chrome accent that stretches from the top of the front door of the vehicle that goes all the way to the rear of the vehicle. You also get side mirror-mounted repeaters. No creases and harsh cuts here as the Kia Sorento comes with more subtle curves. As Caco points out, while the vehicle does come with 185mm of ground clearance and 18-inch wheels, they seem rather small in the vehicle's large wheel wells. It could do with a bigger set of wheels that would better match its proportions.
At the rear, you have a familiar setup when compared to its stablemate the Kia Carnival. You get large LED tail lamps at the rear that at night come with a unique design blend of boxes and contouring LED strip. This gives the vehicle a distinguishable look when traveling through roads at night. The rear fog lights also add an extra layer of visibility to the especially when road conditions get foggy. You also get a power tailgate along with a reverse camera.
Interior
On the inside, you are greeted by a black leather themed interior with a light gray headliner. The interior layout comes with a sectionalized feel to it that gives each individual interior accent its own room to shine. The air vents are all by themselves, the infotainment system is isolated from the rest, along with the climate controls too as they get their own section. It's kind of like a VIP section at a club where they each get their own table. While some may not like it due to a lot of empty space, the design is functional, it works, and most importantly it's clean. However, compared to its contemporaries it does feel a bit dated in terms of its layout. It doesn't wow you with its looks but, it gets the job done and it does so excellently.
The gauge cluster also continues the design theme coming in with an analog speedometer and tachometer. You also have a nicely weighted steering wheel that comes with audio and cruise controls. Which makes the operation of the 7-inch infotainment system fairly easy. You also get cubby holes around the transmission tunnel and you get a power-adjustable seat for the driver.
Moving onto the second row and you don't get much in the way of toys. What you do get is bottle holders on either side, a couple of cup holders on the center armrest, a 12-volt socket, and air vents found in the middle. Sadly there are no individual climate controls for this row but more on that later. If you want to have mercy on your third-row occupants during long trips, the entire second row of the Kia Sorento can also be adjusted forward giving the people at the back more space.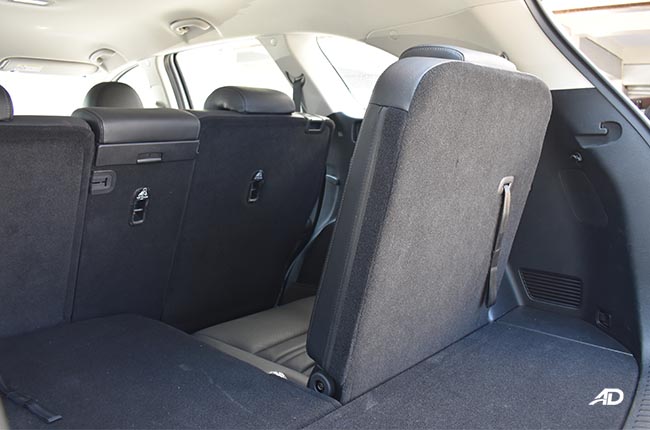 Heading over to the 3rd row and you get bottle and cup holders on either side, air vents on either side of the row, and a fan speed controller found on the right side of the row. A rather odd place to put it but it does aid in getting the car cool in the heat of Metro Manila.
Cargo space is great in the rear of the Sorento as it comes with 320-liters of space with the third row up. There is also a hidden compartment at the rear if you want to store other items. This is also where the vehicle's tools are located. Pull the straps on the third-row seats and lower them down and the interior cargo space more than doubles and reaches about 1000-liters worth of space. If you want to carry more cargo the second row does fold down with the pull of the latches on the side which creates about 2000-liters of space.
Comfort
As stated before the Kia Sorento rides on 18-inch wheels. While they may look small on the vehicle having 60 series tires does come with some advantages in terms of comfort. With the high aspect ratio tires do a great job of working together with the suspension to dampen the blow of uneven road conditions. Go over larger bumps and larger patches of uneven road and you will feel the road imperfections make its way into the cabin. Despite this, the vehicle does a good job of not making it a jarring experience.
However, where the Sorento excels at is on the highway. Going over small bumps at speed seems to be the vehicle's forte — pun intended as long stretches of road produce a smooth ride. Take it off-road onto rocky roads, grasslands, and a bit of sand and the midsize crossover takes it all in stride. The body will start to wiggle from time to time due to the uneven terrain, however, it's not an experience that will make your passengers dizzy if you do opt to take the less-traveled path.
Technology
On the inside, the Kia Sorento greets you with a 7-inch touchscreen infotainment system that comes with Android Auto and Apple CarPlay. In terms of pairing with your smartphone, the process is easy and the head unit maintains connectivity smoothly. However, it is important to note that there is a bit of a delay when selecting the functions of the infotainment system. It's not too long but it is noticeable if you're in a rush to quickly get to a function.
You also get a reverse camera on the Sorento along with backup sensors. A must for a vehicle of its length, size, and price point, making it easier to maneuver the vehicle. Along with these features, cruise control is also present in the vehicle. Thanks to its powerful engine you will probably find yourself turning on this feature most of the time as the 2.2-liter turbocharged engine will just keep the car going and going even with the lightest tap of the accelerator.
Safety
In terms of safety the Kia Sorento comes with dual front airbags, ABS with EBD, a brake assist system, vehicle stability control, and hill start assist. For those who aren't used to its brakes, the initial brake feel can be a bit strange. The best way we can explain is, its braking system works in a linear way where the deeper you press the harder the brakes will bite. This can be something new owners might take time to get used to as other vehicles tend to have a shorter braking curve compared to the Sorento.
Driving and handling
The Kia Sorento is a smooth driver that's for sure. It absorbs bumps and uneven terrain in stride as the suspension along with its 60 series tires do a great job at smoothing out the imperfections. When spirited driving comes into play body roll is present, making the vehicle heavy, however, the all-wheel-drive system does its best to help mitigate this feeling.
Speaking of all-wheel-drive the Kia Sorento comes with a nifty display that shows you where its currently sending its power. Despite it being a front-wheel-drive-first vehicle when more power is needed the Sorento will evenly distribute the power to all four wheels.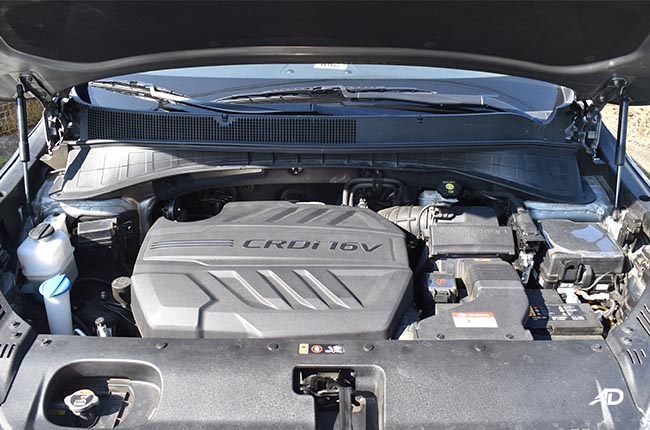 The Kia Sorento comes powered by a 2.2-liter turbo diesel motor that produces 197hp and 441 nm of torque. With that much power and torque in reserve, this allows the Sorento to quickly hit highway speeds with a quick press of the throttle. Giving you access to all that power is an 8-speed automatic transmission that comes with a manual mode that can send power to all four wheels at any given time. It is important to note that the Kia Sorento is a front-wheel-drive biased vehicle and will only send power to the rear when needed.
One thing about the midsize Korean crossover is that its gearing is long and that it's best suited for the highway. Not that its a bad thing but if you so choose to not use the cruise control feature you will quickly find yourself speeding as the engine just wants to keep the car accelerating. The thing is it's hard to notice it by sound alone as the NVH is so good that your sense of speed gets warped. What feels like 60km/h may actually already be 100km/h. That being said wind noise does creep in if you end up going above 100km/h
Off the beaten track and onto light trails the all-wheel-drive system in the Sorento handles everything well. On loose dirt and on grass, traction is still present even while climbing small inclines. Where it begins to struggle a bit is on muddy terrain, so if you plan to take this vehicle to a farm during the rainy season be prepared for a bit of sliding and a bit of wheelspin.
Fuel economy
In terms of fuel economy, the Kia Sorento does about average. The South Korean midsize crossover was able to put out 7km/L in the hellish traffic of EDSA. When the roads cleared up it was able to push it to about 10km/L and when we hit the highway the 2.2-liter came into its own pushing out 22km/L at an average speed of 90km/h.
Verdict
Despite the interior of the Kia Sorento feeling a bit dated in terms of design it still feels worth the P2,195,000 price tag. While it may seem like a steep price to pay for this midsize crossover, it more than makes up for it in terms of ride comfort and ride feel. There are better offerings at more affordable prices but the Sorento is in a league of its own. It presents itself as a comfortable midsize crossover, that comes with a little off-road capability. Its refinement but with a touch of ruggedness.
With that said if you're looking for a comfortable 7-seater crossover that comes with a strong yet frugal turbo diesel engine then the Kia Sorento is the vehicle for you.
Kia Sorento Exterior Photo Gallery
Kia Sorento Interior Photo Gallery
---
Specifications
Performance
197 hp @ 3,800 rpm
---
Summary

| | |
| --- | --- |
| Name | Kia Sorento 2.2 EX AWD AT |
| Body Type | Crossover |
| Price | ₱2,195,000 |
| Transmission Category | Automatic |

Engine

| | |
| --- | --- |
| Engine Size | 2.2 L |
| Displacement | 2,199 cc |
| Number of Cylinders | 4 |
| Number of Valves | 16 |
| Transmission Type | 8-Speed Automatic Transmission with Shiftronic Feature |

Performance

Drivetrain
All-Wheel Drive
Max Output (HP)
197 hp @ 3,800 rpm
Max Torque (nm)
441 Nm @ 1,750 rpm
*Acceleration Rate (0-100 km/h)
n/a
Top Speed
n/a
*estimated

Economy & Environment

Fuel Type
Diesel
CO2 Emission
n/a
Fuel Capacity
71 L
*Fuel Consumption
6.9 L/100 km
*Range
n/a
*estimated

Dimensions

| | |
| --- | --- |
| Length | 4,800 mm |
| Width | 1,890 mm |
| Height | 1,685 mm |
| Wheelbase | 2,780 mm |
| Turning Circle | 11.4 m |
| Ground Clearance | 185 mm |
| Wading Depth | n/a |
| Trunk Capacity | n/a |
| Max Cargo | n/a |
| Number of Doors | 5 |
| Number of Seats | 7 |

Safety & Security

Driver's Airbag
Front Passenger's Airbag
Side Airbags
Curtain Airbags
Knee Airbag
Auto Brake System
Electronic Brake Distribution
Anti-lock Brake System (ABS)

Anti-lock Braking System with Brake Assist

Immobilizer
Security Alarm
Stability Control
Electronic Door Locks
Speed Sensing Door Locks
ISOFIX
Lane Departure Warning System
Blind-Spot Detection System

Features

| | |
| --- | --- |
| Cruise Control | |
| Front Parking Sensors | |
| Rear Parking Sensors | |
| Leather Upholstery | |
| Push Start Button | |
| Wheel Size | 18 in |
| Wheels Metal Type | Alloy |
| Airconditioning System | Dual Zone Full Auto Climate w/ Rear Blower Manual Control and Side Demist Grille |
| Entertainment System | 7-inch Touchscreen, AM/FM Radio, CD, MP3 with Voice Control via 6 speakers |
| Connectivity | Aux, Bluetooth, and USB |
| Navigation Ready | |
| Warranty | 5 Years (160,000 km) |
| Keyless Entry | |
| Roof Rack | |
| Sunroof | |
| Electric Adjustable Seats | |
| Power Steering | |
| Power Windows | |
| Power Outlet | |
| Steering Wheel Audio Control | |

Technology

| | |
| --- | --- |
| Active Park Assist | |
| Hill Start Assist | |
| AWD Modes | AWD (Torque on Demand) |
| Tire Pressure Monitoring | |
| Heads-up Display | |
| Power Liftgate | |
| Start-stop System | |
---
Get the best deal - Choose multiple dealerships to compare offers!
Select up to 5 dealerships and compare their offers
Over 70% of dealers reply within 1 hour
100% hassle-free with no obligation to purchase
Latest Review
With such an iconic model, we couldn't help but enjoy every moment we had with this: The MINI Cooper S 3-Door.

4.1

/

5

First impressions are good of the Mazda CX-90, and Mazda's newest and biggest crossover is also its most expensive.

What's in a base model? Ford has redefined the base trim in its lineup.
View More Articles