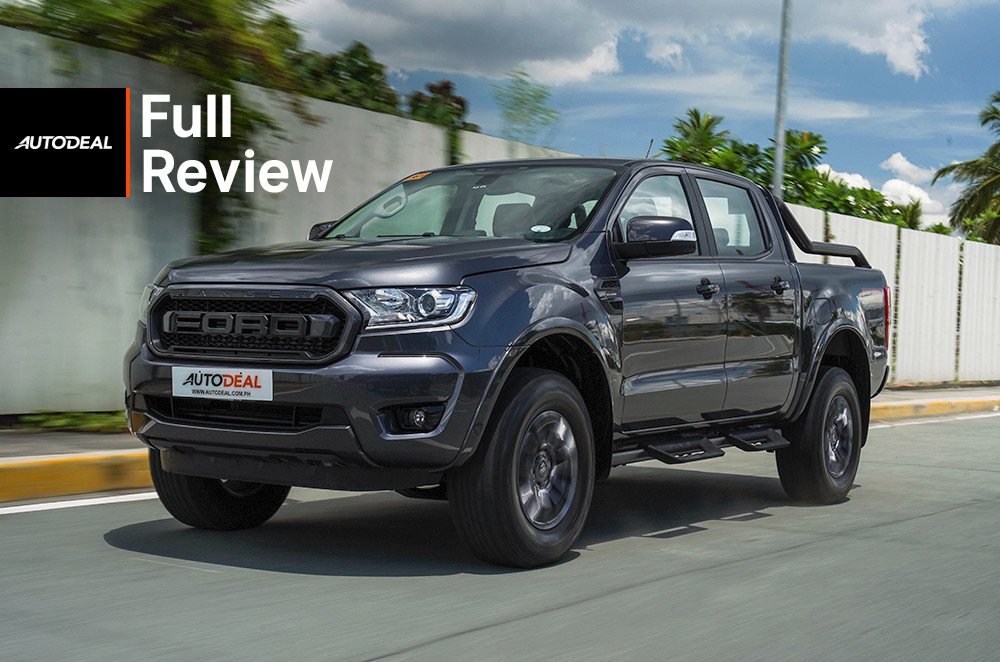 We imagine that Ford had a bit of a powwow while discussing what new model they needed to launch to keep the Ranger lineup fresh. With a range as diverse as the Ranger's and with more variants than you can count on one hand, it's kind of hard to differentiate yourself in a sea of all too similar trucks.
For crying out loud, you have the road-going and the off-road-capable variants in the lineup already, so why did Ford give us the 2021 Ford Ranger FX4 MAX? Simply put, strength, and we'll get to that in a bit.
2021 Ford Ranger FX4 MAX Review
Performance
Engine Output (HP), Acceleration, Transmission, Handling 4.5/5
Design
Exterior & Interior Design, Quality, Fit and Finish, Ergonomics 4.0/5
Ride Comfort
Cabin Comfort, Suspension, NVH Insulation 4.0/5
Safety and Technology
Convenience Technologies, Active and Passive Safety Features 3.5/5
Value for Money
Amount of the vehicle you get for the price, Fuel Efficiency 4.0/5
What You Will Like
Purpose-built for off-roading
Fox shocks
BF Goodrich all-terrain tires
What You Won't Like
Interior is bland
Road noise is noticeable
Instrument cluster is a little hard to use
How We Do Our Reviews
Exterior
What's left to say about the Ford Ranger? It's a truck that we're quite used to seeing, and we've seen the blacked-out grille, the muscular lines, and all of those. It's nothing surprising, and it's nothing bad either. While we are used to seeing a lot of the midsize pickup in many of its road-going forms, The FX4 is a good balance between the more driveable Wildtrak and the burlier Ranger Raptor.
The FX4 MAX is no different from most Ford Rangers, but it does get closer in its execution to the Ranger Raptor. Let us just state that we love how the Ranger Raptor looks. It's big and burly, but for those of you that prefer a more sedate yet still rugged rig, then the FX4 MAX is right up your alley. We're the biggest fans of the off-road setup. The robust stepboards make ingress and egress easy, plus it looks bad-freaking-ass. The grip on these attachments are also great thanks to a very grippy coating. Speaking of grip, the BF Goodrich all-terrain tires look the part, and wrap a 17-inch alloy set of wheels. This paired with the upgraded Fox shocks, mean that the ground clearance is at a towering 256 mm, which is a great number if you want to go off road or through a harsh flood.
However, it's not at all perfect because of the headlight system, which is only a projector halogen. We hoped that it would have come with LEDs, considering that this model is close to the top of the line variant. Apart from that, it's the same story but taller and more rugged. We feel that the look of the Ranger still holds up to this day, but we need something new or else many fans will get bored.
Interior
Attention to detail is a big thing in cars, but the FX4 MAX takes that and the purpose of why it exists to new levels. For the longest time, we've been complaining about glossy-black plastics in car interiors—especially in pickup trucks. Ford, on the other hand, have done well to ensure that the FX4 MAX gets a truly rugged interior. Not a single glossy surface on the cabin, and we're digging it. It might come off as bland for some people, but we think that it is still a rather nice-looking interior especially with the faux Alcantara seats, the matte plastics, and most of all, the trimmings of a Ford Ranger.
Interior quality is par for the course in its segment, and while it does feature a lot of plastics, it's totally forgivable because you don't have to worry too much about getting it dirty and scuffed. When you're on the trail, and covered in mud, the last thing you want is to scratch up your nice and clean cabin plastics, stain the seats, and make a mess all the surfaces and matting of your car. Perhaps that's the only other thing that's missing in the FX4 MAX. We feel that rubber matting will complete the look of the interior.
Apart from that, you get the standard amount of space as found in other Rangers, which is to say good for its class. Legroom is generous in the rear, and the cabin features enough width for passengers to not feel too cramped side-to-side.
Comfort
That being said, comfort is only fair in the Ranger. It doesn't ride as harsh as other pickups, but it's not the best in its class either. Thanks in part to the larger tires and upgraded shocks. While the MAX features more suspension travel thanks to the upgraded components, the ride is pretty similar to the normal Rangers albeit with a bit more road noise and slightly more bounce.
On that note, NVH insulation is pretty good. We'll say that Ford knows how to make a car that inhibits wind noise pretty well. However, road noise brought about by the thick all-terrain tires do get quite intrusive. The engine noise can get quite a bit intrusive when in the higher RPMs. Overall, it's more comfortable than a typical work truck, but it's not as quiet as the road-going Wildtrak.
Technology
It's still the same kit from the regular Rangers. You get an 8-inch touchscreen infotainment system with Apple CarPlay and Android Auto, but you don't get a reverse camera. Now, we would have wanted to see one considering the price, but in its place you at least get reverse parking sensors as well as a set of auxiliary switches that you can use to hook up accessories to like lights, winches, and other off-road goodies.
Moving over to the driver's side, you get a familiar gauge cluster. It's the same single dial flanked by two small LCD screens. The cluster is plenty capable, but it is a bit cluttered. Looks good, but we feel that Ford should update this instrumentation already—it's been around for quite some time now. At least the sound system does return some good quality to it even with 6-speakers. The bass is punchy enough, while the mids aren't too overblown.
Other driver assist features? Well there are some like cruise control, but that's about it. Considering the price tag of the FX4 MAX and everything that's already been done to it, we figured that the owner or the potential buyer for this car will be more appreciative of the beefed-up alternator to accommodate all of his toys on the car, rather than autonomous driving features.
Safety
It's a bare-bones setup for the MAX, as it only comes dual front airbags for the driver and passenger, an anti-lock brake system (ABS) paired with electronic brakeforce distribution (EBD), hill launch assist, and hill descent control. It's not cutting-edge safety like in the Wildtrak, but this thing is more capable so we're not complaining all too much. Our only wish is that Ford gave it more airbags.
Driving and Handling
It's like other Rangers, but taller and heavier. The supremely light Ford steering is just light in this instance, and it carries a bit more body roll through the corners while going at speed. Thankfully, the engine remains as torquey as ever, but it does require a bit of effort to get it up to its optimal rev range.
That being said, 210 hp and 500 Nm of torque is no joke, but the two turbos need to spool up before you get something out of the small 2.0-liters' worth of displacement. The 10-speed does well to keep it revving, which means that there is more noise in the cabin, but more oomph to be had when you put your foot down. The throttle response is quite good, and we wished that a similar set of paddle shifters were provided to lean it closer to the Ranger Raptor experience, but we made do with the slightly awkward placement of the shift select on the gear lever.
Handling-wise, it's an impressive truck off the beaten path. Taking this FX4 MAX out on the dirt is a joy as the Fox shocks ensure that you have enough grip over loose gravel, and they respond extremely well over uneven surfaces. The MAX is really in its element outside of the city and in the mud and dust of rural roads and trails. We even reckon that it can take on gnarlier trails with its proven track record and it's already ample ground clearance.
That being said, and after taking it for a spin, the FX4 MAX is definitely a great off-roader. We have a feeling that the tires played a big part in its performance offroad, however, the tradeoff is that it doesn't perform as great in the city, returning a bit of tire noise when at speed. Other than that, however, it's completely usable as a mall crawler.
Fuel economy
In the city, we were able to get around 9 km/L in a bit of traffic. If you're more behaved, you can get up to 12 km/L just cruising comfortably at 60km/h without much stops. However, if you do find yourself on the highway cruising at about 90 km/h, then the figure rises to about 15 km/L.
It's not the most efficient truck in the market, other brands certainly do a better job thanks to long gear ratios and more displacement, but in terms of sheer output and in-city driving, the Ranger holds a candle.
Verdict and Price
So for the Ranger FX4 MAX, it's not your typical pickup. It's something special from Ford. Instead of focusing purely on features and aesthetics, Ford figured that it wanted to give the Ranger FX4 MAX a more robust characteristic. The alternator, the shocks, the tires, and the body have all been beefed up for a purpose. None of the additions feel tacked-on, and everything has a purpose. The added switches on the inside allow you to add more electrical components like lights, while the beefier alternator won't burn out compared to a standard one.
Yes, the Ranger FX4 MAX is a great truck to have. The only gripe that we have is its lack of a reverse camera, and the switches don't quite go anywhere just yet. We get it though, it's an enthusiast's variant. Like the Ranger Raptor but more utilitarian. Did we mention that it can carry more as well?
Although, the normal car buyer will appreciate the looks at first, then probably wish that there were more features baked in. We like the truck, but it's not for everyone. We wholeheartedly recommend it to someone who is looking to get into trailing, however. If you think about it, it's a great starter pack even at a rather steep price of P1,698,000. You get top-notch suspension and a factory lift with overhead for you to play with. Adding accessories won't put a strain on your electrical system, and you get the expensive all-terrain tires right out of the box.
Exterior Photo Gallery
Interior Photo Gallery
---
Specifications
Performance
210 hp @ 3,750 rpm
---
Summary

| | |
| --- | --- |
| Name | Ford Ranger 2.0 Biturbo FX4 Max 4X4 AT |
| Body Type | Pickup Truck |
| Price | ₱1,758,000 |
| Transmission Category | Automatic |

Engine

| | |
| --- | --- |
| Engine Size | 2.0 L |
| Displacement | 1,996 cc |
| Number of Cylinders | 4 |
| Number of Valves | 16 |
| Transmission Type | 10-Speed Automatic Transmission |

Performance

Drivetrain
Four-Wheel Drive
Max Output (HP)
210 hp @ 3,750 rpm
Max Torque (nm)
500 Nm @ 1,750 rpm
*Acceleration Rate (0-100 km/h)
n/a
Top Speed
n/a
*estimated

Economy & Environment

Fuel Type
Diesel
CO2 Emission
n/a
Fuel Capacity
80 L
*Fuel Consumption
n/a
*Range
n/a
*estimated

Dimensions

| | |
| --- | --- |
| Length | 5,354 mm |
| Width | 1,860 mm |
| Height | 1,852 mm |
| Wheelbase | 3,220 mm |
| Turning Circle | 12.7 m |
| Ground Clearance | 256 mm |
| Wading Depth | 80 cm |
| Trunk Capacity | n/a |
| Max Cargo | n/a |
| Number of Doors | 4 |
| Number of Seats | 5 |

Safety & Security

Driver's Airbag
Front Passenger's Airbag
Side Airbags
Curtain Airbags
Knee Airbag
Auto Brake System
Electronic Brake Distribution
Anti-lock Brake System (ABS)

With Electronic Brake Force Distribution

Immobilizer
Security Alarm
Stability Control
Electronic Door Locks
Speed Sensing Door Locks
ISOFIX
Lane Departure Warning System
Blind-Spot Detection System

Features

| | |
| --- | --- |
| Cruise Control | |
| Front Parking Sensors | |
| Rear Parking Sensors | |
| Leather Upholstery | |
| Push Start Button | |
| Wheel Size | 17 in |
| Wheels Metal Type | Alloy |
| Airconditioning System | Dual-zone EATC |
| Entertainment System | 8-inch Multi-function TFT Touch Screen Display, AM/FM/CD and SYNC 3 via 6 speakers |
| Connectivity | iPod, USB, Bluetooth |
| Navigation Ready | |
| Warranty | 3 Years (100,000 km) |
| Keyless Entry | |
| Roof Rack | |
| Sunroof | |
| Electric Adjustable Seats | |
| Power Steering | |
| Power Windows | |
| Power Outlet | |
| Steering Wheel Audio Control | |

Technology

| | |
| --- | --- |
| Active Park Assist | |
| Hill Start Assist | |
| AWD Modes | n/a |
| Tire Pressure Monitoring | |
| Heads-up Display | |
| Power Liftgate | |
| Start-stop System | |
---
Get the best deal - Choose multiple dealerships to compare offers!
Select up to 5 dealerships and compare their offers
Over 70% of dealers reply within 1 hour
100% hassle-free with no obligation to purchase
Latest Review
With such an iconic model, we couldn't help but enjoy every moment we had with this: The MINI Cooper S 3-Door.

4.1

/

5

First impressions are good of the Mazda CX-90, and Mazda's newest and biggest crossover is also its most expensive.

What's in a base model? Ford has redefined the base trim in its lineup.
View More Articles