It's been out for quite some time now, and a minor facelift did wonders for the Mazda2. However, the smallest vehicle in the lineup only comes in one variant per body style and hovers around the 7-digit price ranger. With that being said, and with all the options out in the market, just how good is that Mazda2 in the real world.
While the showroom floor may be a good place to get a feel for the car, driving it is an entirely different—yet familiar experience. This is the Mazda2 1.5 SkyActiv-G Elite AT, the brand's subcompact. Let's see how this guy fares on the road.
Performance
Engine Output (HP), Acceleration, Transmission, Handling 4.0/5
Design
Exterior & Interior Design, Quality, Fit and Finish, Ergonomics 4.5/5
Ride Comfort
Cabin Comfort, Suspension, NVH Insulation 4.5/5
Safety and Technology
Convenience Technologies, Active and Passive Safety Features 4.0/5
Value for Money
Amount of the vehicle you get for the price, Fuel Efficiency 4.0/5
What You Will Like
Outstanding driving dynamics
Head-turning design
Superior interior fit and finish
What You Won't Like
No leather seats
Only one variant
Tight rear seat space
How We Do Our Reviews
Exterior
Constant improvement is the name of the game with Mazda, and the '2' has definitely improved in the looks department thanks to a new front fascia. The model ditches the grille of the old model and dons a mesh grille, the headlights are in a slightly different shape, the front bumper is even cleaner than before, and the rear gets a few subtle tweaks that make it seem like a totally new model, even if it is a facelift of the old one.
If you're going to get a Mazda2, do consider the Soul Red Crystal color. It's not only one of the best hues of red we've seen so far, but it's so good to look at. It really is a premium color that accentuates the sultry lines on the sedan. However, we wish that Mazda gave the '2' a bit more contrast in the wheel department. The stock set is pretty good and well-sized coming in at 16 inches but in a monotone finish. We wish that Mazda gave the '2' a darker color, or even a 2-tone finish. Surprisingly, it has 152 mm of ground clearance, which means that you won't be so wary of high humps and potholes, which betray the sleek look of the vehicle. To add, we're in love with the LED lamps and DRLs in the headlight housing. It's one of the best features of the exterior next to the grille.
Overall, it's not much different compared to the pre-facelift from an engineering standpoint. All of the design hardpoints are pretty much the same, but the enhancements made for this current generation make it seem like a completely new model. It's closer in aesthetic appeal to the Mazda3 but in a more compact package. So that being said, it's one of the best-looking subcompact sedans in the Philippines.
Interior
Whenever you step into a Mazda, it's like a cocoon that envelops you. The ergonomic touchpoints are superb and everything is within reach and easy to access. Soft-touch materials can be found all around, but the Mazda2 is somewhere in between the latest Kodo-design models, and the prior ones. See, most of the interior is still more similar to the pre-facelift, which means that you might not get the latest interior design language from the brand, but the '2' doesn't inherit any of the downsides. There are less glossy black plastics, in high traffic areas of the cabin, the buttons aren't softer to the touch, and there is no high central exhaust tunnel that saps a lot of space out of the cabin. Though, you don't get a leather interior with the '2' and instead you get a brown-colored cloth upholstery. It's not a total stain magnet, but we would have appreciated leather.
The cargo space in the '2' is more than enough for your day-to-day use. You can also fold the rear seats down to fit in even more items in the sedan, but you might not always have to since the trunk has 440 L of space. After you fold down the rear passenger seats, however, you can get up to 950 L of space, which is enough for bigger items like bicycles, or larger bags and sacks. For all its space in the cargo area, however, the rear seats are a bit cramped. You might have a hard time getting large people in the back row, and fitting five people might be a bit of a squeeze. You don't get toys at the back either, just cubby holes and cupholders that are shared with the front passengers. Either way, this pins the Mazda2 as more of a driver's car, where the owner is the one behind the wheel and not in the back seat.
If you want something that is premium-feeling, looking, and well-thought-out, then the Mazda2 definitely is the car for you. It's not the biggest in its class, with a rear passenger space that is similar to most subcompact sedans, but it makes up for it with quality and design traits that are often left out when a car is being built to a price point.
Comfort
With a MacPherson strut in the front and a torsion beam at the rear, Mazda has done well to tune this semi-independent suspension setup. That being said, the '2' is not like most subcompact sedans. While comfort is still very much acceptable, we'd more accurately describe the Mazda2's ride to be well-behaved. Much like European cars with highly-engineered chassis, the Mazda2 is similar in the sense that it feels taught and well put together.
Going over bumps and potholes wasn't as jarring as we thought, and the absence of thuds when you'd go over a hump too quickly, was a nice surprise on our end because we expected it to ride similarly to a common subcompact sedan. Don't get us wrong, the '2' definitely isn't as comfortable as the Mazda CX-8 or the larger Mazda6, but it gets the job done, and we dare say that it feels sporty as well.
Technology
The kit inside the '2' feels the same as ever. Having tested all the nameplates in the Mazda lineup, we're totally satisfied with what comes with the '2'. A 7-inch touchscreen infotainment system floats above the dashboard and it finally comes with Apple CarPlay and Android Auto—a feature that the old model didn't have. You also get a reverse camera baked in, but you don't get a DVD player, a bummer for some of you, but not a big deal for us. You also get automatic climate control but it's laid out in a dated dial-style control scheme. In an era where digital technology is found in every pocket, this seems a little shy of Mazda. We would have preferred a digital display so we can accurately see what temperature we're setting the cabin at. Instead, we're given just a vague dial.
Another thing that may not tickle everyone's fancy is the gauge cluster. The tachometer is a digital display, and the speedometer is an analog display down the center. For sportier cars, the tach is usually in the middle, but the Mazda2 is more of a passenger car, so the speedo takes center stage. From then until now, this has been the standard gauge cluster that the Mazda2 got, and it's still a looker, but it's starting to show its age. Color screens are becoming more commonplace, and we would have liked to see that here—still pretty though.
And one more thing… The sound system is pitch-perfect. If you want the best system in a subcompact, then the Mazda2's got you covered. Other creature comforts include a push start button with keyless entry, just the icing on the cake.
Safety
Equipped with driver and front passenger airbags, ABS with EBD, traction and stability control, hill start assist, and ISOFIX tethers, the '2' is just alright for the price you pay in terms of safety equipment. It's not the most advanced nor the most laden, but you can say the same about the other subcompacts out in the market.
It's really with the airbags, or the lack thereof. See, Toyota will be quick to provide you with 3 on the base model and up to 7 if you really want to prioritize safety. Honda does the same as well, but Mazda, it seems is content with the dual-front setup that the '2' has. Either way, the 2013 version of the '2' got a 4-out-of-5-star rating. Do note, however, that the standards have changed since then and newer cars must meet newer requirements.
Driving and Handling
Now, here is where the '2' really gets to flex its muscles—but it doesn't have the most powerful engine in its class either. 108 hp and 141 Nm of torque doesn't sound like a lot, but it's plenty for the light chassis of the '2'. It's a 1.5-liter 4-cylinder naturally-aspirated SkyActiv-G motor, which means that it has plenty of power and torque when you need it. The middle range of the RPM range is where the '2' shines. It loses out on the top-end, but you don't need to hunt for the power.
The transmission is also a key selling point of the Mazda2. With 6 gears, and a traditional torque converter unit, the '2' does well to give good engine response and efficiency. You also get paddle shifters in the cabin that aid with getting that engine to its optimum speed. It's not the fastest-shifting transmission out there, but it trumps all the other CVT-equipped subcompacts out there. You really feel that it has 108 horses under the hood. To make the car feel even sportier, there is a driving mode switch to make the transmission hold gears, keep the throttle response sharp, and keep your engine ready to rev.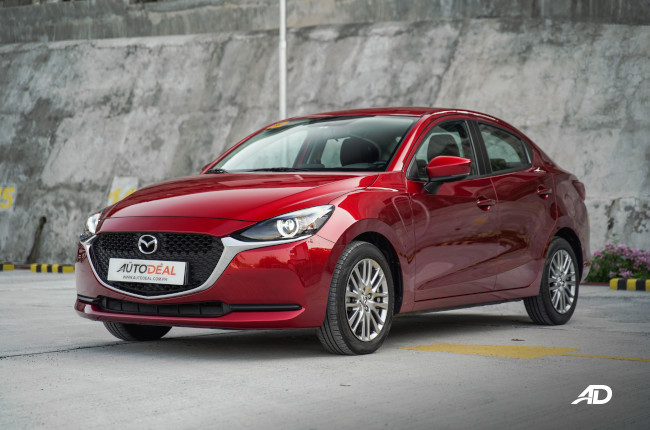 Chassis-wise, it's the best in its class. Body roll is not there as a hindrance, but as a means of communicating with your car. Like we said in the comfort section, it's a taught and well-engineered ride. Even when driving at speed, you feel connected to the "2'. The layout and design of the cabin helps immensely with that feeling, and the suspension and steering are tuned for feedback rather than just being light. It's a great car to drive and take on twisty roads.
Fuel Economy
When all is said and done, we were able to get 11 km/L in the city and 18 km/L on the highway. The figures are not bad considering that we were having quite a bit of fun with this sedan. The 11 km/L reading did dip down to about 9 km/L when stuck in bumper-to-bumper traffic, however.
Par for the course, but slightly better than some of its competition in this area. Nothing too spectacular.
Verdict and Price
We like this car. It's easily an enthusiast's pick if you're shopping for something that is near the 7-digit price point. For about P1,000,000, you get a svelte design, an amazing driving dynamic for the price point, and an interior that makes you feel special. Yes, we will recommend the '2' despite its drawbacks. It's simply one of the better-driving cars out there.
Our only qualm with it is that Mazda could have brought in a few more units to stretch out the price range because the '2' costs P995,000. It's under a million, but it would have been interesting to see if Mazda could have toppled other sales giants in the market with a car that costs closer to the P900,000 mark, which is a common price point that many subcompact sedans cover anyway.
Exterior Photo Gallery
Interior Photo Gallery
---
Specifications
Performance
108 hp @ 6,000 rpm
---
Summary

| | |
| --- | --- |
| Name | Mazda 2 1.5 SkyActiv-G Elite AT |
| Body Type | Sedan |
| Price | ₱995,000 |
| Transmission Type | Automatic |

Engine

| | |
| --- | --- |
| Engine Size | 1.5 L |
| Displacement | 1,496 cc |
| Number of Cylinders | 4 |
| Number of Valves | 16 |
| Transmission Category | SkyActiv-Drive 6-Speed Automatic w/ Sport Mode |

Performance

| | |
| --- | --- |
| Drivetrain | Front-Wheel Drive |
| Max Output (HP) | 108 hp @ 6,000 rpm |
| Max Torque (nm) | 141 Nm @ 4,000 rpm |
| Acceleration Rate | n/a |
| Top Speed | n/a |

Economy & Environment

| | |
| --- | --- |
| Fuel Type | Gasoline |
| CO2 Emission | n/a |
| Fuel Capacity | 44 L |
| Fuel Consumption | 13.1 L/100 km |
| Range | n/a |

Dimensions

| | |
| --- | --- |
| Length | 4,340 mm |
| Width | 1,695 mm |
| Height | 1,485 mm |
| Wheelbase | 2,570 mm |
| Turning Circle | 9.4 m |
| Ground Clearance | n/a |
| Wading Depth | n/a |
| Trunk Capacity | 950 L |
| Max Cargo | n/a |
| Number of Doors | 4 |
| Number of Seats | 5 |

Safety & Security

Driver's Airbag
Front Passenger's Airbag
Side Airbags
Curtain Airbags
Knee Airbag
Auto Brake System
Electronic Brake Distribution
Anti-lock Brake System (ABS)

With Electronic Brake Force Distribution

Immobilizer
Security Alarm
Stability Control
Electronic Door Locks
Speed Sensing Door Locks
ISOFIX
Lane Departure Warning System
Blind-Spot Detection System

Features

| | |
| --- | --- |
| Cruise Control | |
| Front Parking Sensors | |
| Rear Parking Sensors | |
| Leather Upholstery | |
| Push Start Button | |
| Wheel Size | 16 in |
| Wheels Metal Type | Gray Metallic Alloy |
| Airconditioning System | Single-Zone Automatic Climate Control |
| Entertainment System | 7-inch Touchscreen LCD with MP3, Aux-in, 2-USB, Bluetooth, Apple CarPlay, Android Auto via 6 Speakers |
| Connectivity | Aux-in, USB, Bluetooth, Apple CarPlay, Android Auto |
| Navigation Ready | |
| Warranty | 5 Years (100,000 km) + Free 5 Years PMS |
| Keyless Entry | |
| Roof Rack | |
| Sunroof | |
| Electric Adjustable Seats | |
| Power Steering | |
| Power Windows | |
| Power Outlet | |
| Steering Wheel Audio Control | |

Technology

| | |
| --- | --- |
| Active Park Assist | |
| Hill Start Assist | |
| AWD Modes | n/a |
| Tire Pressure Monitoring | |
| Heads-up Display | |
| Power Liftgate | |
| Start-stop System | |
---
Get the best deal - Choose multiple dealerships to compare offers!
You can compare quotations simultaneously from multiple Mazda dealerships. Select your preferred dealers from the list below.

Compare quotations from multiple dealerships in minutes.
Check vehicle and color availability.
Find info on special offers and promotions.
100% Hassle-free with no obligation to purchase.
Latest Review
There's plush, there's rugged, then there's the Nissan Navara PRO-4X.

4.0

/

5

It's so good we bought one.

4.0

/

5

A complete 180 for Isuzu's D-MAX.

4.1

/

5
View More Articles