It's no secret that the new Ford Ranger is just around the corner. The Blue Oval has been teasing it for months now slowly revealing the spec sheet of the pickup that's to come. However, before the new version arrives the current models are presenting themselves as great deals. As these vehicles are nearing the end of their model lifecycle, Ford has thrown in some great upgrades to make them even more attractive than ever.
With that in mind, we take a look at the 2022 Ford Ranger XLT to see if it's still a great bargain or if you should wait for the new model to arrive instead.
2022 Ford Ranger XLT 4x2 AT Review
Performance
Engine Output (HP), Acceleration, Transmission, Handling 4.0/5
Design
Exterior & Interior Design, Quality, Fit and Finish, Ergonomics 3.5/5
Ride Comfort
Cabin Comfort, Suspension, NVH Insulation 4.5/5
Safety and Technology
Convenience Technologies, Active and Passive Safety Features 3.5/5
Value for Money
Amount of the vehicle you get for the price, Fuel Efficiency 4.0/5
What You Will Like
Fuel efficient engine
Great ride comfort for a pickup truck
Easy to use controls
What You Won't Like
An older design
No reverse camera
Limited passive safety features
How We Do Our Reviews
Exterior
It's a classic Ford Ranger on the outside, you get a strong front fascia with the grille design of the Wildtrak. It may not have the orange nostrils of its bigger brother but the blacked-out grille does wonders for the pickup truck, especially in its diffused silver color. You do get halogen projector headlights but it isn't much of an issue as the throw and cut are great.
Moving on to the side and well it's just clean lines all around, Ford, however, has given the pickup truck a black set of wheels which works well. It's still the same design as the older version of the XLT but the black does something to make it pop out against the curves and bodylines of the Ranger.
The back of the Ranger is pretty much the same as the previous version. You still get the Ranger logo at the rear and the XLT badge at the back. While you don't get anything fancy like LED taillights the halogens works fine. It does come with a chrome bumper which works well to complement the rest of the car. You also get a bed liner as standard to boot which is great.
Interior
Entering the cabin of the Ranger and you are greeted by a familiar sight. If you have seen the previous version of the pickup truck and even its brother the Everest it's pretty much the same. You do get nice analog gauges with a digital trip computer, tall air vents in the middle, easy-to-use climate controls, a good number of USB ports, and ergonomic buttons. You also get buttons on the steering wheel for audio controls and for cruise control as well. You also get a 6-speaker sound system which is great. The audio system is balanced but could use more midrange a bit more highs as the bass seems to be the one prioritized even with a bit of tuning to help brighten up the sound profile.
Aside from this, the overall fit and finish of the Ranger XLT are quite good. Soft-touch materials are present and are found in key areas. Where there is plastic, it is made of a sturdy material that you can tell will last long. The seats are supportive but are still firm and the fabric material that they are made of breathes well despite the tropical heat of the Philippines.
Overall the interior is great even for a mid-entry level vehicle. Storage space, however, can be a bit of an issue as there isn't much inside the vehicle. There are bottle holders at the front that can take big bottles but at the rear, they're better suited for slimmer ones.
Comfort
While the seating material of the Ford Ranger is cloth its bolstering is great. It doesn't feel tiring to drive the car on long drives and the suspension is well-tuned to not make the pickup truck feel like a workhorse vehicle. It's an overall smooth and pleasant ride all around. Even in the back, it's a comfortable ride despite the seats being a bit more upright due to space limitations within the cabin. To put it simply, Ford has done wonders making the Ranger even in its XLT feel something beyond its car body type and this is something that we like.
Tech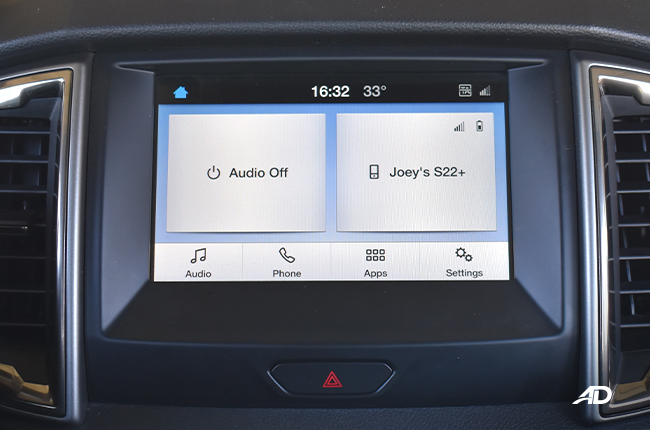 In terms of technology, the Ranger XLT is actually well equipped. It comes with the 8-inch infotainment system that is found as standard across the entire Ranger lineup locally. This means that the pickup truck gets access to Apple CarPlay and Android Auto, Ford Sync 3 with voice-activated controls, and Bluetooth with Phone/ Audio streaming. Lest we forget, the XLT also comes with reverse sensors which give you a nice diagram of the infotainment system when in use. It's handy especially when want to maximize a tight parking spot.
Overall it's not class-leading technology but it's what you would expect of a mid-variant. It checks all the right boxes for what you need in a pickup truck save for a backup camera which sadly isn't available in the XLT, but aside from that its feature set is very much usable.
Safety
In terms of its safety technology, the Ford Ranger XLT comes with the industry standard. This means that this version of the Blue Oval's popular pickup truck gets dual front airbags, parking sensors, ABS with EBD, and ISO FIX tethers. It isn't much but it does cover the basics which are great especially considering its affordable price point as well.
Driving and handling
This version of the Ford Ranger is powered by a 2.2-liter turbo diesel motor. It's not as powerful as its 2.0-liter counterparts and requires a certain way of driving it in order to maximize its power. Off the bat, you can tell Ford designed this engine to be for torque and not necessarily for speed. Power comes in early but if you floor it nothing happens and acceleration feels dulled. However, if you feed the power in gently you will find that the pickup truck will accelerate more smoothly and better put the power down.
Something we noticed is that for its first two gears there isn't much grunt there in terms of acceleration as the six-speed automatic breezes through these gears if you want to push the car to go faster. Its sweet spot is in 3rd where the engine comes alive and you feel all of the 158 hp and 385 Nm of torque that it can offer. After that, it's pretty much smooth sailing from there.
In terms of handling the Ranger doesn't feel like a pickup truck and feels much more like a car. The ride is smooth and the bumps are kept to a minimum, thanks to its suspension. It does tend to understeer just a little bit but it's to be expected from a large vehicle such as a pickup truck.
Overall the Ranger XLT delivers you a smooth and comfortable ride despite its workhorse origins. It feels closer to that of a crossover than a pickup truck and you can tell that Ford put in the work to make the vehicle have a great balance between cargo-hauling capabilities and is a great lifestyle and daily driver.
Fuel economy
For fuel economy, the Ford Ranger XLT was able to push out 7.8 km/L in the city with heavy traffic, and on the highway, it was able to produce 17.4 km/L. Overall these are not bad figures but they are outshined by the Blue Oval's much newer rivals.
Verdict
The Ford Ranger XLT presents itself as an ideal pickup truck for those who want creature comforts but can have a vehicle that can also be a workhorse on the side. The best way to describe it is it's a jack of all trades. It does a little bit of everything well which is great. The styling updates help spruce up the vehicle and make it more presentable and more lifestyle-oriented and its ride quality is still up there with the likes of the Nissan Navara.
That being said, is it a great deal even with the new Ranger on the way? Here's the deal, if you want a pickup truck now and are on a budget, then the XLT is what you should get especially in the diffused silver color, but if you want to wait it out for the new Ranger then you can do so but expect an increase in pricing for the new model. What you're paying for now with the XLT AT which is priced at P1,330,000 is something you might not get with the new model. So consider the value for money proposition that this older generation is offering.
Ultimately, however, the choice is still yours whether or not you want to wait for the new model to arrive. What we are simply saying is, the way the XLT is set up now, you can't deny its great value for money proposition.
Exterior Photo Gallery
Interior Photo Gallery
---
Specifications
Performance
158 hp @ 3,200 rpm
---
Summary

| | |
| --- | --- |
| Name | Ford Ranger 2.2 XLT 4x2 AT |
| Body Type | Pickup Truck |
| Price | ₱1,330,000 |
| Transmission Type | Automatic |

Engine

| | |
| --- | --- |
| Engine Size | 2.2 L |
| Displacement | 2,198 cc |
| Number of Cylinders | 4 |
| Number of Valves | 16 |
| Transmission Category | 6-speed Automatic |

Performance

| | |
| --- | --- |
| Drivetrain | Rear-Wheel Drive |
| Max Output (HP) | 158 hp @ 3,200 rpm |
| Max Torque (nm) | 385 Nm @ 2,500 rpm |
| Acceleration Rate | n/a |
| Top Speed | n/a |

Economy & Environment

| | |
| --- | --- |
| Fuel Type | Diesel |
| CO2 Emission | n/a |
| Fuel Capacity | 80 L |
| Fuel Consumption | 6.9 L/100 km |
| Range | n/a |

Dimensions

| | |
| --- | --- |
| Length | 5,354 mm |
| Width | 1,860 mm |
| Height | 1,821 mm |
| Wheelbase | 3,220 mm |
| Turning Circle | 12.7 m |
| Ground Clearance | 232 mm |
| Wading Depth | 80 cm |
| Trunk Capacity | n/a |
| Max Cargo | n/a |
| Number of Doors | 4 |
| Number of Seats | 5 |

Safety & Security

Driver's Airbag
Front Passenger's Airbag
Side Airbags
Curtain Airbags
Knee Airbag
Auto Brake System
Electronic Brake Distribution
Anti-lock Brake System (ABS)

With Electronic Brake Force Distribution

Immobilizer
Security Alarm
Stability Control
Electronic Door Locks
Speed Sensing Door Locks
ISOFIX
Lane Departure Warning System
Blind-Spot Detection System

Features

| | |
| --- | --- |
| Cruise Control | |
| Front Parking Sensors | |
| Rear Parking Sensors | |
| Leather Upholstery | |
| Push Start Button | |
| Wheel Size | 17 in |
| Wheels Metal Type | Alloy |
| Airconditioning System | Single-zone Manual |
| Entertainment System | 8-inch LCD Touchscreen via 6 speakers |
| Connectivity | USB, Bluetooth, Apple CarPlay, Android Auto |
| Navigation Ready | |
| Warranty | 3 Years (100,000 km) |
| Keyless Entry | |
| Roof Rack | |
| Sunroof | |
| Electric Adjustable Seats | |
| Power Steering | |
| Power Windows | |
| Power Outlet | |
| Steering Wheel Audio Control | |

Technology

| | |
| --- | --- |
| Active Park Assist | |
| Hill Start Assist | |
| AWD Modes | n/a |
| Tire Pressure Monitoring | |
| Heads-up Display | |
| Power Liftgate | |
| Start-stop System | |
---
Get the best deal - Choose multiple dealerships to compare offers!
You can compare quotations simultaneously from multiple Ford dealerships. Select your preferred dealers from the list below.

Compare quotations from multiple dealerships in minutes.
Check vehicle and color availability.
Find info on special offers and promotions.
100% Hassle-free with no obligation to purchase.
Latest Review
It's the brand's entry into the subcompact segment that boasts unique styling, a unique set of features, and a frugal 1.2-liter engine that isn't small in power.

3.8

/

5

The Civic has evolved to be a comfortable yet sporty grand tourer vehicle that is both comfortable and quick.

4.3

/

5

The fourth-generation Suzuki Jimny is still proving to be a hit for the Japanese automaker as its appeal is still as strong as ever despite the price increase and the evolution of the market...
View More Articles