Following its simultaneous global online launch last year, Rolls-Royce Cars Manila, the importer-dealers of Rolls-Royce Cars in the Philippines, has finally brought the Dawn into our shores – and it's absolutely gorgeous.
The Rolls-Royce Dawn is a new super luxury convertible from the British marque. It has been regarded in the automotive world as "defining the very essence of luxury motoring." The anticipated growth in the luxury goods sector is Rolls-Royce's target in bringing this full 2-door 4-seater in the country.
Sven Ritter, Asia Pacific Regional Sales Manager, said that the Dawn is well suited to all generations of Rolls-Royce customers, but their main target is the younger and affluent market who wants something striking, beautiful, and uncompromised.
Its design evokes glamor and offers a supreme experience for four adults in total comfort. It is the pinnacle luxury good – rare, bespoke, and hand-crafted to the unmistakable Rolls-Royce hallmark standard," he added.
What you'll love about the Dawn is its elegant appearance, which is somehow complemented by a youthful and active interior color theme without losing its classy appeal. It comes in Midnight Sapphire exterior paintwork and Mandarin Orange interior. This is not the first time that Rolls-Royce used striking colors in their cars; they used Pink, Turchese, and Mother of Pearl before.
Although it looks like a roofless Wraith at first glance, the Dawn features body panels that are 80% unique to it. It also has new tires that you can only see in this model. However, it adapted the door handles placement of the Wraith and the Phantom, which can be found on the A-pillar instead of the conventional B-pillar position.
Another notable feature of the Dawn is its roof that operates silently within 20 seconds even when cruising at a speed of up to 50 km/h. Their engineers paid great attention to this fabric roof configuration, with the goal of making the quietest convertible car in the world. Rolls-Royce dubbed this as the 'Silent Ballet.'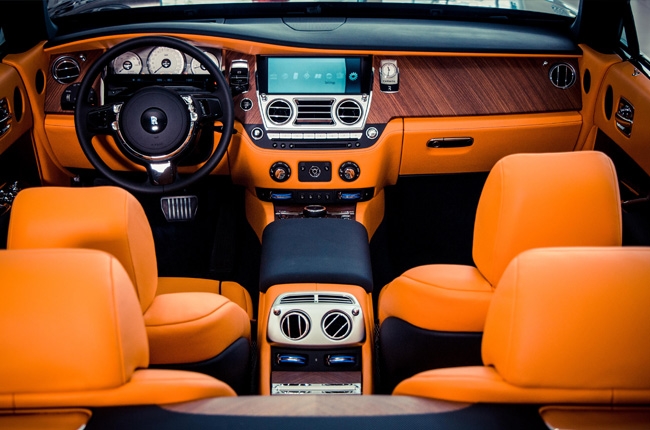 Aside from the Mandarin Orange leather seats of the Dawn, the Rosewood wooden veneer accentuates most of its interior, which really shows Rolls-Royce's excellence in modern craftsmanship.
This open-pore Canadel paneling traces the horseshoe shape of the rear cabin. It flows into the deck, which they call as the 'Waterfall' between the rear seats and fills the entire cabin up to the door panels.
Under the hood, the Dawn is powered by a V12 gasoline engine that has a maximum output of 563 hp and 780 Nm of torque, mated to an automatic transmission. This makes this work of art a very capable beast with this ratings. In fact, the brand claims that it can run a top speed of 250 km/h and reach 100 km/h in 5.1 seconds.
For more information about the Rolls-Royce visit the AutoDeal Car Brands page.