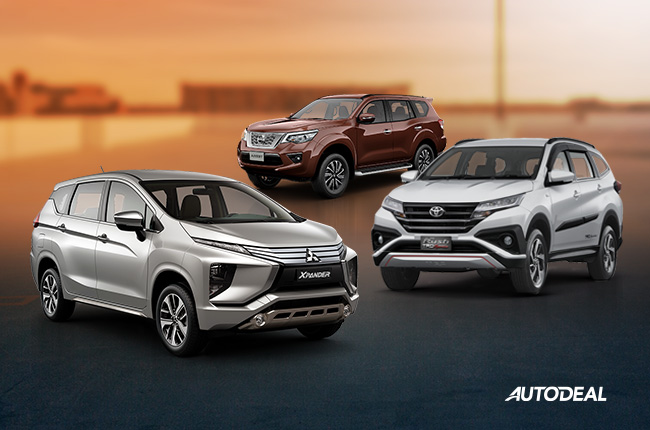 The Filipino online car buying community continues to perpetuate its hunger for better vehicles with better offerings, especially based on what we have observed in the third quarter (Q3) of 2018. Notable nameplates remained firmly planted as some of the most looked after vehicles in the Philippine market, while some recognizable ones climbed up to secure their own spots.
The search and inquiry behaviors of online buyers could still be referenced to the excise tax aftermath courtesy of the Tax Reform for Acceleration and Inclusion (TRAIN) Law. As vehicle prices in general continue to surge, it's become apparent that people are starting to show more interest on much larger models. They are left to venture out for vehicles like MPVs, SUVs, and pickups to catch up more on 'practicality.'
To give everyone a more solid guideline on the latest trend in the local online automotive market, we're enumerating ten of the hottest vehicles on AutoDeal for Q3 2018. Feel free to scan through.
Mitsubishi Xpander
As expected, the craze from the new MPV additions in the market continues on for Q3 2018, influencing inquiries and web searches from online car buyers nationwide and overseas. With that said, the Mitsubishi Xpander remains to be at the peak of the chart with the most numbers of inquiries made from July to September.
With a bold design that captures Mitsubishi's latest design language Dynamic Shield, plus its slew of comfort and convenience features, the Xpander has gotten quite a reputation since its teaser stage. In fact the Xpander received a positive remark in our most recent comparo video as of this writing. However, prices went up as November. Would this affect Xpander's position and let it be overtaken? Possibly, if what we're looking at right now is a P70,000 increase.
Toyota Rush
The Toyota Rush still took the second spot last quarter, and is closely catching up with the Xpander in terms of inquiry count. We also have to mention that both MPVs are way ahead of other nameplates found in the list. We could trace the craze as early as when the teasers went out this year.
We can't blame anyone, though. The Rush is handsome with its Fortuner-inspired fascia, straight as it is, but we're sure this isn't the sole reason why people are after the car. As seen on our three-way MPV comparo video, safety is where the Rush topped its known rivals. That's because Toyota was able to surround the cabin with six airbags given its price point.
Nissan Terra
Since our first drive of the Nissan Terra in May 2018, people are fast becoming more curious about Nissan's only midsize SUV. Yes, the Nissan Terra was nowhere to be found in AutoDeal's most inquired vehicles in the first two quarters of 2018, but in Q3, it earned itself the third top spot, putting it ahead of Toyota's best-selling subcompact models, and way beyond the Fortuner. Want to know more? Check out our Terra vs Fortuner head-to-head article.
Toyota Wigo and Vios
We could've separated the two but knowing that both cars have almost the exact amount of inquiries, the fourth and fifth spots could also be regarded interchangeably. The Toyota Wigo and Vios are arguably two of the most consistent rank holders in the list. What's even interesting is that they are two out of the only three small cars which made it in the top ten so props to that. With enticing promos for the Wigo, great deals for the Vios, as well Toyota's aftersales reputation, both could potentially retain people's interest longer than we could imagine.
Mazda2 Sedan
Another out-of-nowhere entry based on Q1 and Q2 data, the Mazda2 Sedan seemed to have captured the interest of small car buyers. Fair enough, because aside from its classy exterior design derived from the KODO style, the Mazda2 is also equipped with advanced technologies not commonly seen in its class. That said, the Mazda2 competes in the market with the G-Vectoring Control (GVC) technology as its selling point.
The thing is, GVC innovatively improves the car handling on Mazda cars by following three disciplines of ancient Japanese mounted archers: Hashiru Yorokobi (joy from riding), Jinba Ittai (oneness between the horse and rider), and Yabasami (ability of rider to aim from a galloping horse). It does all these by reducing engine torque while cornering, which then lessens body roll and jerk.
Ford Ranger
Coming from the third spot last quarter, the Ford Ranger is down to the seventh position. It's still not bad as the vehicle really has what it takes to entice prospective buyers. Well, it still is the country's best-selling pickup truck so being in the top ten and ahead of the Toyota Hilux isn't a bad thing at all.
In addition, you could expect that this position may improve this quarter with the addition of the facelifted variants and the Ranger Raptor. The Ranger Wildtrak received a new look with an addition of a 2.0 biturbo engine for the 4x4 variant. The Ranger Raptor, on the other hand, offers badass exterior to pair with drivers who are after tougher challenges.
Toyota Innova
Known to Filipinos as an ideal family vehicle, Toyota's midsize MPV being on the list isn't that surprising. With 16 variants under its badge that creates an illusion of unending options, the Innova still keeps on pulling more curious buyers to check it out. Why wouldn't it be ideal? It can seat eight passengers, comfortable cabin, has enough room for cargo, provides more than one engine options, plus the fact that it offers both gasoline and diesel variants.
Toyota Hilux
The other midsize pickup truck to have made it on the list is the Toyota Hilux. This could still be due to the arrival of the refreshed Conquest that adds to the already-large variant range of the Hilux. Buyers are currently offered with 11 variants of the Japanese pickup with the base variant sitting in at P924,000. In addition, people who want a more appealing truck have four variants of the Hilux Conquest to choose from.
Toyota Fortuner
Launched in 2016, the current-generation Fortuner is, in our opinion, one of the most handsome SUVs in the market today. It is a worthy competitor in the entire local midsize SUV segment, not to mention that we received a huge amount of reactions in its comparo video with the Mitsubishi Montero. With the Toyota brand backing up its name, you shouldn't be surprised why it made it to our top 10.
Apart from the activities in our Most Inquired Vehicles chart, we also noticed a slight change in the inquiry-to-sales transaction time frame. The time in which buyers decide to make a purchase since their inquiry has gotten longer compared to the data we have acquired in 2017.
However, there are improvements on inquiry-to-sales conversion based on segment. Compact crossovers hold the biggest improvement in inquiry-to-sales conversion, as it also has the quickest time interval between inquiry and actual purchase. People who inquire for crossovers only take an average time of 35 days before making an actual purchase.
Meanwhile, if you want to have an idea on which brand to buy a unit from, you might want to consider the top performing ones. For brands that got the most inquiries, people's choice Toyota still owns the throne. The Japanese company is still way ahead of everyone else with almost 28% of AutoDeal's inquiries. Ford and Mitsubishi are close in the second and third place, while Nissan's fourth position was secured with 9% of the website's inquiries. The South Korean car manufacturer Hyundai, on the other hand, was able to squeeze in with 8% inquiry share on AutoDeal.
Here are the real deals, though, AutoDeal's top five best-selling units for Q3 saw familiar nameplates. The Ford Everest reigns as the crème de la crème, followed by Nissan's midsize pickup Navara. The previous generation EcoSport, on the other hand, caught up third with the Toyota Wigo and Suzuki Ertiga coming in at fourth and fifth spots.
As you may have observed, the list isn't dependent to the most inquired data. This is a proof of how big the time of inquiry-to-sales conversion is when it comes to securing successful transactions. Here's where dealers' response time comes to play its part. It's quite simple; the quicker the dealer response, it's more likely for a conversion to happen.
Latest Features
If you're looking for car promos that would fit your budget's limit, we have a list of deals with affordable monthly payments.

Knowing when to check and change your engine coolant is important if you want to save yourself from facing engine and cooling system issues.

After a hefty catch of buyers last year, Ford wishes to continue its glorious catch through the following promos.