Choosing a family vehicle could be a little tricky, especially when there's too much to consider. Are you after a bigger space? Perhaps, you're looking for a comfortable cabin? Aside from those, vehicle price and safety play large roles, too, so if you don't know what you're looking for in a car, you'd get lost even before you go out to the nearest showrooms.
To help you get a brighter idea, we narrowed down the scope for you. Believe it or not, there are cars out there that don't break the P1-million mark but just as good as those with a higher sticker price. On the list below, you'll find cars that have optimum safety features, great comfort quality, ample cabin – all under a million-price tag. No more beating around the bush, let's get straight to our first car.
Toyota Rush
Best known as a notorious rival to the Xpander, the Toyota Rush is more than just a pretty fascia. Inside the Rush are 6 airbags from dual front to side, and the curtain – like a nest for all its passengers. In fact, the Rush outscored the Xpander in the ASEAN New Car Assessment Program (NCAP) with a perfect 5-star for safety. Don't forget that this vehicle is under P1-million, as the actual price tag only says P968,000 for the E MT 5-seater variant.
Honda Mobilio
If you want 7 seats and a compact form factor, you could try checking out a much smaller 7-seater MPV. Well, Honda has just what you need and it's none other than the Honda Mobilio. The Japanese MPV boasts flexible seat configuration as the second and third rows can be completely tumbled to allow an even larger luggage space. You get all these with just a price tag of P968,000 for the V CVT variant.
BAIC M60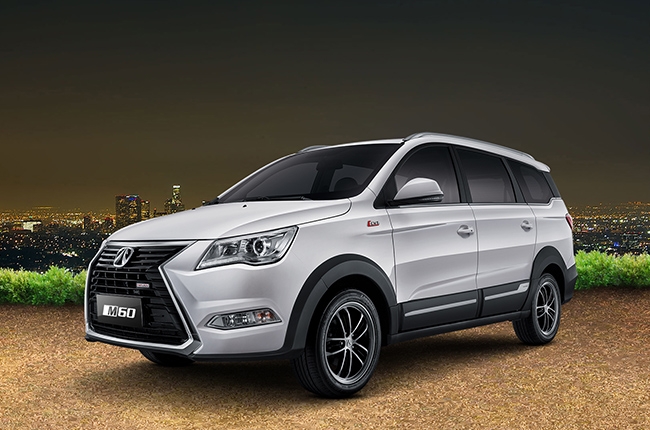 Another MPV option you may consider is the newcomer BAIC M60. It has the looks, some promising traits like having a rigid unibody construction. Also, the M60 is among the first model from BAIC to be integrated with a continuous variable transmission (CVT), which then gives the car, according to the specsheet, a 13 km/L fuel economy (combined city and highway). With the 150-hp 1.5-liter turbocharged engine, the M60 shows it can keep up with more dominating nameplates. The M60 has a price tag of P998,000 for the Standard CVT variant.
Suzuki Ertiga
As a 7-seater, the Ertiga is one of the most affordable and value-packed names in the market. Its entire lineup falls under the P1,000,000 mark, and it starts at just P738,000 and tops out at just P993,000. Equipped with seven seats even in its most affordable variant, the Ertiga is one of Suzuki's best sellers for a reason. With the amount of space and features it has, it's pretty much perfect for a family that's just starting or has already started.
Ford EcoSport
Ford offers value and capability with its EcoSport. The American crossover now offers better convenience and comfort amenities perfect for the family. Of course, there's new 1.0 Titanium EcoBoost turbocharged variant but if you want to stay in the P1-million boundary, there's the Ambiente and the Trend manual variants with their P920,000 and P970,000 price tag. Check out our first-drive article of the 2019 EcoSport to know more about the car.
Suzuki Vitara
Like most vehicles in the list, the Vitara's got the exterior design aesthetics. In fact, the design appears to be heavily influenced by European SUV design with Asian vehicle price tag. Safety is where why we've included the Vitara, as just like the Toyota Rush, it was able to secure a 5-star Euro NCAP rating. It's impressive for a P913,000-crossover (GL AT variant) with charming impressions. Check out our review of the range-topper GLX variant so you can get an idea of how good the car is.
Volkswagen Santana GTS
This would probably sound new to some but Volkswagen introduced a subcompact wagon in October at the 2018 Philippine International Motor Show (PIMS). It's the only wagon model in the subcompact car segment, which is why (if you're looking forward to buying a subcompact car) you should try checking it out. The Santana GTS offers longer subcompact body which is useful for moderate to heavy luggage. The Volkswagen Santana GTS retails at P998,000.
Geely Coolray
While there are variants for over P1,000,000 the Geely Coolray does have a variant that can be had for under 7 digits in the Philippines. With a 1.5-liter turbocharged engine, a generous amount of space, and interior fit and finish that could satisfy even the pickier of car buyers, then you have a recipe for success. You don't get all the toys and the bells and whistles for this model, but if you're looking to get into a crossover that can excite you and give you a nice enough experience, the Coolray may just be the car for your needs even if it is just a base model.
MG ZS
The MG ZS has blazed a trail quick in the Philippine market. It went from being a relatively unknown nameplate to one that is a rather common sight on Philippine roads. With its under-P1,000,000 price tag and its arguably good looks, the ZS makes its way onto this list. Considering that you can get the top of the line Alpha variant for just P998,000, the ZS is quite the bargain, and if you want to save more, there are lower models that are considerably more affordable.
Mazda2 Sedan or Hatchback
For a subcompact sedan that's under the P1-million mark, the Mazda2 Sedan or Mazda 2 Hatchback promises a handful of things under its nameplate. The design is based on the KODO design language of Mazda, the riding experience is referred to as Jinba Ittai, while the engine embodies SkyActiv technology. But, its selling point is its G-Vectoring Control (GVC) technology that optimizes the car's dynamics control for better ride comfort. The Mazda2 Sedan and Hatch sells for P995,000.
Latest Features
If you're on a budget and in need of a reliable workhorse for pretty much anything, the Suzuki Ertiga is the perfect choice.

Unsure about the Number Coding scheme in the Philippines? Our complete guide provides comprehensive details on everything from coding days to window hours in all locations affected by the Nu...

Toyota Motor Philippines gave us the opportunity to test its Gazoo Racing lineup of cars at the Clark International Raceway.
View More Articles