New car launches, hot cars, and lovely ladies – these were the things that you missed if you happen to be not around during the 2017 Manila International Auto Show (MIAS). To give you an idea of what happened on the 4-day show, here's a recap.
Chevrolet: all-new Spark and facelifted Trax
Chevrolet Philippines presented the 2nd generation of their smallest car in the lineup – the all-new Spark. It has been completely revamped, including its engine, as it's now powered by a bigger 1.4L DOHC dual VVT Ecotec gasoline engine. A continuously variable transmission (CVT) has also been made available as an option.
In addition, Chevrolet PH previewed the facelifted Trax, which has been redesigned with slimmer headlamps and restyled dual port grille. However, the company has yet to officially launch its facelifted subcompact crossover.
Dodge: Challenger SRT Hellcat
Another American brand that wowed the show was Dodge as they brought the Challenger SRT Hellcat on the Philippine soil. The cat from hell lived up by its nameplate with a whopping 707-hp 6.2L supercharged HEMI Hellcat V8 engine under its hood. In case you need a blazing American muscle in your garage, the Challenger SRT Hellcat is your next best bet.
Honda: Civic Type R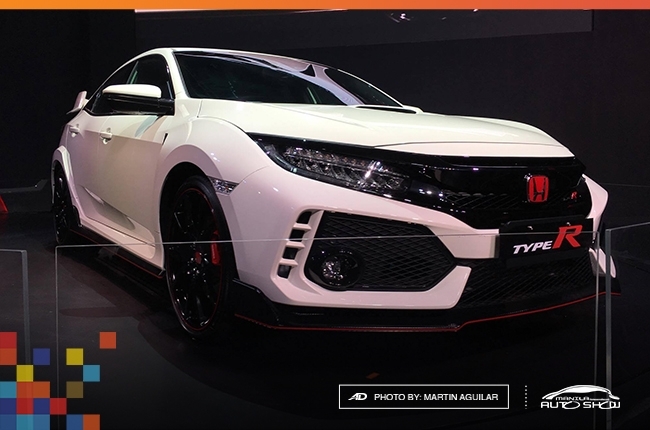 One of the main attraction of the 2017 MIAS was the Honda Civic Type R – the latest and fastest in the Japanese marque's Type R series. Aside from its outstanding looks, it packs up a 2.0L direct injected, turbocharged i-VTEC 4-cylinder engine in 6-speed manual transmission. It can put out 306 hp and 400 Nm of torque. Too bad, though, as Honda Philippines did not make an announcement whether they would sell the Civic Type R here.
Moreover, Honda added a Mugen variant to the HR-V, which further heightened its already sporty look. The HR-V Mugen variant is now available in Honda showrooms nationwide.
Hyundai: Genesis G90 and all-new Creta
Hyundai Philippines had an explosive show during the 2017 MIAS, especially with the newest addition to their lineup of cars. The Creta debuted and was pitted to rival against the subcompact segment mainstays such as the Ford EcoSport, Nissan Juke, and Mazda CX-3. It has both gasoline and diesel variants.
Aside from the Creta, Hyundai Philippines also brought in the Genesis G90 – the first from their new luxury line, Genesis Motors. The addition of the Genesis G90 can spark the competition in the upmarket sedan segment, which is mostly populated by European cars.
Mazda: all-new CX-5, CX-9, MX-5 RF, and facelifted BT-50
One of brands with the largest display and the most update to their lineup was Mazda Philippines. First, they unveiled the all-new CX-5, which sits on a new platform and a more refined design language than its predecessor. It comes in 3 engine choices: 2.5L and 2.0L gasoline, and top-of-the-line 2.2L diesel power plant. On the other hand, its bigger sibling, the all-new CX-9 also made it to the 2017 MIAS as the Japanese carmaker's largest vehicle. It's slotted to go up against the Mitsubishi Montero Sport and Toyota Fortuner.
In addition to the 2 SUVs, Mazda Philippines also showcased the MX-5 Retractable Fastback (RF). It's the hard top version of the 2-door coupe Miata, which could retract its roof in 13 seconds. Lastly, Mazda Philippines quietly updated the BT-50 midsize pickup truck. Although it still doesn't share the design language of most Mazda vehicles, the BT-50 got updated with a more solid look outside.
Subaru: all-new Impreza and Russ Swift stunt show
After its ASEAN debut in Singapore earlier this year, Subaru Philippines launched the all-new Impreza onto our shores. It sits on the Japanese brand's new Global Platform, which has an improved straight line stability, Noise/Vibration/Harshness (NVH), and comfort. It will be available in 1 full option variant.
To further excite those who attended the 2017 MIAS, international stunt driver Russ Swift did shows on each day using the all-new Impreza and the WRX STI.
Volkswagen: all-new Tiguan and Crafter
Volkswagen Philippines displayed the all-new Tiguan at the 2017 MIAS. As compared to the outgoing model, the revamped Tiguan has a more composed fascia as well as an upmarket styling inside the cabin, such as a 6.5-inch touchscreen infotainment system and a 3-zone automatic climate control.
Moreover, the German marque also introduced an additional people mover into their lineup. Meet, the Crafter. It's a 9-seater van with a high roofline that can allow people inside to stand up inside. Volkswagen seems like they're trying to redefine traveling in style.
Latest Features
Ford Philippines' new managing director wants to automate parts sourcing in order to solve customer service woes.

Taillights should be visible from at least 100 meters, according to the law, and hampering this metric may lead to unwanted consequences.

Read along as we pit the Mitsubishi Xpander and Honda BR-V in a head-to-head comparison.