Throughout the pandemic, plants have been capturing the interest of many people. It has become a trend, from the small succulents to medium and larger greeneries. A plantito, such as myself, needs a practical and reliable vehicle, which should allow me to transport all those necessary things for my planting session.
With the Ford Territory, not the Titanium+ but just the Trend, we've made our way to Tagaytay just to have a plant-filled adventure. We then visited an outdoor plant shop which sells a variety of its kind, and we did buy some pieces for our beloved home. It was indeed a fun and effortless trip all thanks to the Territory Trend, After having the compact crossover become my road companion, is it really plantito approved?
It drives smoothly and it's fuel-efficient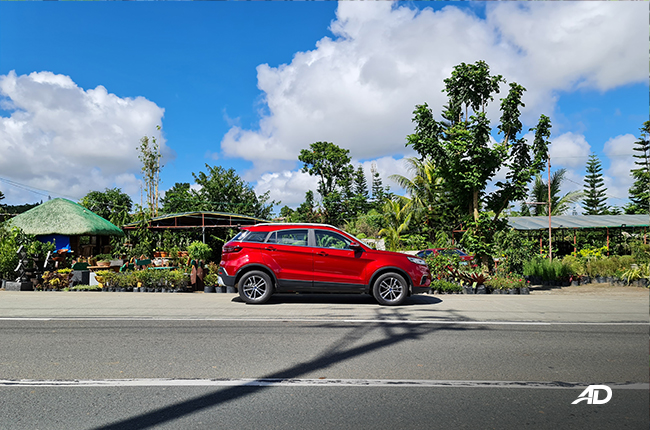 Probably, one of the most important things in considering a brand new ride is the vehicle's performance and fuel-efficiency. We left on a Saturday, around 6 AM in the morning. Traffic was moving fine, and gladly, fuel-economy figures for city driving played at around 8 to 9 km/L which is not bad at all. When we reached the South Super Highway or SLEX, my speed went up by 80 to 90 km/h, gladly, fuel economy numbers rose to 13 km/L.
The 1.5-liter turbocharged EcoBoost gasoline engine does pack a punch, with numbers recorded at 141 hp and 225 Nm of torque. Throttle response is quite good, power band was very linear given that it comes with a Continuously Variable Transmission (CVT). This winning combination does not only achieve good performance, but it also delivers good fuel economy numbers.
Kudos to Ford for giving the Territory light electronic power steering, and precise braking which was enough given the four disc brakes. Ride quality, on the other hand, felt a bit better than the range-topping Titanium+ given that the Trend variant comes with a set of smaller 17-inch rims wrapped in thicker 235/55 tires.
It packs tech and comfort for both the driver and its passengers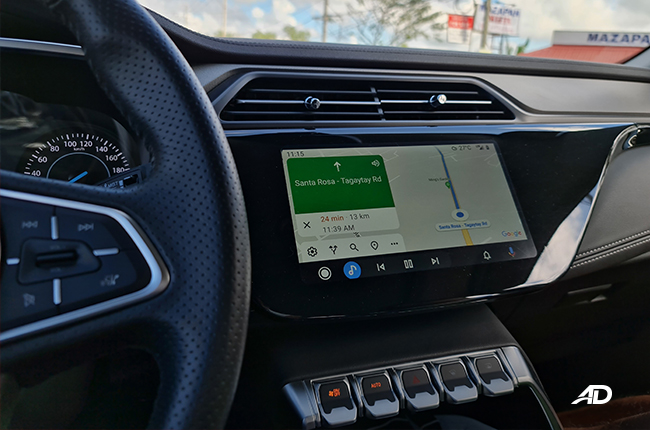 Despite being an entry-level trim, the Ford Territory Trend does come with a number of niceties, making it a value-packed option in its segment. At only P1,199,000, the Trend variant already gives you a leather upholstered seats, a sunroof, and the 10-inch infotainment system which became very useful throughout my trip all thanks to the inclusion of Apple CarPlay and Android Auto.
Despite its compact dimensions, the Ford Territory does have a spacious cabin. I stand at 5'11, and I can comfortably sit at the second-row even though the driver's seat was set to my ideal position. While front occupants may have access to the main features of the vehicle, rear passengers are still blessed with two AC vents, a center armrest with two cup holders, and a USB charging port for your precious gadgets.
This is how Plantitos shop
Together with my mom and cousin, we then reached our destination. The place was known as Elma's Garden and Restaurant. While the garden is indeed surrounded with lots of plants for sale, the restaurant, however, was not operational that time so we had to skip it then. It's actually quite refreshing to see lots of greenery accompanied by the fresh air and the earthy scent which constantly reminds me that I am far away from my home in Quezon City.
There were plethora of plants. In terms of pricing, succulents range from P150 to P350 while indoor plants from P500 to P2,000. Ornamental or outdoor plants, on the other hand, are priced between P250 to P2,000, and lastly, herbs, which ranges from P50 to P200.
We spent a total of P2,000, this includes two selloums, a small pine tree, a rubber tree that measures by about 4-feet, a caladium, and a poinsettia. Along with that cost is also the inclusion of one pack of soil. It's quite a good deal though, considering that we did haggle for the final price itself.
Gladly, the Territory's cargo area was able to accommodate all the purchases along with a pack of soil. Notably, the taller rubber tree managed to fit itself on the second-row which is quite impressive.
Verdict
Whether you are a plantito or plantita, you'd surely be thrilled with the overall packaging of the Territory Trend as it does give you enough capability, comfort, and space to shop and transport your beloved greeneries. Plus, it does give you the additional statement all thanks to its good looks. So back to the question, is the Ford Territory Trend plantito approved? The answer to that is a yes! However, you'd probably want to consider a cargo mat that's both durable and easy to clean in order to transport your greeneries and easily clean the boot area afterwards.
At only P1,199,000, this entry-level variant does give you quite a lot already, from performance, space, comfort, features, and looks, it's just a great all-arounder and we surely had a good time with it.
Want to buy this vehicle without leaving the comfort of your home? Try our 'Buy Online' feature and just fill-up the necessary details for your online transaction.
Get the best deal - Choose multiple dealerships to compare offers!
You can compare quotations simultaneously from multiple Ford dealerships. Select your preferred dealers from the list below.

Compare quotations from multiple dealerships in minutes.
Check vehicle and color availability.
Find info on special offers and promotions.
100% Hassle-free with no obligation to purchase.
Latest Features
The South Korean Automaker currently has 10 passenger vehicles to choose from.

Here's a guide on how to survive and thrive in the hellish traffic of Metro Manila.

The crossover segment in the Philippines is filled with options and the MG HS wants to make a name for itself and set itself apart from the rest of its rivals.
View More Articles