The compact crossover segment in the Philippines is filled with heavyweight contenders that constantly want to outperform one another. You have the likes of Mazda which has its CX lineup of crossovers that consistently shine with their design, driver-focused handling, and technology. Then you have newcomers such as Peugeot who want to stake a claim in the market segment by bringing their unique twist to their crossovers that come with a cat-like theme design.
With these two premium brands already duking it out, we might as well compare two of their key models to find out which one will come out on top. We will now pit the Peugeot 3008 against its closest rival the Mazda CX-5 to see which of these two is the better option given that their specifications are similar and their pricing is also within the same bracket. Find out as we put these two head to head.
Exterior
Starting with the exterior, Peugeot and Mazda have taken two separate design paths with their crossovers. Peugeot has stuck to its guns and maintained its theme of having cat-like-looking cars. This can be seen in the 3008 with its sleek LED headlights, unique LED daytime running lights, whisker-like accents on its grille, and iconic lion claw taillights at the back.
Mazda goes with less is more with its design language as the CX-5 comes with sleek likes all around with a massive grille a the front and a singular chrome accent for the front fascia. Just like its French counterpart, it also comes with sleek LED headlights and LED taillights as well. One thing to note, however, is that the CX-5 recently got a facelift which changed the grille, headlight design, and taillight design as well. While other features were added to the interior of the vehicle its overall body shape has remained the same.
For this category, we will give it as a tie as it all boils down to personal taste. While the Mazda design language has already won several design awards, not everyone may like it. The same can be said for how Peugeot designed their vehicle. The cat-like looks do make it unique but again, not everyone may like it hence the tie.
Winner: Tie
Interior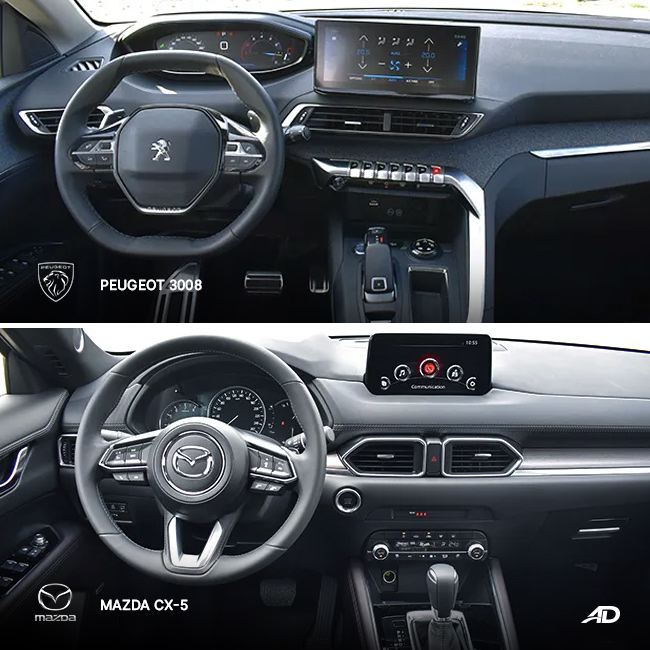 Similar to the exterior designs of both vehicles their cabin layout is drastically different from one another. We first start with Peugeot with its unique dashboard layout, it comes with a cockpit-like design with the gauges and controls being slightly angled towards the driver. The steering wheel is also flat both on the top and bottom which is great for when driving straight but can be a bit of a hassle when maneuvering the vehicle. The design of the dashboard is akin to what you would see on a fighter jet which is a great throwback to Peugeot's fighter jet production days. It's a unique design, especially with the shifter that offers you a different cabin experience. Peugeot also takes it a step further by adding different textures to its interior along with mood lighting that helps give it an edge over its competitors that don't delve into the realm of touch when it comes to their cabins.
In the case of the Mazda, it's more of a traditional style layout with a high dashboard and soft-touch materials dominating the high-touch areas. It does come with a round steering wheel which is great and its controls are more centered compared to the 3008. There is also a certain crispness in the buttons that Mazda uses in the CX-5, it's almost as if someone at the company had the role to design the look and feel of these buttons. One thing that the CX-5 does have over its French counterpart is its seating position, Mazda thought of this thoroughly as it follows its ride and horse or Jinba Ittai philosophy. This makes driving and controlling the car much easier and more natural.
Yet again we will put a tie to another category as it ultimately boils down to personal preference. The 3008 brings a different kind of cabin experience thanks to its unique dashboard and assortment of textures inside. The CX-5 is more of a driver's car thanks to its great seating position and more traditional layout. You really can't go wrong with either vehicle as both are premium and carry premium materials.
Winner: Tie
Technology
In terms of technology, both vehicles are on a relatively even playing field. The Peugeot 3008 kicks things off with its 12.3-inch digital head-up cluster display that is part of its i-cockpit setup for a better driving experience. It also comes with a 10-inch infotainment system that has Apple CarPlay and Android Auto. It also comes with a power tailgate which is also available in the CX-5 but the 3008 has a hands-free function.
In the case of the Mazda, it too comes with similar features. It has a 7-inch LCD for its instrument cluster and an 8-inch touchscreen with Apple CarPlay and Android Auto. Something to note though is that the CX-5 does come with cooled seats which is a great feature to have especially during hotter weather. It also comes with an active display that is displayed on the windshield and with power seats with a memory function. It also comes with a wireless charging pad.
For this category, the Mazda CX-5 wins as it comes with a bit more technology that is both useful and high-tech. While both vehicles do come with the standard of having Apple CarPlay and Android Auto, it's ultimately the ease of use of these features that gives the Mazda the edge. In the Peugeot, there is a bit of a learning curve to get used to as the button layout and functions are different from what one might expect.
Winner: Mazda CX-5
Safety
The safety features of both vehicles are on a similar playing field. Both vehicles come with Advanced Driver Assistance Systems (ADAS). This gives both access to features such as blind spot detection, lane keep assist, and driver attention warning. They also come with a standard assortment of six airbags, ABS with EBD, an electronic stability program, parking sensors, a reverse camera, hill start assist, hill descent control, and ISOFIX anchor points.
Where the Mazda CX-5 has an advantage in its 360-degree camera, smart city brake support, and smart brake support. This gives the vehicle access to emergency braking along with autonomous braking. For this very reason, we award the win for this category to the Mazda CX-5.
Winner: Mazda CX-5
Power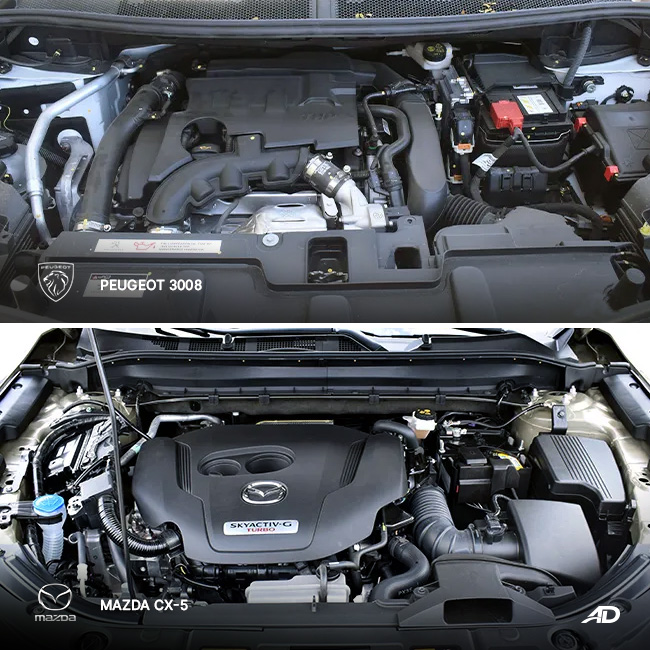 When it comes to the engines that are available for both vehicles, here is where it can get tricky. In the case of the Peugeot 3008, it is powered by a sole 1.6-liter turbocharged gasoline engine that produces 165hp and 240 Nm of torque, with power being sent to only the front wheels via a six-speed automatic transmission.
Things get more complicated with the Mazda CX-5 as it comes with three different engine options available along with two different drivetrains as well. For the engines, the Mazda crossover can be had with a 2.0-liter, 2.5-liter, and 2.5-liter turbocharged engine depending on the variant with all being gasoline-powered. The entry-level model gets the 2.0-liter which produces 154 hp and 200 Nm of torque and is only front-wheel drive. The mid-variant gets a 2.5-liter naturally aspirated engine that produces 187 hp and 252 Nm of torque and is all-wheel drive. The top-of-the-line model gets a 2.5-liter turbocharged engine that produces 253 hp and 434 Nm of torque and is also all-wheel drive. All versions of the crossover also come with a 6-speed automatic transmission regardless of the drivetrain layout.
The Mazda CX-5 has the win on paper in terms of its raw output thanks to its 2.5-liter turbocharged model. While the 1.6-liter twin-scroll turbo gasoline motor of the 3008 is good enough for the vehicle, the number of choices available from Mazda ultimately gives the CX-5 the upper hand.
Winner: Mazda CX-5
Verdict and price
In terms of pricing, the Mazda CX-5 is the more expensive priced at P2,380,000 of the two vehicles at least when comparing the top-of-the-line models. If you take into account the entry-level version of the CX-5 then it's more affordable in terms of pricing and is also comparable to the sole variant of the Peugeot 3008 in features. This ultimately makes the 3008 priced at P2,225,000 the more expensive out of the two when comparing the variants of the CX-5 that are closer to what the single model of the Peugeot 3008 offers.
Overall you can't go wrong with both, if you want something that stands out in a sea of traffic then the Peugeot 3008 is your best bet. Its unique design separates it from the more angular vehicles you see on the road today. Its feature set, while being up to industry standards is enough to keep you safe and comfortable while on the road. Its cabin is uniquely designed but there is a bit of a learning curve to the controls. Its panoramic sunroof is also great for natural light with the air conditioning being more than enough to keep the cabin cool in direct sunlight.
In the case of the Mazda CX-5, it's the better all arounder pick. It has multiple variants to choose from with power always being on tap. The 2.5 AWD Turbo model makes things easy thanks to its feature set and safety features on board. Not to mention the power of the 2.5-liter turbo is great with it feeling more like a diesel engine instead of a gasoline motor. The CX-5's interior is also great with Nappa leather and premium materials.
Ultimately, however, the overall winner goes to the Mazda CX-5 as it offers you a whole lot more for a slightly more expensive price point.
Overall winner: Mazda CX-5
Get the best deal - Choose multiple dealerships to compare offers!
Select up to 5 dealerships and compare their offers
Over 70% of dealers reply within 1 hour
100% hassle-free with no obligation to purchase
Latest Features
These are the cars with AWD to consider from all the most popular brands in the Philippines.

The new Triton has shed its old name and donned a new face. It's no longer the Strada that we used to know.

Midsize SUVs in the Philippines are best sellers because of their high ground clearance, frugal diesel engines, and space for seven or a lot of cargo.
View More Articles